Corby with brains
Samsung I5500 Galaxy 5 review: Corby with brains

Some nice apps
Samsung made sure to upload a few of their home-brewed apps on the I5500 Galaxy 5 and we really appreciate their work. They are quite useful and can be updated via Samsung Apps. Whenever Samsung updates some of the current apps or widgets, or releases new ones, you'll find them here.
The AllShare app allows you to stream content to and from different kinds of devices (TV or computer). It works over the DLNA protocol.
The Memo app is self-explanatory. Write and Go can send SMS and email and also update status on Facebook, MySpace or Twitter. It can also save the text as a memo (which can be color coded for better organization) or as an event in the calendar instead.
A complementary widget is Feeds and Updates. It shows updates from the three most popular social networks – Facebook, Twitter and MySpace. It can be used to post updates as well.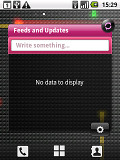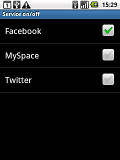 The Feeds and updates widget provides handy social networking integration
The Clock app goes a little further than just alarms – it turns the Samsung I5500 Galaxy 5 into a mini digital photo frame. There's a handy toggle to switch backlighting on and off and you can start a quick slideshow too.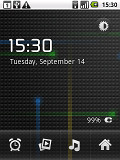 The Clock app turns the Galaxy 5 into a digital photo frame
A new addition to the application package of Samsung handsets is the popular Layar Reality browser. It's a search app enhanced by augmented reality. Your search results for various POIs – gas stations, hotels, parking, restaurants, shops, etc – are returned and displayed in an augmented reality environment using the handset's GPS and camera.
GPS with Google Navigation (where available)
The Samsung I5500 Galaxy 5 comes with a GPS receiver that was slow to acquire a GPS lock. If you don't need the GPS accuracy you could use the Cell-ID and Wi-Fi location option – it's good enough for almost everything (save for driving) and it's much faster.
Google Maps is on board and is replaced with Google Maps Navigation where available, which can do voice-guidance. Regional availability is still limited and it relies on Internet connection.
Still, even without Navigation, there is some kind of guidance: your route and current location appear on the screen so you'll reach your destination eventually, but you'll need a co-pilot to read you the instructions for that one.
Street view is part of the standard package too (it works great with the built-in magnetometer) and the What's-nearby search is available too – it shows you what stores, shops and so on are in your immediate vicinity.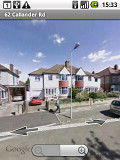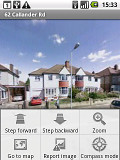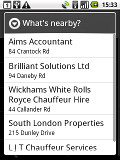 Using Street View • What's near by?
Anyway, the Android Market has some paid and free alternatives to Google Maps.
Android Market for even more apps
The QVGA screen is limiting in terms of compatible content on the Android market – for one, we couldn't use our preferred benchmark apps because of that. The market applies automatic filtering, listing only QVGA compatible applications.
The Android Market is split in two major sections – Apps and Games. Both sections are divided into subcategories (e.g. Communication, Entertainment etc.) so you can filter the apps that are relevant to you. You can tap Top Free or Just in if you're just browsing for something new that might be useful.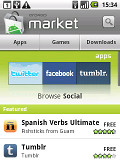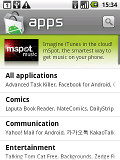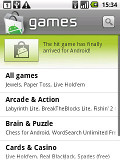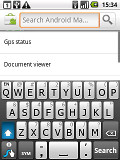 The Android Market will give you access to more than 50 000 applications
Keep an eye on the Downloads section – when there's an update available for some of your apps, there's an "Update available" label next to the app. Tap it, hit update and your app is up to date, it's that simple.
Searching is very easy – just tap the search button and type what you're looking for (e.g. "navigation"). From then on, it's pretty easy to choose – each app has a rating, a short description by the author, user comments and screenshots.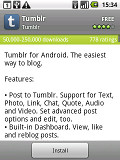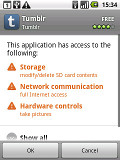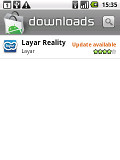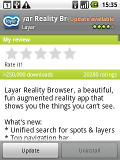 Each app has a short description • An update for Layar is available
There are all kinds of apps in the Android market and the essential ones are well covered (file managers, navigation apps, document readers etc.). It's not (yet) as rich as the iPhone's App Store, but it's getting there. Mostly, it's the games department that's a bit thin – though Angry Birds is now available, which is one of the most popular games on iOS right now.