Galactic twins
Samsung Galaxy 3 and Galaxy Apollo review: Galactic twins

Full-featured messaging
The SMS and MMS messaging section is quite straightforward and simple - there are no folders here, just a new message button. Under that button is a list of all your messages organized into threads.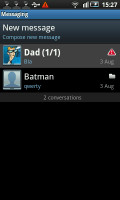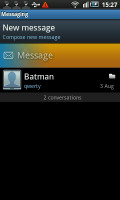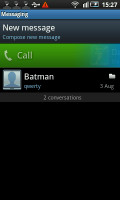 The Galaxy 3/Galaxy Apollo messaging department and swipe functions
Swiping on a message header will do exactly the same as in the phonebook – a left swipe starts a new message, while swiping to the right will start a call.
There's application-specific search that lets you quickly find a given message among all your stored SMS and MMS.
To add message recipients, just start typing the corresponding name or number and choose from the contacts offered.
If you wish to manage a specific message in the history, you can press and hold a message to bring up options such as edit, forward, delete and lock as well as view details and copy message text.
A press-and-hold in the tap-to-compose area gives you access to functions such as cut, copy and paste. You are free to paste the copied text across applications like email, notes, chats, etc. and vice versa.
Converting an SMS to MMS is logical and easy. When you add multimedia content to the message, it is automatically turned into an MMS. You can just quickly add a photo or an audio file to go with the text or –depending on your needs - you can choose to go into a full-blown MMS editor.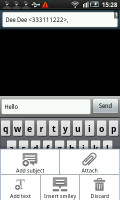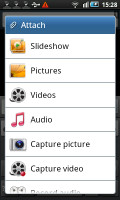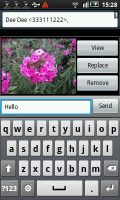 Adding any multimedia content automatically turns an SMS into an MMS
Moving onto email, the Gmail app supports batch operations, which allows multiple emails to be archived, labeled or deleted. Multiple Gmail accounts are also supported.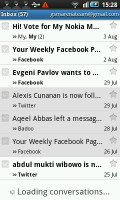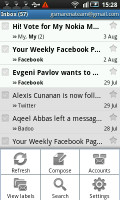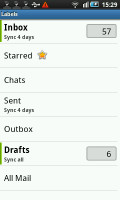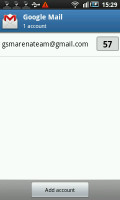 The Gmail should be pretty familiar to everyone by now
There is also a generic email app for all your other email accounts and it can support multiple POP or IMAP inboxes. You have access to the original folders that are created online, side by side with the standard local ones such as inbox, drafts and sent items.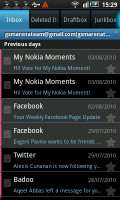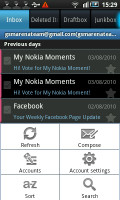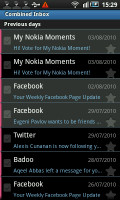 The standard email app also does a good job • the combined inbox
The Galaxy 3 also sports a combined inbox, which brings together all your mail in a single folder so you don't need to check each one for new mail. This can be quite handy if you have lots of accounts and you just want to check if there is a new message needing your attention.
Google Talk handles the Instant Messaging department. The G-Talk network is compatible with a variety of popular clients like Pidgin, Kopete, iChat and Ovi Contacts.
Text input is enhanced by Swype. It's a new way to enter text that relies on you sweeping over the desired keys rather than tapping them one by one. This noticeably improves the typing speed thanks to the Swype algorithm which makes very accurate guesses. For more details, you can read the Swype section in the Samsung I9000 Galaxy S review.
3D gallery is cool
The Samsung I5800 Galaxy 3 uses the standard Android 2.1 gallery. The gallery automatically locates the images and videos no matter where they are stored. The gallery boasts cool 3D effects and transitions, which we find rather attractive.
Images and videos placed in different folders appear in different sub-galleries that automatically get the name of the folder, which is very convenient - just like a file manager.
The different albums appear as piles of photos which fall in neat grids once selected.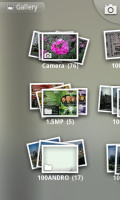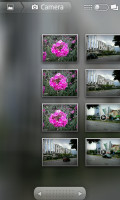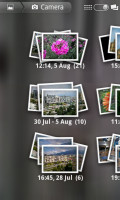 The gallery certainly is a looker • sorting by date
Alternatively, you photos can be organized by date with the help of a button in the top right corner which switches between grid and timeline view. In grid view, there's a date slider which can also be used to find photos taken on a certain date.
The pinch zooming is also available here thanks to the Samsung I5800 Galaxy 3 multi-touch support but you can also use double tap or even the +/- virtual buttons.
There are tons of options for a picture – you can crop or rotate it directly in the gallery. The Send feature offers quick sharing via Picasa, Email apps, Bluetooth or MMS.
We suspect the gallery downsizes the images here too, but on a WQVGA screen it isn't too big of a deal anyway.