Roaring V8 engine
Samsung i8510 INNOV8 review: Roaring V8 engine

Symbian in Samsung skin
Samsung i8510 INNOV8 runs on Symbian 9.3 with Series60 3rd Edition user interface and feature Pack 2 preinstalled. It is the same as what we found on the latest Nokia smartphones we reviewed - the N79 and N85 - the INNOV8 however offers somewhat less eye-candy.
The layout is quite familiar with status icons appearing on the top of the screen and soft key labels at the bottom. The i8510 INNOV8 also supports Active standby with two different layouts to pick from.
The active standby screen is a nice and convenient way of bringing shortcuts to all favorite applications to your home screen. You can even assign shortcuts to websites of your choice for quicker access.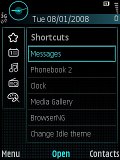 One of the two optional active standby layouts
The screen can be organized in either vertical or horizontal tabs, which can then be scrolled with the D-pad. If active standby is disabled, the direction keys of the D-pad can also be assigned a shortcut of your choice.
Active standby or not, you can always change the shortcuts assigned to the two soft keys to best suit your needs.
Thanks to the built-in accelerometer Samsung i8510 INNOV8 enjoys screen auto rotation. However, for some reason Samsung have decided to disable Auto Pivot - the Samsung name for auto rotation - on the homescreen and in the main menu, so it only works in the applications and sub-menus.
At least they have kept the nice transition from one mode to another: the current screen smoothly zooms out, flips and then zooms back in.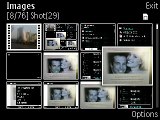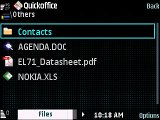 Most of the interface works in landscape mode
Samsung i8510 INNOV8 also features the new and improved task manager courtesy of the new FP. It has better graphics over what we saw in previous Symbian versions (think Samsung i550) and can now be accessed from every pop-up menu.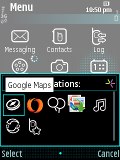 The INNOV8 has a nifty task manager
Samsung claim the i8510 INNOV8 is powered by a single 330 MHz CPU with no hardware acceleration whatsoever. However, you won't know at all working with the phone as the entire UI is really responsive. You can hardly tell the difference between the INNOV8 and the Dual-CPU hardware graphic-accelerated Nokia N95 8GB in almost any scenario.
Rumor has it, the INNOV8 is actually running on a much faster CPU with HW graphics accelerator contrary to Samsung's claims. We can't comment on that, but the INNOV8 performance is commendable.
Things might be a little different if you run multiple heavy programs at the same time but the processing power of the INNOV8 is more than adequate for you usual everyday usage. We didn't experience any freezes or unexpected restarts either.
Samsung i8510 INNOV8 has 72MB of internal memory plus 8GB or 16GB of mass memory. Accessing files from the latter isn't any slower so you aren't likely to feel a difference. And running out of space to install your software is out of question. If however, by any rare chance, you happen to need more storage than the already available 8Gb or 16GB you can use the microSD card slot and expand your memory by another 16GB.
Customization options aren't too many
Unlike most recent Nokia phones running on Symbian 9.3, Samsung i8510 INNOV8 users have a choice between only two different menu view modes. Those are the all too familiar 3 x 4 grid and list. Classic and simple, those surely are the most widely used, so we don't consider it a disadvantage.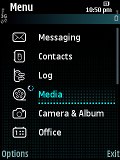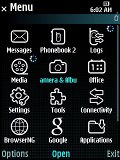 The two available main menu view modes are pretty standard
The main customization option for INNOV8 users is changing the currently active theme. There are three preinstalled themes on the handset but new ones can easily be downloaded off the internet.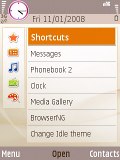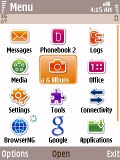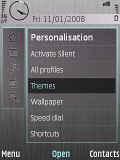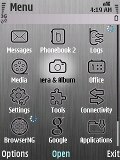 The other two preinstalled themes
Can't beat the phonebook
Samsung i8510 INNOV8 surely has an impressive phonebook with massive functionality and generous storage space. Theoretically the whole internal memory is available to your contacts but filling it up is just hard to imagine.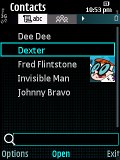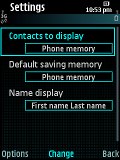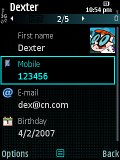 Phonebook: nothing more to ask
Contacts can be freely ordered by first or last name and can naturally be searched by gradual typing of any of the names. You can also set whether the contacts from the SIM card, the phone memory and the service numbers will get displayed.
Editing a contact offers a great variety of preset fields and you can replicate each of them as many times as you like. You can also create new fields if you happen to be able to think of one. Personal ringtones and videos are also available for assigning. If you prefer, you may group your contacts and give each group a specific ringtone.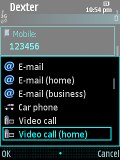 Quite a number of fields to pick from when editing a contact
The Call log keeps track of your recent communications. The application itself comes in two flavors - accessed by pressing the Call key on the stand-by screen or from the main menu. The first one brings 20 call records in each of its tabs for outgoing, received and missed calls.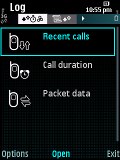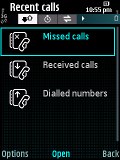 The call log saves detailed history about your recent communications
If you access the Log application from the main menu, you'll see a detailed list of all your network communications for the past 30 days. These include messages, calls and data transfers (even WLAN connections are included).
Telephony: no issues
We didn't experience any problems with the in-call performance of Samsung i8510 INNOV8. Reception levels are good and there were no interferences whatsoever.
The main disadvantage here is the missing smart-dialing feature on the Samsung i8510 INNOV8. A third party application will easily sort this but we can't imagine it was so hard for the developers to implement it in the OS itself.
We also ran our traditional loudspeaker test on Samsung i8510 INNOV8. The handset performed impressively scoring an Excellent mark. Missing a call with the INNOV8 ringing volume set to the maximum is highly unlikely. And what's more, music sounds really nice through the INNOV8 stereo loudspeakers.
Check out the table comparing the i8510 INNOV8 to some of the other handsets we have tested. In case you want to find out more about the test itself or a complete list of tested devices, hit the link.
| | | | | |
| --- | --- | --- | --- | --- |
| Speakerphone test | Voice, dB | Pink noise/ Music, dB | Ringing phone, dB | Overall score |
| Nokia N82 | 70.2 | 61.2 | 65.9 | Below average |
| Nokia N79 | 66.6 | 65.8 | 71.7 | Average |
| Nokia N85 | 67.0 | 65.5 | 71.8 | Average |
| Nokia N95 8GB | 75.7 | 66.2 | 70.2 | Good |
| Nokia N95 | 77.3 | 66.6 | 78.0 | Very Good |
| Samsung i8510 INNOV8 | 78.9 | 75.7 | 77.5 | Excellent |
Messaging is nicely organized
Samsung i8510 INNOV8 supports all common message types - SMS, MMS and email. The first two share the all too familiar intuitive editor. It has a counter of characters left to the limit of 160. An indicator in brackets is showing the number of separate parts the message will be divided into for sending.
Switching from SMS to MMS is as simple as inserting some multimedia content. The phone prompts scaling down photos that are too large for sending via MMS.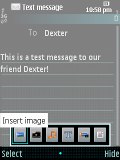 Inserting multimedia content automatically converts SMS to MMS
Samsung i8510 INNOV8 also features a dedicated editor for instant recording of audio messages. You can either record the message on the spot or use a pre-recorder sound clip from the phone memory.
Delivery reports pop up on the standby screen and are then saved in a separate folder in the messaging submenu.
When exiting the message editor without having sent the message, the editor prompts saving it to the Drafts folder or discarding it.
The email client is really nice, able to meet almost any emailing needs. Now, one thing Samsung i8510 INNOV8 lacks is the ultra easy email setup we came to know in recent Nokia phones. You have to enter every detail manually but that's basically all there is to complain about.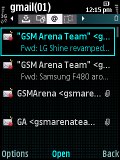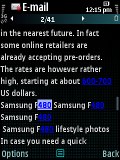 No quick email setup on the INNOV8 but the mail client is great
Multiple email accounts and various security protocols are supported, so you can bet almost any mail service (be it POP or IMAP) is set to run on the INNOV8.
The client can download headers only or entire messages, and can be set to automatically check mail at a given interval. A nice feature allows you to schedule sending email next time an internet connection is available.
There is also support for attachments, signatures and generally, you can hardly think of something major that the Samsung i8510 is missing.