Excellent phonebook
Samsung S8500 Wave may use a brand new OS, but it shares identical UI looks with the Android-powered Galaxy S. The phonebook has rich functionality and practically unlimited capacity.
The handset displays the phone memory and SIM-stored contacts in the phonebook. There is a dedicated setting for that, so you really can have all of your contacts gathered in one place.
You can search the entries by either flick-scrolling the list or using the alphabet scroll at the side of the screen. Gradual typing search is also available.
There are many info fields that you can assign to each contact, but it still remains perfectly organized. You have all the types listed (numbers, email addresses, etc) and there's a plus sign on the right - clicking it adds another item of that type. Pressing the minus sign under it deletes the unneeded field.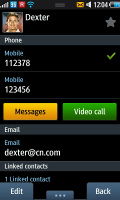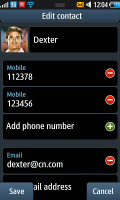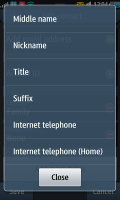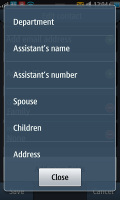 Checking out and editing a contact's details
Samsung have added another cool feature to the phonebook, which is also available in the Android OS on Galaxy S. In the main contact list, a swipe to the right on a name will dial the contact's default number, while a swipe to the left will start the New message interface. The side-sweep thing works in other lists too where you have names or numbers.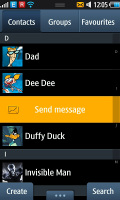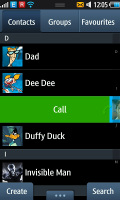 Swiping on a contact's name or number in the log will start a call or launch the message composer
Telephony
The Samsung S8500 Wave caused us no trouble during calls. There were no reception issues or in-call voice quality drops.
There is some kind of smart dialing on board but it's not exactly useful. Once you tap in some digits the Wave shows the contacts in your phonebook whose number contains them. Now, we don't know if you have the habit of remembering the numbers of your contacts but we certainly don't.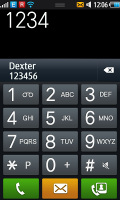 Smart dialing could have been better
Thanks to the proximity sensor, your screen will automatically turn off during a call. The available options during a call include muting, using the keypad, holding the call or adding another call to this conversation.
The call log can be activated with the call receiver key. It shows all the dialed, received, missed calls or messages in one list, but there are also different tabs for easy sorting the history.
We also ran our traditional loudspeaker test on the S8500 Wave. It snatched a Good score, meaning missed calls are likely in much noisier environments. More info on our loudspeaker test as well as other results can be found here.
| | | | | |
| --- | --- | --- | --- | --- |
| Speakerphone test | Voice, dB | Pink noise/ Music, dB | Ringing phone, dB | Overall score |
| Samsung I9000 Galaxy S | 66.6 | 65.9 | 66.6 | Below Average |
| Samsung I5700 Galaxy Spica | 66.6 | 62.1 | 75.7 | Average |
| Samsung S8500 Wave | 69.8 | 66.6 | 75.5 | Good |
| Google Nexus One | 69.9 | 66.6 | 79.1 | Good |
| HTC Hero | 76.7 | 71.9 | 77.7 | Very Good |
| HTC Legend | 78.0 | 74.3 | 79.7 | Excellent |