Applications
The System Manager was the first telltale sign the Wave is actually a smartphone. It consists of four tabs. The first one shows the device information (model number, firmware version, MAC addresses), the second one displays the battery info, while the third and the fourth inform you on the CPU usage and the memory status, respectively. Along with the CPU usage you can also see the currently running apps and you can start the Task manager.
Daily Briefing is the same as the dedicated widget – it shows the weather, stocks and your current schedule. The app works only in portrait mode.
The Memo and Mini Diary are self-explanatory. The first app works with only text, while the Diary lets you also attach pictures.
Social Hub is the messaging and media sharing Holy Grail – this one app allows you to create a message (it may pack media content too) and then send it to various services – SMS/MMS, email, social networks.
Samsung also added native Twitter and Facebook clients on the Bada OS. They are nicely touch optimized and have similar looks and functionality as the respective apps for the iPhone and Symbian.
The Smart Search works on everything in your phone – contacts, images, music, videos, emails, history, apps, etc. It works excellent and helps when you have lots of content. It also offers internet search with Google or Bing.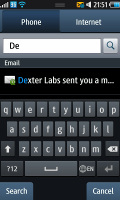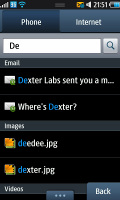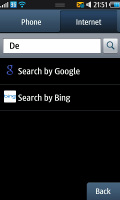 The Smart Search
Finally, a simple voice recorder app and Palringo IM are also onboard.
Trial GPS navigation
The preinstalled navigation software on the Samsung S8500 Wave can easily turn the handset in a fully functional SatNav system - especially thanks to the sensitive GPS receiver on board. It comes with the Samsung Mobile Navigator, which is based on the Route66 mobile application. Though its maps graphics have somewhat outdated looks, feature-wise there's really nothing missing. It has voice-guided navigation and a huge number of additional features, but the goodies come at an extra cost.
The navigation software comes with 30-day trial license for voice-guided navigation (drive and walk). After that you'll need a subscription, which is quite expensive. All other goodies require some extra payment and the whole package will cost you a lot.
There is no native Google Maps at this stage, but we hope the app will hit the Bada OS application store soon.