Messaging
There are two major sections in the main menu - Messaging and Email. The Samsung S8500 Wave supports sending and receiving SMS, MMS, and email messages. SMS and MMS share the same editor.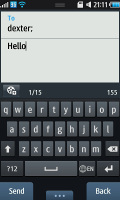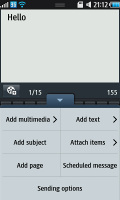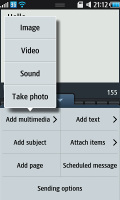 SMS and MMS share the same editor
It offers folder (tabbed) view and conversation. The first one shows all your folders as tab at the bottom, while the conversation groups you messages by sender.
Swiping on a message header will do exactly the same as in the phonebook – a left swipe starts a new message, while swiping to the right will start a call.
When it comes to email, setting yours on the Samsung Wave is hassle-free. For a Gmail account for example, all we had to do was fill in the account and password fields - the connection settings were retrieved automatically.
In case you have to setup your email account manually, there is a host of settings that you can tweak. Both POP3 and IMAP4 protocols are supported and you can set the handset to auto retrieve new mail at a preset interval with a dedicated setting for roaming. The email client supports SSL encryption too.
The email client looks exactly the same as the messaging one – it uses the folder (tabbed) view.
Multiple accounts are also supported and you can switch among them any time. Unfortunately there is no shared inbox for all your emails.
Maximum attachment size for both outgoing and incoming mail is 5 MB.
Text input package offers handwriting recognition
Capacitive touchscreens usually won't give you handwriting recognition but the S8500 Wave is among the few exceptions. It certainly doesn't have the largest screen possible but handwriting recognition is there. As expected, you can hardly draw more than one character at a time but that's still something!
If you prefer typing to drawing, go for the on-screen keyboards. You get two options - a portrait numpad and a landscape full-QWERTY keyboard. Given the not so big screen, the QWERTY keyboard is not the most comfortable. The keys could've been a bit bigger and better arranged - after all, the messages you compose don't need that much space.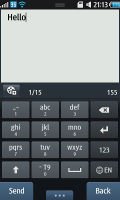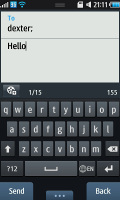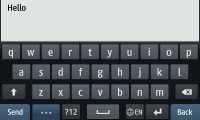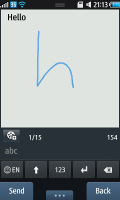 The QWERTY keyboard along with the handwriting recognition
Simple gallery
The gallery or Media Browser, as Samsung call it, is basic - all images and clips are displayed all at once as small thumbs. When you select a file you can see it in either portrait or landscape mode.
The gallery supports finger scrolling or panning so you can skip images without having to return to the default view. Just swipe to the left or right when viewing a photo in fullscreen mode and the previous/next image will appear.
The pinch zooming is also available here thanks to the Samsung S8500 Wave multi-touch support but you can also double tap on the screen to zoom in and out.