As busy as a "b" can be
Samsung U800 Soul b review: As busy as a "b" can be

Telephony
Making phone calls with Samsung U800 Soul b is an enjoyable experience. Voice quality is never an issue on either end of a call.
Dialing a number has always been fun with Samsung, as you always have some sort of dialing animation, or a choice of several ones. In the case of Samsung U800 Soul b you have as many as six of them: Quill pen, Sticky note, two named "Normal", Living world and Theme. The last two vary a little according to the theme or your location.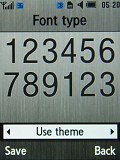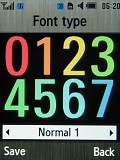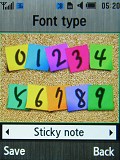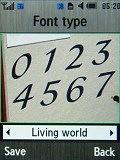 Some of the available dialing styles
The Smart Dialing assists dialing greatly - you no longer have to open your phonebook. Once you start typing in numbers it searches your phonebook for contacts whose names or numbers contain characters corresponding to the keys you've pressed on the alphanumeric keypad. The Samsung U800 Soul b also automatically looks up contacts, whose numbers contain the typed digits. The two types of search provide really quick access to any contact in your phonebook.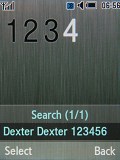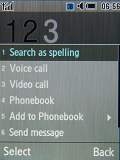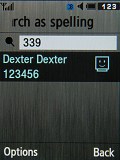 Samsung U800 Soul b automatically looks up contacts whose numbers contain the typed digits • The search as spelling feature is also quite nice
We also did our traditional speakerphone test with the Samsung U800 Soul b. Here is how it ranks along some of the other handsets we've measured recently. It's an average performer, ranking just about the middle of the table. You can find more info on the test itself and the other tested handsets here.
| | | | | |
| --- | --- | --- | --- | --- |
| Speakerphone test | Voice, dB | Pink noise/ Music, dB | Ringing phone, dB | Overal score |
| Apple iPhone | 67.2 | 60.2 | 66.6 | Below Average |
| Samsung U800 Soul b | 65.9 | 65.9 | 75.8 | Average |
| Samsung U900 Soul | 69.7 | 66.3 | 71.1 | Good |
| Sony Ericsson W890 | 69.6 | 78.2 | 72.7 | Very Good |
| Nokia 6500 classic | 74.7 | 75.7 | 83.8 | Excellent |
User interface: U900 Soul clone
The user interface of Samsung U800 Soul b is a slightly improved version of what we saw in the Ultra II line of handsets. It brings greater customization and some minor novelties.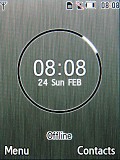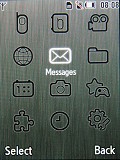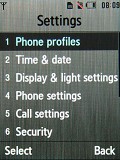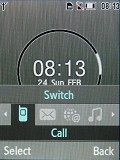 The user interface of Samsung U800 Soul b
The menu structure of U800 Soul b is typical Samsung. There are nice graphical transitions between screens here as well but we miss the speed and responsiveness of the first Samsung U900 Soul. Processing speed or else, this is one nasty step back from the first Soul.
The main menu is accessible from the stand-by display by pressing the center key of the large D-pad and it opens after a sizeable lag. You can also use the left soft key for that purpose if you prefer. The right soft key is reserved for the phonebook. The four directions of the touchpad have shortcuts of their own and these can be changed to best suit the user. Samsung U800 Soul b also has the animated background with analogue clock we came to know since the first Ultra lineup. The feature sets a certain landmark as your wallpaper according to the country where the phone is being used. It's nice feature, but it's pretty dull if you hardly leave your country.
There is also another option for the wallpaper - you can select a number of photos that can run in slide show on the homescreen. The transition effect is configurable too.
The main menu displays as either a 4 x 3 grid of icons or a standard list. The much contested feature of all recent Samsung phones, where the last used items and sub-items are highlighted by default when you open a submenu is also present here. We like it this way and it proves useful when you use a given feature more than once - for example trying out different themes, varying a setting, starting the music player or Bluetooth, or whatever.
Customization
Samsung U800 Soul b surely won't get users bored. It offers a great number of customization options. The three preinstalled themes are all very nice and we happened to particularly enjoy the one named Monolithic Purity. It perfectly blends with the brushed metal design and benefits the phone looks greatly. You can also create your own theme, tuning every single element to your taste.
The third available theme, called Samsung Theme, takes after the main menu of Samsung F480, a phone we reviewed in detail a couple of months ago.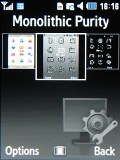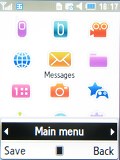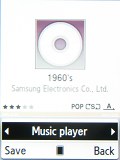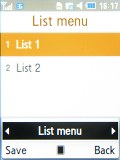 Samsung Theme resembles the main menu of Samsung F480
The thing we are missing in the Themes customization section is the three different font sizes for the user interface. These were greatly appreciated in Samsung U600 and it is a pity they are not available here.
Phonebook OK
The phonebook of U800 Soul b is typical Samsung again. Up to 1000 contacts can be stored with multiple fields. It displays the names from the SIM card, the phone memory or both at once. Searching is done by gradual typing of the desired contact's name. You can also use the Smart Dialing feature we mentioned earlier. Unluckily, Samsung U800 Soul b - much like Samsung U900 Soul and U600 - searches only in the contact's first name.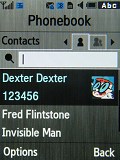 The phonebook looks are familiar
Quite a number of different information fields are available for each contact. You can store up to 5 numbers, 2 email addresses and URLs, and so on. Each contact can also be assigned a specific ringtone and a picture, as well as a note. You can even set a video as "caller's image" - a feature that is now becoming pretty common.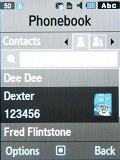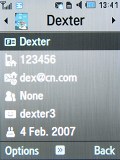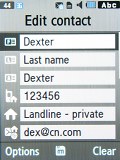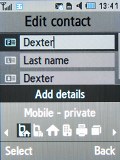 Viewing and editing a contact with the Samsung U800 Soul b
Contacts can be organized into groups, which can then have their own ringtones and pictures. There is also a birthday field, which can be set as a calendar event with only a few clicks. This is quite a convenient solution. Contact details or your whole contacts list can be sent via Bluetooth. You can also save namecards to your memory card if you want to transfer them that way.
The call logging department has also been slightly improved in comparison to the previous Samsung U-models. Both the Call key in stand-by and the call log icon from the menu give you access to the application. It has four tabs - recent contacts, dialed numbers, received and missed calls.
Those tabs used to be somewhat inconveniently separated but with Samsung U800 Soul b this is no longer a problem. From the Call log, user can add separate numbers to a reject list. When there is incoming call from a blocked number, it is displayed in the call log as usual without any indication of it being blocked. The unwanted caller will hear one "free" signal and the call will be dropped right after.
Finally, there are also data and call time counters and even a call cost feature if you provide information about your subscription plan.