As busy as a "b" can be
Samsung U800 Soul b review: As busy as a "b" can be

Messaging: nice keypad, nice job
Samsung U800 Soul b handles all common types of messages: SMS, EMS, MMS, and emails. The first three share the same editor. You can covert your SMS to EMS by simply applying formatting or to MMS by inserting an image or other multimedia content. A rich T9 dictionary is at the user's disposal too. In case message sending fails, the message is automatically saved to the outbox, so you can try resending it.
There is room for 500 SMS, 30 push messages, 200 broadcast messages and 30 configuration messages in the phone's memory. As far as emails and MMS are concerned, they are not limited in number and storage depends on the available memory only. There is 1GB available for these, which should be enough on most occasions. Incoming messages can also be blocked based on a user-defined black list.
The email client is also very good. It can manage up to five accounts - POP or IMAP; download is user-defined, opting between headers only and entire messages. Not only any files from the phone memory, but also business cards, calendar events, tasks or notes can be emailed as attachments. The client can be set up to check mail at a chosen interval (options vary from 30 minutes to 1 day).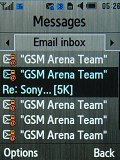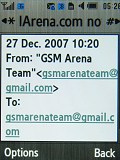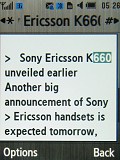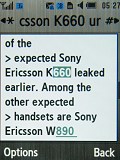 Reading our mail on Samsung U800 Soul b
File management
The Soul b file browser lists all the folders from both the phone memory and the memory card together. There are folders for different file types - images, video, music, sounds, which allow the handset to sort the memory contents. However, if you misplace some file the handset will still handle it.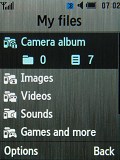 The file manager is slightly changed
The file browser functionality is one of the best among non-smartphones. You can copy or move files - both one by one or in bulk, and you can create and delete new folders (save for the root ones).
Files can also be sent via Bluetooth, one by one or multiple at once. Throughout the whole file manager, you can pick files you would like to lock to prevent accidental deletion. The downside we used to find in some of the older Samsung handsets - the really slow memory card reading - is pestering the Samsung U800 too. That's another downside compared to the first Soul.
We tested two microSDHC memory cards with U800 Soul b - a 4GB one and an 8GB one. Both cards were recognized by the handset and it had no problems with them except for the lengthy initial recognition time. Both memory cards were full of music files and photos. It turned out that the Soul b needs 2:15min in order to initially recognize the 4GB card, which was loaded with 2170 files in 470 folders. The same exercise with the 8GB card with 3360 files in 513 folders took 5:10min - which honestly is quite a wait, but it's a one-time job.
The picture gallery is an inherent part of the file manager and not a separate application. Accessing it is as simple as opening a folder that contains images. You can now copy or move images to any folder of your liking, unlike the previous Samsung handset where only the Images folder was available for that purpose.
The pictures are displayed as a list with a small thumbnail next to each filename. Sorting can be done by date, type, name, and size. Once you open a picture to view, you can scroll sideways to see the next images without having to return to the image list. You can view a picture in portrait mode only, unless you apply the fullscreen view mode, which switches the gallery to landscape. You can also zoom in on a picture to see greater detail though we must warn you that zooming in and out is annoyingly slow.
Image editing in full shine
If you wish you can also edit your pictures using the integrated Image Editor - it's one of the most capable image editing applications for mobile phones. It allows you to apply a whole bunch of effects and adjustments.
Transformations and crops, as well as insertion of various items, are also available. All in all, the Samsung U800 Soul b offers you virtually all of the most popular editing capabilities you could possibly use on a cell phone. We still doubt it anyone takes image editing on their mobiles seriously. But it should come in handy for resizing some photos in order to send them by email.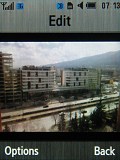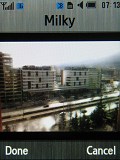 The image editor allow a huge number of picture transformations
Good music player
Armed with 1GB of internal memory and a microSD card slot, the Samsung U800 Soul b has every premise to act as a portable music player. It is therefore important that the music player application be up to the task. Not that it's that hard of a task but still sometimes it's the small things that mess up the big picture. Luckily this is not the case with the U800 Soul b.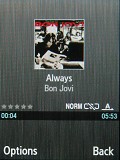 The music player can display album art too
The Music player application allows filtering tracks by author, album, genre and composers. You can also choose to play either the tracks you've recently listened to, or the ones that you've played the most. If that doesn't seem enough, you can create your own custom playlists.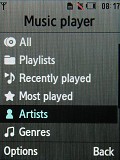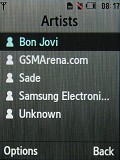 The tracks can be filtered by author, album, genre and composer
The music player can naturally be minimized to play in the background. The player in Samsung U800 has undergone some changes when compared to, say, Samsung U600 but the functionality isn't greatly altered. It has no equalizer presets, but sound effects instead. The difference is that the sound effects also include wide and surround options in addition to the seven available presets. There are also three types of visualization and you can enable fading out on stop if you like.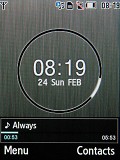 The player can also be minimized to play in the background
FM radio
The Samsung U800 Soul b comes complete with an FM radio, which is doing quite well in terms of user interface. It has the self-tune option to store all stations of clear reception at the moment. There is also RDS that can be switched on and off depending on your taste.
The video player doesn't have many features but all the essentials are covered - it can play video files in fullscreen landscape mode and you can fast-forward and rewind videos.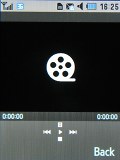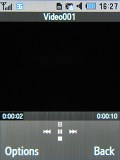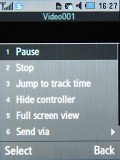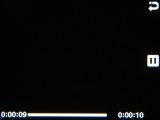 The video player is much more usable in landscape mode
Audio quality
Samsung U800 Soul b is more than adequate in terms of audio quality. We are pleased with most of the values, except the total harmonic distortion and inter modulation distortion where the values deviate significantly. We are aware that these results might be due to the beta version of the U800 we're reviewing and hope that the problems will be fixed before the handset hits the shelves. Samsung have an outstanding playback quality record ith their previous phones and it would be a shame if they don't stand up to the bar they've set for themselves.
| | | | | | | |
| --- | --- | --- | --- | --- | --- | --- |
| Test | Frequency response | Noise level | Dynamic range | THD | IMD + Noise | Stereo crosstalk |
| Samsung U800 Soul b | +0.56, -1.01 | -86.2 | 82.9 | 0.478 | 0.602 | -83.3 |
| Samsung U900 Soul | +0.29, -1.25 | -84.6 | 84.6 | 0.017 | 0.052 | -82.9 |
| LG KU990 Viewty | +0.29, -2.07 | -86.8 | 83.8 | 0.020 | 0.0124 | -86.6 |
| Nokia N81 | +0.39, -1.13 | -86.6 | 85.8 | 0.041 | 0.040 | -69.9 |
| Samsung D900 | +0.41, -1.12 | -91.0 | 86.6 | 0.0067 | 0.026 | -89.9 |
| Samsung U600 | +0.41, -1.12 | -89.2 | 86.5 | 0.0040 | 0.019 | -86.9 |
| Sony Ericsson K770 | +0.21, -1.04 | -85.7 | 88.8 | 0.014 | 0.030 | -84.8 |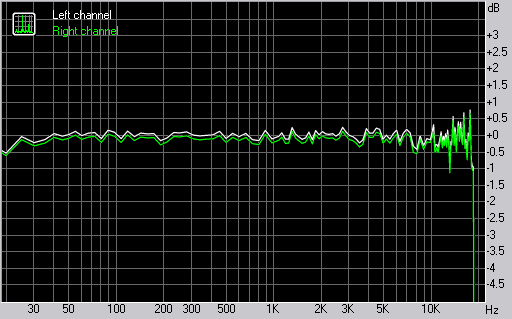 Samsung U800 Soul b frequency response graph