Setting up your sync and backup
If you're coming from a device that stores contacts and organizational data locally then you'll need to do some work for your iPhone to feel like your own. If you're coming from an Android device then don't sweat it as all of your contacts are waiting for you just a username and password away.
Activating your iPhone used to be a tedious task prior to iOS 5 - it just couldn't be done without a computer at hand. Now things are a whole lot easier. You just start up the device, hook it up to a Wi-Fi network and type in your desired Apple ID, select whether to have Location services on and the feature that helps you recover the device in case you misplace it - Find My iPhone.
Apple's restore feature is outstanding - once you've synced your device with iTunes and now iCloud then you'll have the same phone you've always had after you've restored it. iCloud and iTunes restore your text messages, apps, mail, photos (optional), settings and just about everything you can think of. Think of the iPhone as a hardware holster for your organized software clutter. It's something not many Android devices offer and something stock Android hasn't gotten around to feature.
Importing and exporting files to or from apps
The iPhone doesn't allow access to its file system (apart from photos) but many apps have a drag and drop feature, which can be accessed through iTunes.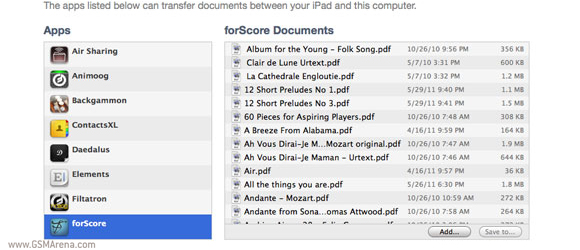 Filer for instance is an all-round multi-purpose app with a file explorer and manager and a wide range of supported formats. It can open Word, Excel, archive files (ZIP, TAR, RAR), mp3s, etc.
If you want to upload files to an app like Filer you need to plug the iPhone into iTunes and open up Apps. Scrolling down will reveal all apps with local storage, which you can access. You can then drag stuff from any given folder on your PC and drop them into Filer.
Here's how to get custom ringtones onto your iPhone if you're not keen on buying them directly from iTunes (let's face it, no one is).
Download an app which can create iPhone ringtone files (either on your PC or the phone itself). iRingtones is a good choice as it has a clean interface and can create both ringtones and message tones. Once you've cropped your desired ringtone hook the iPhone up to iTunes and open up the iRingtones app in Apps. Inside you'll find the files you need, ready for export.
The iPhone cannot directly communicate with the app's storage so you'll need to export the ringtones to your PC and then import them to iTunes. From there you can load them on the iPhone itself and select them from the menu.
Download Filer
Multimedia
Speaking of iTunes, it is the place to go to get your movies, pictures and music into the iPhone. We've held a grudge against this totalitarian way of uploading content for eons now, but seeing as how Apple doesn't look intent on changing it we're just going to postpone the rant for another time or place.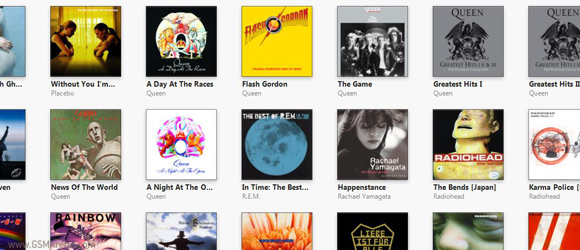 Once you've hooked up the iPhone to iTunes and gotten around to uploading your music, it's important to select one of two settings - 'Manually manage music' and videos if you want to selectively create a music library in iTunes from which to upload, or 'Sync only checked songs and videos' if you want iTunes to organize your music library but still prefer to keep the right to upload only the stuff you like.
Contacts
Next come contacts - here you'll need to decide which online service you want to keep an eye on your address book. If you're used to syncing your contacts with Google or Microsoft's Outlook then you'll need to set up either an Exchange or Google account on your iPhone.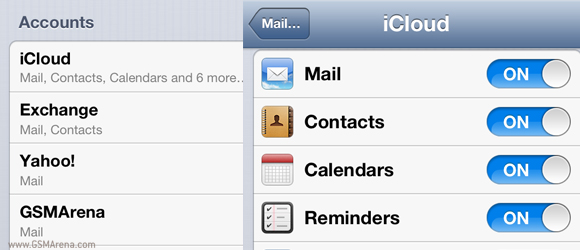 You can do this through Mail, Contacts, Calendars in the settings menu.
Of course you can also use the less popular AOL, Yahoo or Hotmail accounts too.
You can always set up more than one account with which to sync your contacts, like for example with iCloud and Exchange. You can also have those accounts present but opt out of syncing your contacts with either service.
Calendar
Calendar works in the same way as your contacts do. You can choose with which account you want to sync the Calendar, and when creating an event you can choose the Calendar it's saved to. You can even preselect the type of Calendar. For instance the default Calendar can feature different labels - Home, Work, Birthdays, etc. and you can even select what colors those will be - purple for birthdays, blue for work, etc.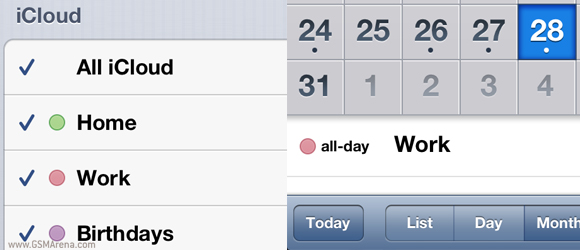 Once you've gotten used to the color-coded layout it's easier to keep track of your duties, both leisure and professional ones. iDevices even allow you to share your calendars with different people. For example, you can share your work schedule with your loved one so those dinner plans can be easily synchronized between one another.
Other sync services
Nowadays users get to choose between so many different services for keeping their files at arm's length. If iCloud isn't your thing the iPhone gives you access to Google Drive, Dropbox, Microsoft SkyDrive, SugarSync, etc. So, if you've invested in a paid storage plan with any of the above-mentioned services than the iPhone will still let you use them. But there's a catch. If you choose to sync files with a service other than iCloud, Apple's restrictive filesystem will only grant limited access to your local storage.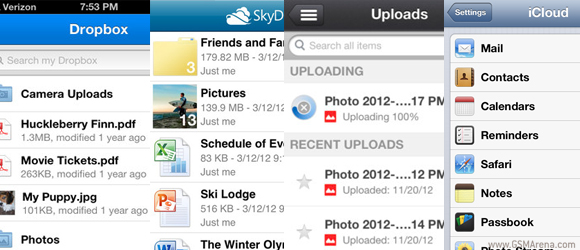 On Android devices Dropbox can immediately upload a photo after you've taken it, while on the iPhone it can only be done once you've opened the app itself. In other words it won't run automatically .
The same goes for integration. If you download a PDF file on the iPhone and try to open it the iPhone will oblige through its default app - either iBooks or Mail. Even if you have Adove Reader, Dropbox, Google Drive or some sort of Office app the iPhone won't recognize it can open the said file and will disregard it entirely.
To open a PDF file through Dropbox you'd need to go to the app and open it through there.
It's annoying but it's the Apple way - get over it or move on to a more open operating system.
Accessories
Apple products are among the most accessorized devices in the mobile game. The market is flooded with cases, bumpers, battery packs, screen protectors, satnav car holders, Bluetooth dongles, hands-frees, radio, audio docks, and many more.
On one hand given the iPhone's high price tag and relatively high resale value it's important to keep it in as good condition as possible. On the other design is on of the most important assets of the smartphone, so concealing it is not that great of an idea.
Depending on which side of the barrier your stand on , you can get all sorts of protection, which is both useful and stylish. A bumper is great because it doesn't mask the phone's beautiful front and back and still allows you to lay it flat on any surface without worrying it will get scuffed and scratched.
The iPhone is also popular with audiophiles as it offers high-quality output and, depending on the storage option, ample room for music. The bundled earphones aren't the best way to the experience the iPhone audio talents, so if music playback's your thing, we suggest investing in a proper headphone set.