Tree-hugging business
Sony Ericsson Aspen review: Tree-hugging business

A rich application package
The Sony Ericsson Aspen comes with a rich selection of preinstalled apps, in addition to the already wide functionality provided by the panels. If you're still short, the Windows Marketplace provides a catalogue of various apps.
The Microsoft Marketplace is not preinstalled, but installs the first time you run it. It's simple to use and should be the first place you check when you need an app, but it's not as good as the iPhone and Android stores.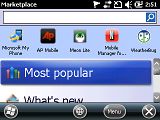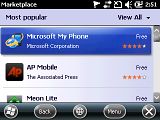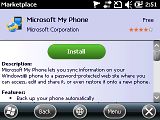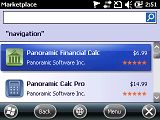 The marketplace isn't exactly brimming with content just yet
The interface is pretty straightforward – it gives you shortcuts to the most popular applications, the most recent ones, as well as a category view. There is of course a search box too to make things easier.
For each app in the Marketplace there are user reviews, screenshots and, as usual, individual ratings.
A useful preinstalled app is Universal search. It's a one-stop shop for your search needs – Google, Wikipedia, Twitter, phone contents, Universal search can look everywhere you need it to.
Of course, when it comes to search, you can't miss the Bing app. It can do a wide variety of online searches (e.g. movies, local gas stations, etc.) but Bing Maps is one of the most interesting features.
You can browse maps, same as Google Maps, and you can also plan routes with it. As is, the app doesn't offer voice prompts, just a list of the turns you have to take and a map overview.
But that's because it's an old version – you should try to update to the new one, which does offer free voice guided navigation (USA-only for now). The Aspen is not yet (at the time of writing) included in the supported phones list, but give it a shot again when you get one – if it works, it'll be worth it.
There's another SatNav app preinstalled, we'll cover it in the next chapter.
Anyway, while Internet Explorer 6 has good enough Flash support to play YouTube videos straight from the browser, the dedicated YouTube app offers a much easier to use interface.
The Sony Ericsson Aspen also comes with a handy news reader – Express News.
If you have to make many expensive international calls, then Skype can possibly prove invaluable. As we said in the phonebook section of this review, there are shortcuts to make a call or send an SMS via Skype – but they are only available in the stock WinMo Contacts app.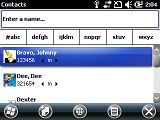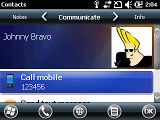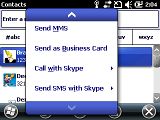 The vanilla Contacts app lets you call with Skype
If you've used the desktop version of Skype, finding your way around the Windows Mobile Skype version wouldn't be too much of a problem. Slightly annoying is the fact that the app works only as a fullscreen panel – meaning that when you start it, it replaces the current panel.
If you've missed it, we have some bad news about Skype on Windows Mobile though – it's been discontinued. So, don't count on any updates for the Skype app.
Another app that works as a panel only is Facebook. It's very touch optimized so even on the tiny screen we had no problems hitting the buttons. The interface uses tabs and covers all the messaging and browsing functionality offered by Facebook.
The rest of the apps include MSN Money and Weather, Windows Messenger, and a Search app. All of them are standard Windows Mobile stuff and we won't cover them in detail. You can also find a shortcut to the Windows Marketplace in the Start Menu.
Three apps for GPS
We already talked about the voice-guidance prowess of Bing Maps. An important clarification is that it works only in the US and only on a limited set of carriers and phones. Still, the list of supported phones should be expanded with time and we hope the navigation will work in other countries too.
The Sony Ericsson Aspen comes with Gokivo for Windows Mobile, which is a SatNav app with voice prompts. It is a trial version though. Anyway, the app is not particularly impressive – the UI is not optimized well and the maps look rather messy.
Still, it's fairly functional. The available maps cover the US and Western Europe. However, it downloads map data over the Internet, so you'll need a data plan to use this app on the go.
And of course, there's the Google Maps application, which is well familiar so we'll skip its description.
Anyhow, it's not like there's a shortage of paid SatNav apps for Windows Mobile – there's plenty to choose from if the preloaded options don't suite you.
A useful tool that comes preinstalled on the Sony Ericsson Aspen is the FastGPS app. It downloads GPS ephemeris data off the Internet, which allows for much faster GPS locks. The data is valid for about a week and you can set FastGPS to automatically download new data every several days or even every time you connect the phone to the computer with Microsoft Sync (useful, if you want to avoid data charges).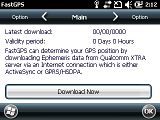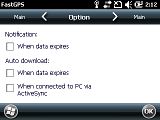 FastGPS allows you to download A-GPS data
Even without the ephemeris data, the built-in GPS receiver acquired a lock quite quickly and the signal was strong.