FM radio with RDS and TrackID
The integrated FM radio of Sony Ericsson C902 has memory for 20 stations and supports RDS. It has nice interface and makes great use of the TrackID music recognition service, which has an updated functionality here as already mentioned. The radio can be minimized in the background much like the music player but offers none of the fancy fullscreen graphics.
Browsing is a breeze
Sony Ericsson C902 has the latest Access NetFront HTML browser 3.4. Elaborate web pages are rendered relatively well and there are lots of configurable settings too. Although there is no dedicated fullscreen mode, the web page automatically rotates in landscape/full screen mode, if the phone is turned horizontally. The other view modes include Text only, Pan and Zoom and Zoom page. The Panning/scrolling speed is also up to the standard.
The Sony Ericsson C902 web browser offers a virtual mouse pointer, which is a real pleasure to work with. Another interesting and practical feature is the "Find on page" option. It searches the loaded web page and the first match is immediately listed as soon as you type a letter.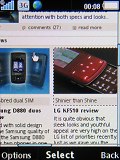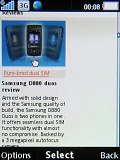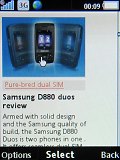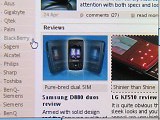 Sony Ericsson C902 web browser in action
If are still not satisfied with this browser, you can always count on the superb OperaMini browser.
Connectivity is a full service
The C902 is not an internet-centric device, nor has it a big enough display, but the connectivity options it boasts are full service. Quad-band GSM/HSCSD/GPRS/EDGE and 3G are all on board, so there is virtually no spot on earth where you will be unable to connect. In addition, you've got the fastest data transfer around, provided that a HSDPA-enabled network is available.
By the way if you are interested where you can find UMTS 2100Mhz or you are not sure whether it's supported in your country, you should definitely check out our Worldwide Network Bands distribution database.
Besides the network-based connectivity, Sony Ericsson C902 offers the usual Bluetooth v2.0 and USB options. There is also support for the A2DP profile allowing listening to music on a stereo Bluetooth headset. Last, but not least, there is also the M2 card slot which might just turn out to be one of the quickest means of transferring data on some occasions.
The C902 supports local and remote synchronization of contacts and calendar events. The local one is with Outlook and a PC, while the remote synchronization works with remote servers. The USB connectivity of the phone has four modes - one for file transfers and one for USB Internet - to put it simply, the second one is for using the phone as a modem. The third one is the media transfer, which directly connects to the Windows media player, and gives full access to tracks placed on your phone, synchronization, play or sorting in playlists. The last one is for direct printing of images.