Traditional phonebook
The phonebook has space for 1000 contacts and 7000 numbers. You can choose to view contacts in the phone memory or on SIM, but not both. Either way you can set up the phone to auto save to SIM all contacts that are being saved to the phone memory. You can also back up your contacts list on the memory card and restore it from there.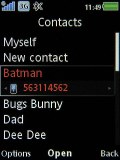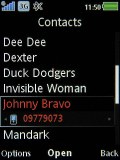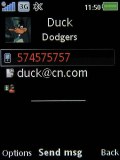 The Sony Ericsson W902 phonebook
Editing a contact uses the tabbed interface used throughout the phone. There are five tabs that group related contact details. The first tab is for names and numbers, next up is web addresses such as e-mails and URLs. The third tab is for storing a picture, a custom ringtone, group, message tone and voice command, the fourth is for postal details and finally the fifth has fields for a note and a birthday (which you can add to the Calendar too).
The name of the contact is written in only one field, but you still have the option to order contacts by first or last name. The phone guesses which is which and it does so quite well, even a "John von Smith" won't be a problem. Naturally, you can search by gradual typing.
Telephony
Handling of calls is excellent and we didn't experience any voice quality or reception problems with the Sony Ericsson W902. Call clarity is great in both the earpiece and speakerphone.
Smart Search is a great boost to usability. It looks up contacts whose numbers contain the digits you have typed or whose names begin with the corresponding letters.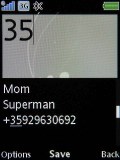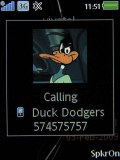 Smart search makes things easier
The tabbed Call Log application should be familiar if you've used a fairly recent Sony Ericsson handset. It displays in four tabs, including All, Answered (Received), Dialed and Missed. When there are several calls made to or from a single contact, only the last one gets displayed.
The Sony Ericsson W902 scored a Good mark in our loudspeaker performance test. More info on our test can be found here.
| | | | | |
| --- | --- | --- | --- | --- |
| Speakerphone test | Voice, dB | Pink noise/ Music, dB | Ringing phone, dB | Overall score |
| Apple iPhone 3G | 66.1 | 62.1 | 71.7 | Below Average |
| Nokia 5800 XpressMusic | 75.7 | 66.5 | 68.5 | Good |
| Sony Ericsson W902 | 68.8 | 69.3 | 75.7 | Good |
| Samsung M7500 Emporio Armani | 73.7 | 66.6 | 75.7 | Good |
| Sony Ericsson C902 | 68.8 | 72.2 | 78.2 | Very Good |
All-round messaging
Along with the standard messaging functionality, Sony Ericsson W902 offers the proprietary Manage Messages feature, plenty of settings for accounts, and the option to assign categories to messages. The Manage Messages application enhances message handling. Messages can be moved to memory card or phone memory, arranged by categories, date, size, and contact.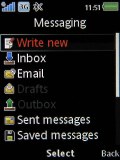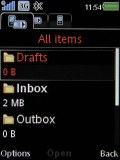 Sony Ericsson W902 messaging menu • Manage messages and email look the same
The W902 handles all common types of messages, all of which - save for emails - share a common inbox. When composing a message, a warning is displayed when you exceed the 160-character limit, to let you know that the message will be divided in two (or more if necessary) parts for sending.
There is also a rich T9 dictionary. The SMS and MMS messages share an editor; when typing SMS you could easily convert it into an MMS via the options menu or using the attach-stuff toolbar below the text box to insert images, animations, videos or sounds.
The phone automatically downloaded the settings for our Gmail account. The options to view messages full screen and change font size really helped to get a lot of text on the screen. Even at the smallest font setting text remained legible.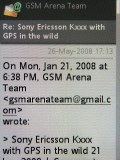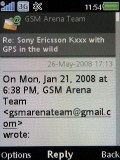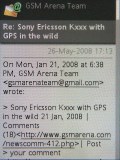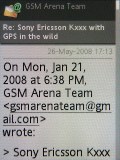 Full screen • normal • small and large fonts
For email you get the Manage Email feature, which has the same functionality as the one for text messages. Saving attachments is problem-free, even if the phone doesn't recognize the file type.
The phone can't handle any documents that are attached to emails (such as .xls, .doc, or .pdf files for example) due to the lack of a document reader.