Lots of apps
As far as the additional applications are concerned, the Sony Ericsson W902 comes with several applications preinstalled: AccuWeather.com, Music Quiz, Standby World 3D, Walk Mate and a YouTube client.
The AccuWeather app gives you up-to-date weather information for locations of interest to you. It provides detailed information about the current weather conditions in the selected region, as well as a 3-day forecast. You should bear in mind that it requires an internet connection and data charges may apply.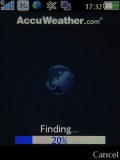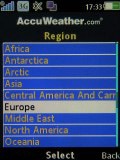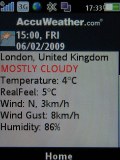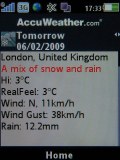 The AccuWeather application offers detailed information about the weather all over the world
The Music Quiz is exactly what its name says - you have to name the title, artist, album or year of release of random tracks in your music library. Long story short: a part of a song is played each round and you have 5 to 30 seconds to guess.
The Standby World 3D is a nice application with readings for up to three different time zones around the world. The background changes as day turns into night in the selected locations.
The Walk Mate is a simple step counter application, which works in background mode based on the built-in accelerometer.
And at the end we find the YouTube client, which gives you full access to clips and uploading, bookmarking favorites and so on. It's really nice and it's also tightly integrated in the Media center, so it's always on hand.
By the way, the beta of the Java application is available for download over at YouTube website.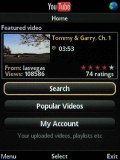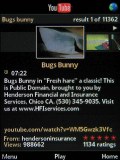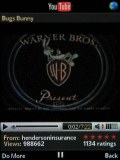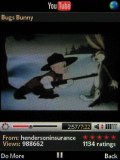 YouTube is a click away
Location services and knowing your way around
Available for free download and compatible with a variety of mobile OS and Java-enabled handsets, the Google Maps for Mobile come preinstalled in the W902. With Location services you can get help finding your way, view information about your current location and save your favorite locations. To use all features of the Location services internet access is a must.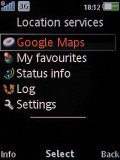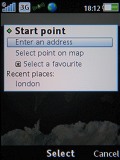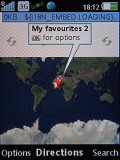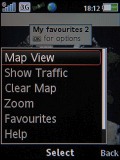 Location services with Google Maps • User interface and some of the menu options
After defining a start and end location, the possible routes are being calculated with overall guidance, based on the available information in the database. With the GPS Enabler HGE-100, plugged in, Location service gets full GPS functionality, as well as A-GPS for faster satellite lock. This makes it possible to use navigation on the go, with turn-by-turn guidance.
Two different view modes are available - Satellite and Map view. Traffic information is another important feature here. The user interface is nice and intuitive.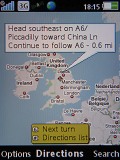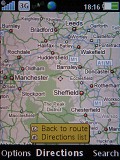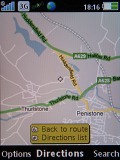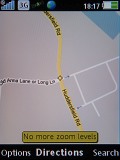 The Map view is very informative • zooming in a street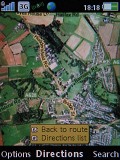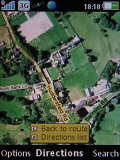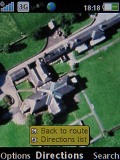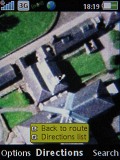 Zooming in a satellite view brings you to a street level details
With a plugged in GPS receiver, the Status info application displays the current activity in km/h for a 60 minutes period. The GPS connection status is indicated on the second tab of this application.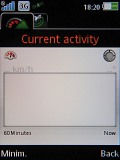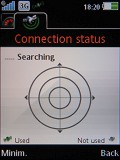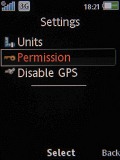 The Status info application and some of the available settings
Of course, saving your most recent routes is as easy as it could be. Within several clicks, a title, description and position is all you need to save a favorite location.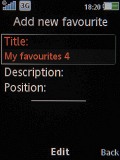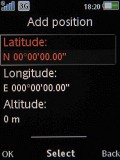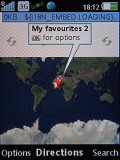 Adding a specific location as favorite
Games are amusing
Sony Ericsson W902 packs three preinstalled games: FMX III Hardcore, JewelQuest2 and Need for Speed Pro Street.
The first one - FMX III Hardcore - is a bike stunts game with nice 3D graphics. You have to go through various stunt events collecting bonus items and execute stunts at the same time. You can choose to play either in portrait or in landscape mode.
JewelQuest2 is a puzzle game. You have to rearrange precious relics to turn tiles into gold as you advance through the entertaining levels.
The Need for Speed: Pro Street game has cool 3D interface and is well worth giving a try (or a shake if you prefer). It can be controlled by simply tilting the phone left or right thanks to the built-n accelerometer. We however did prefer the old-fashioned D-pad control.
Final words
Sony Ericsson W902 is a neat and attractive mobile phone, with solid multimedia and imaging skills. It's got an excellent music player, a bright and lively display and, most of all, it's the first Walkman to take 5 megapixels photos. The relatively slim design and the 8 gigs worth of storage are a welcome bonus.
Unfortunately, the Sony Ericsson W902 has a rather small screen, while the mediocre camera quality and poor video recording are not quite in line with the high asking price. Plus, it risks getting outshined by upcoming Walkmans that feature GPS and Wi-Fi, like Sony Ericsson W715.
The Walkman branding and features may entice enough people to spend their buck but hardly justify the 100 euro premium over the almost identical Sony Ericsson C902.
Our overall impression of Sony Ericsson W902 remains positive and we enjoyed the time we had with it. But we can't ignore the obvious: it's anything but competitive with that 300+ euro price tag. We hate to say it but instead of making the best of the unique Cyber-shot Walkman blend, the W902 will be hoping for a late comeback as a reasonably priced and reasonably dated all-rounder.