8 gigs of character
Sony Ericsson W980 Walkman review: 8 gigs of character

Connectivity: all but Wi-Fi
Sony Ericsson W980 supports virtually every kind of network connection that you need. HSDPA, UMTS, EDGE are all on board. That means that you can have as quick network-based internet access as your carrier can offer.
As far as close-range connectivity is concerned the Sony Ericsson W980 supports USB and Bluetooth, both v2.0. Bluetooth also comes with A2DP support, so you can enjoy your favorite tracks on a set of stereo Bluetooth headphones. Furthermore, the phone could be used as a Bluetooth modem for accessing the Internet on a PC or notebook computer.
There are two things we are missing in the connectivity options of the Sony Ericsson W980. While the Wi-Fi is still a rarity among feature phones, a memory card slot doesn't seem like that much to ask. Yeah, we know that the phone has 8GB of internal memory, but we're talking connectivity options here, not storage.
Our tests with Sony Ericsson W980 showed write speeds of about 1800 KB/s. When reading the data from it, it gets as high as 2500 KB/s. While those numbers might sound sweet to some, they are not up to what a card reader can achieve. On the other hand, they are one of the best among the 8GB phones we have tested. For example we could only achieve 730 KB/s upload and 840 KB/s download speed with a Nokia N95 8GB we had laying around our office.
Web browsing: a great experience
Sony Ericsson W980 uses the latest 3.4 Access NetFront HTML browser. It's similar to the web-oriented Sony Ericsson K660 and G502 we recently reviewed.
Elaborate web pages are rendered brilliantly and can be displayed in both portrait and landscape mode. Fullscreen is also available and so are different zoom levels. Panning/scrolling speed is quite up to standard. Screen auto-rotation is seamless too, thanks to the built-in accelerometer.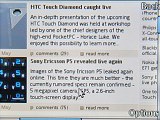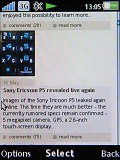 Fullscreen and Smart-fit browsing
The web browser offers a virtual mouse pointer, which is a real pleasure to work with. Another interesting and practical feature is the "Find on page" option. It searches the loaded web page contents and the first match is immediately listed as soon as you type a letter, much like the desktop Mozilla Firefox browser for example.
Time-managing applications are all here
All the typical time-managing Sony Ericsson applications are aboard the W980. Those include nice calendar and alarms applications, task-manager, Notes, Timer, Stopwatch, and Calculator.
The Calendar of Sony Ericsson W980 offers the traditional monthly, weekly and daily view modes. There are also a few types of events available for setting up. Those however do not have their own unique fields for each type, so the names are all the difference.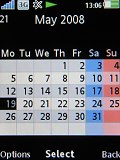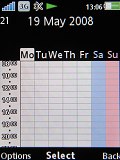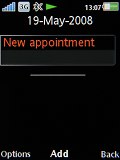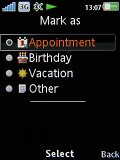 Calendar view modes and event types
As far as alarms are concerned, there are five alarm slots available on Sony Ericsson W980. Each of them offers three tabs with various configurable options. You can set the alarm day and the tone, as well as the name and the picture displayed on activation.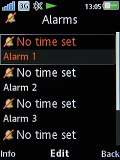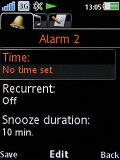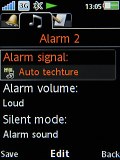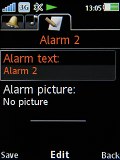 Alarms are highly customizable on Sony Ericsson W980
There are two types of tasks for the task-manager: simple Tasks and Phone calls. When setting a phone call task, you can either enter the phone you have to call or you can look it up in the phonebook of your W980.
Notes are written similar to messages; T9 dictionary can be used here as well. A nice feature is the option to display notes on the Home screen. The Voice recorder has no limit to recording length, making the free memory available the only restriction.
The Calculator is the regular Sony Ericsson application.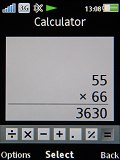 Only basic operations are available with the built-in calculator
The stopwatch and countdown timer are also the well known basic applications.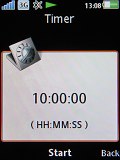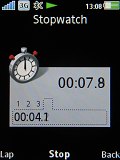 A stopwatch and a countdown timer are also available with the Sony Ericsson W980
Finally, Sony Ericsson W980 also features a Synchronization application. Its purpose is to ensure seamless synchronization of your phone with SyncML and Exchange ActiveSync servers.