US Xperiance
Sony Xperia ion for AT&T review: US Xperiance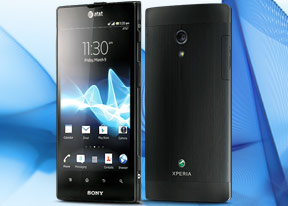 Great organizing skills
The Sony Ericsson Xperia ion comes with a solid set of organizing options, including a document viewer.
The app in question is OfficeSuite and it has support for viewing document files (Word, Excel, PowerPoint and PDF, including the Office 2007 versions). For editing, you will need to get the paid app. Reading documents is quite comfortable and panning is blazing fast. Files don't need to be stored locally - the app offers cloud integration (Google, Dropbox, Box).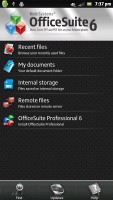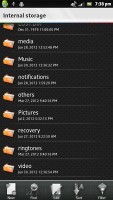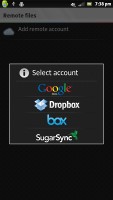 The OfficeSuite reader • Cloud integration • Built-in file browser
There's a built-in file browser too, but it only works with Office docs, so it's not a replacement for a real file browser.
The calendar has three different types of view - daily, weekly and monthly. The lower section of the screen is reserved for a list of upcoming events. Adding a new event is quick and easy, and you can also set an alarm to act as a reminder.
The Calendar also pulls info on upcoming events from your Facebook account. Facebook events appear just like regular calendar entries but you can't edit them on the phone, they are read-only.
There is also a calculator aboard. It is nicely touch optimized - the buttons are really big and easy to hit. You can expand advanced functions (trigonometry, logarithms) by turning the phone landscape.
The alarm clock app supports multiple alarms, each with its own start and repeat time. The Alarms app can also work as a desk clock - you have a big toggle for the brightness, as well as weather info and shortcuts to gallery slideshow and the music player.
There's also a World clock, along with stopwatch and timer functionality.
The Power Saver app helps you extend your battery life by toggling things like Wi-Fi, GPS, Bluetooth screen brightness, auto sync and background data on and off automatically when the battery charge falls below a certain user-defined threshold.
There are three presets in total. The other two are a manual power saver and a timed saver. The latter can, say, keep all those power-hungry features off for the night and turn them back on in the morning.
Google Maps
The Sony Ericsson Xperia ion comes with a GPS receiver, which took a minute to get satellite lock upon a cold start. You can use the A-GPS functionality to get near instantaneous locks. Alternatively, network positioning will do if you only need a rough idea of your location.
Google Maps is a standard part of the Android package and we've covered it many times before. It offers voice-guided navigation in certain countries and falls back to a list of instructions elsewhere.
3D buildings are shown for some of the bigger cities and you can use two-finger camera tilt and rotate to get a better view of the area.
The latest version uses vector maps, which are very data efficient and easy to cache. The app will reroute you if you get off course, even without a data connection.
You can plan routes, search for nearby POI and go into the always cool Street View.
Google Play Store
The Google Play Store is organized in a few scrollable tabs - categories, featured, top paid, top free, top grossing, top new paid, top new free and trending. The in-app section is very informative - a description, latest changes, number of downloads and comments with rating. There is usually a demo video and several screenshots for most apps too.
There are all kinds of apps in the Android market and the most important ones are covered (file managers, navigation apps, document readers etc.) and you shouldn't have a problem running most apps (though the ones that require ICS are still out of the Xperia ion's reach).