Connectivity
The Sony Xperia J has quad-band 2G and dual-band 3G. Mobile data speeds are boosted by 7.2Mbps HSDPA and 5.76Mbps HSUPA.
Local connectivity is covered by Wi-Fi b/g/n with DLNA, so you can easily share content from your phone on a DLNA TV or music player. There's also Bluetooth 2.1 with A2DP on hand.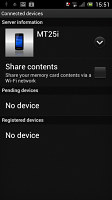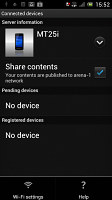 The Connected Devices app handles the DLNA functionality
A dedicated app, Media Remote, will serve as a remote control for DLNA-capable BRAVIA TVs and Sony DVD/Blu-ray players too. It has a few versions of the interface ranging from simply changing the channels to mouse input and viewing disc history.
The Media Remote app is available for free download at the Play Store so other Android smartphones can use it too.
The J also comes with Sony's LiveWare manager, which can be set to launch an app each time you connect an accessory, e.g. a headset or a charger.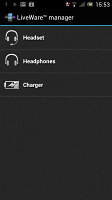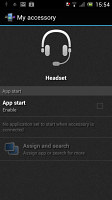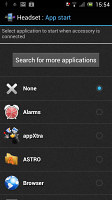 LiveWare manager can, for example, launch the music player as soon as you connect a headset
Stock ICS browser does a decent job
The Sony Xperia J comes with the stock Android ICS browser out of the box is the updated web browser. This browser has a streamlined interface, incognito browsing and other cool features.
Unfortunately if you use it to browse more than half an hour in one session, it will crash due to insufficient RAM. That's the price you pay for the dated hardware. You can always switch to Google's Chrome though, which seemed to be more stable on our Xperia J unit.
The browser is quite minimalistic; all you get is the URL bar with a tabs shortcut. Hitting the Menu key you get more options - Refresh, Forward, Save to bookmarks, Share page, Find on page, full settings and a couple of more - Request desktop site (no more hunting for that "Desktop" option buried at the bottom of the site) and Save for offline reading.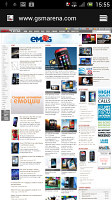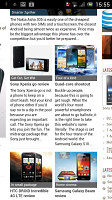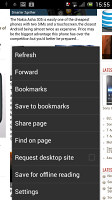 The web browser was redesigned
The full settings menu includes some really interesting options. For example, you can set your search engine to Yahoo or Bing, you can adjust text size and the level of which double tap will zoom in.
The browser borrows several features from its desktop counterpart. For example, when searching for something, if the browser is confident you'll click on a certain search result, it will start preloading that page right away so that it opens faster if you do click it. You can set this feature to work over Wi-Fi only to preserve data.
The other trick is Incognito mode - there's no global setting, but you can open Incognito tabs.
Speaking of tabs, the tab switching interface looks exactly like the Recent apps list. You can even close tabs by swiping them off the screen.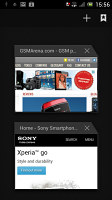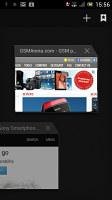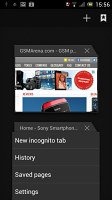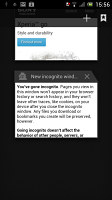 Switching tabs works the same way as switching apps does
Quick controls (available from the Labs settings) reveal five controls (New tab, Tabs, URL, Bookmarks, More) when you slide your finger in from the side. Those really improve the browser experience. Another cool feature from Labs is Full screen, which squeezes out a little more screen real estate by hiding the status bar.
Adobe already dropped the Flash support for Android and Sony isn't one of the companies to still maintain it running on its phones. So unless you find the apk from a third party store, you are out of Flash support. But even if you do, it will run terribly on the Xperia J hardware.