Phone
The Sony Xperia XZ we have for review is the single-SIM version (F8331). A dual-SIM version will also be available on some markets with a model designation F8332. That one uses a hybrid slot for the second SIM card, shared with the microSD card.
The call log is separated from the contacts, but there's a shortcut to those in the upper right corner. It can be filtered by missed, incoming and outgoing calls. Smart dial is supported too.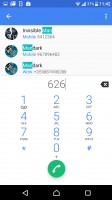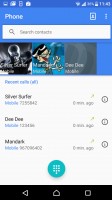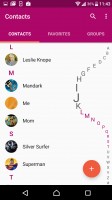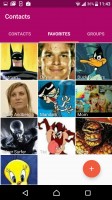 Dialer with smart dial • Call log • Phonebook • Favorites
Loudspeaker
The Sony Xperia XZ has front-firing stereo speakers, just like every Sony flagship since the Xperia Z2 (and some recent midrangers too). In principle, we'll take this setup over any other in a heartbeat, but Sony's speakers are fairly modest in terms of loudness, falling in the Below average category in our test. None of the major competitors truly excels here, yet they are all ahead of the Xperia.
| | | | | |
| --- | --- | --- | --- | --- |
| Speakerphone test | Voice, dB | Pink noise/ Music, dB | Ringing phone, dB | Overall score |
| HTC 10 (Theater mode) | 61.9 | 66.0 | 62.1 | Below Average |
| Sony Xperia Z5 | 65.1 | 62.3 | 66.3 | Below Average |
| Sony Xperia XZ | 61.6 | 65.5 | 67.6 | Below Average |
| Sony Xperia X Performance | 63.4 | 65.8 | 67.8 | Below Average |
| HTC 10 (Music mode) | 63.1 | 66.7 | 74.3 | Average |
| Samsung Galaxy S7 edge | 70.0 | 69.1 | 71.8 | Good |
| LG G5 | 68.7 | 70.9 | 73.5 | Good |
| Huawei P9 | 72.1 | 66.6 | 75.6 | Good |
| Apple iPhone 7 | 67.6 | 73.2 | 75.7 | Good |
| Huawei nova | 69.2 | 71.9 | 80.6 | Very Good |
Messaging
The Sony Xperia XZ has a customized messaging app with all the possible bells and whistles to satisfy all your texting needs. If you haven't transferred all of it to other platforms, of course.
The messaging app on our unit came with panda stickers pre-installed, but you can download more (free and paid sticker packs are available). You can also send your own creations drawn in the Sketch (obviously, this changes the message type to MMS).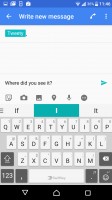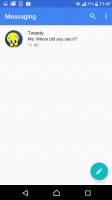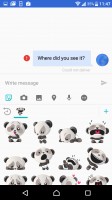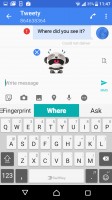 Messaging app • Stickers are available, just like in chat apps
For text entry, Sony picked the SwiftKey keyboard. It's touted as having one of the best prediction algorithms, which is fine for those who use it, but it means you can't remove the suggestions bar at all. Other than that limitation, the keyboard offers multiple layouts and themes, 5 different sizes, undocking, secondary symbols upon long press, swipe input - pretty much everything.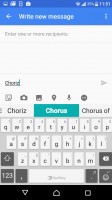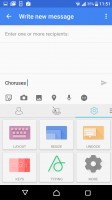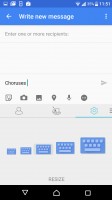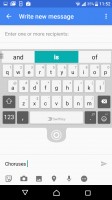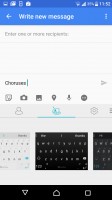 Customizeable SwiftKey keyboard
Other apps
Lifelog tracks a host of daily activities, including walking, running and sleeping, but also the music you listen and the photos you take or the apps you use. It then presents the info in a split-screen view with a timeline on top and detailed numbers on the bottom.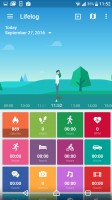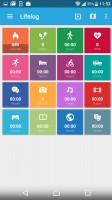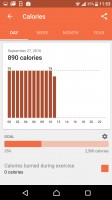 Lifelog tracks more than just steps and calories
The News app is a news aggregator, pulling stories from sources on topics of your choice. It can also issue two daily bulletins for you at a time you specify, so you don't miss out on current events.
Xperia lounge is Sony's own entertainment app, feeding you exclusive content and competitions related to music, movies and games.
Oddly, there is no file manager pre-installed, you'll need to provide your own. All you get is a shortcut to a downloads folder.