A tale of two screens
Sony Xperia Z vs. HTC Butterfly: A tale of two screens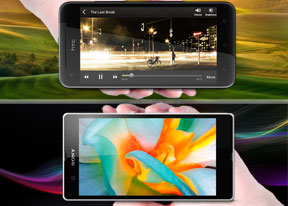 Synthetic benchmarks
The HTC Butterfly and Xperia Z are running on the same power setup. A quad-core Snapdragon Pro chipset with four 1.5 GHz Krait cores, 2 GB of RAM and the Adreno 320 graphics chip. With this configuration on tap it's safe to say that both phones have a strong claim to be among the elite in current top tier devices. Also the playing field is level due to the same resolution on the displays. So things could come down to which proprietary OS is heavier - Sony's or HTC's Sense - and which manufacturer coached its device better for the specific benchmark (yes, they do that).
We have included the HTC One and LG Optimus G Pro as references as they both boast the superior Snapdragon 600 with its more advanced Krait 300 cores.
We start off with BenchmarkPi. Calculations per core is the target of the test and the lower score the better. Here the Krait 300 cores inside the Optimus G Pro and HTC One have the upper hand with close to twice as good a score compared to the Xperia and HTC. Still both devices got great results, besting the Oppo Find 5 and Optimus G among others.
Benchmark Pi
Lower is better
LG Optimus G Pro
147
HTC One
151
Sony Xperia Z
264
HTC Butterfly
266
Oppo Find 5
267
HTC One X+
280
LG Optimus G
285
Samsung Galaxy Note II
305
HTC One X (Tegra 3)
330
LG Optimus 4X HD
350
Samsung Galaxy S III
359
Meizu MX 4-core
362
Nexus 4
431
Linpack judges single and multi-threaded processor performance. It's more of the same here - the Optimus G Pro topped the chart while the Xperia Z and Butterfly trail just behind the HTC One, but only slightly.
Linpack
Higher is better
LG Optimus G Pro
743
HTC One
646
Sony Xperia Z
630
HTC Butterfly
624
LG Optimus G
608
Oppo Find 5
593
Samsung Galaxy Note II
214.3
Nexus 4
213.5
Meizu MX 4-core
189.1
HTC One X+
177.7
Samsung Galaxy S III
175.5
HTC One X
160.9
LG Optimus 4X HD
141.5
AnTuTu is a compound benchmark - it test everything from memory speed to CPU and GPU performance. Here the Xperia Z did take a slight advantage over the HTC Butterfly.
AnTuTu
Higher is better
HTC One
22678
Sony Xperia Z
20794
LG Optimus G Pro
20056
HTC Butterfly
19513
Samsung Galaxy S III
15547
Oppo Find 5
15167
GLBenchmark is one of the more serious graphics benchmarks available. We tested the off-screen performance as that shows the true prowess of a graphics chip. The Sony Xperia Z managed 29fps on the 1080p off-screen test, while the Butterfly came close behind at 27.9 fps.
GLBenchmark 2.5 Egypt (1080p off-screen)
Higher is better
HTC One
34
Asus Padfone 2
31
Oppo Find 5
30
Sony Xperia Z
29
LG Optimus G
29
HTC Butterfly
27.9
Apple iPhone 5
27
Nexus 4
26
Samsung Galaxy Note II
17
Samsung Galaxy S III
15
HTC One X+
12
HTC One X
9
SunSpider is JavaScript-based, where the the HTC Butterfly finished just behind the Xperia Z. Truth be told the Sony smartphone had some luck here as its score vastly improved with the Chrome update pushed yesterday. Before that, it was doing way worse than its competitor here.
SunSpider
Lower is better
Samsung Ativ S
891
Apple iPhone 5
915
Nokia Lumia 920
910
Samsung Galaxy Note II
972
HTC One X+
1001
LG Optimus G Pro
1011
Motorola RAZR i XT890
1059
HTC One
1124
Samsung Galaxy S III
1192
Meizu MX 4-core
1312
Sony Xperia Z
1336
LG Optimus G
1353
HTC Butterfly
1433
Nexus 4
1971
Oppo Find 5
2045
The same can be said about BrowserMark 2, which adds HTML5 performance to the equation. The Xperia Z again managed to beat the HTC Butterfly here and this time it did so pretty comfortably.
BrowserMark 2
Higher is better
LG Optimus G
2555
HTC One
2262
Sony Xperia Z
2093
Oppo Find 5
1797
Nexus 4
1794
Nokia Lumia 920
1774
Nokia Lumia 820
1760
Samsung Omnia W
1632
HTC Butterfly
1475
Samsung Galaxy S III
1247
Winner: Sony Xperia Z (by the smallest of margins). The Butterfly and the Xperia Z were tied on most tests we ran and the real-life performance of the two is pretty similar, but the newly released Chrome update helped the Sony smartphone to the victory here.