A tale of two screens
Sony Xperia Z vs. HTC Butterfly: A tale of two screens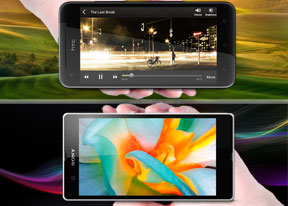 Camcorder quality
Both the Sony Xperia Z and the HTC Butterfly can capture 1080p videos at 30 frames per second. The Xperia Z can also capture images while shooting video but it only produces 1 MP stills, which is hardly a feature at all. Any video player with a snapshot taking feature can do twice better.
The Sony Xperia Z also features HDR video - one of the first devices to do so. The implementation of HDR video isn't all that impressive, though. You only get a minor amount of extra detail in the highlights and in many cases you'd be hard-pressed to tell the HDR video apart from a normal video.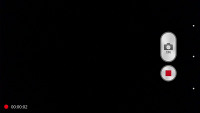 Sony Xperia Z camcorder
HTC's camcorder also features simultaneous image and video capture but does so by doing a 1080p video and capturing 16:9 6 MP stills. They're not as good as the normal photos captured via the camera app but still outclass Sony's pathetic 1 MP samples.
Here are two samples captured at the same time to get you started.
The Xperia Z records videos in MP4 format. The bitrate is around 18 Mbps with a framerate of 29 fps. Audio is recorded in stereo with a bitrate of 129 Kbps with a sampling rate of 48 kHz. The HTC Butterfly also uses the MP4 format with a much lower 10 Mbps and a 29 fps. Audio is also stereo with a bitrate of 95 Kbps and a sampling rate of 48 kHz. So overall Sony's got the advantage here - higher bitrate means less detail falls victim to compression.
Video processing on the two competitors is similar to that of still images, but the HTC approach works much better here. The HTC Butterfly is still a distant second in terms of color reproduction and dynamic range, but the extra sharpening it applies makes its videos appear sharper than those of the Xperia Z. And since you are far less likely to post-process your videos than your images the soft look of the Xperia Z is probably what you'll end up with.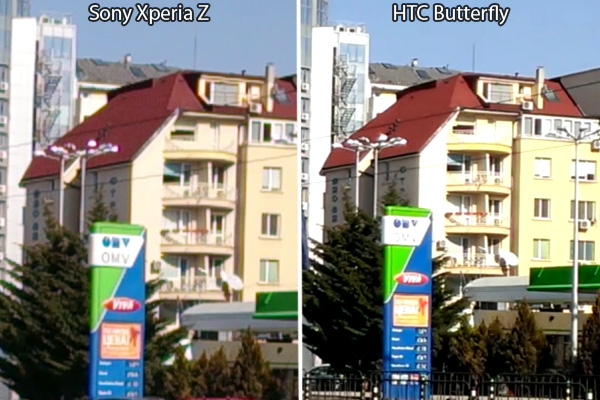 Sony Xperia Z vs HTC Butterfly video crop
When we came back to our studio the HTC Butterfly got its chance to shine, as its sub-par dynamic range didn't matter too much. It outdid the Xperia Z in terms of resolved detail and while its colors were again not as accurate as those of the Sony flagship, the extra saturation makes them look pretty pleasing.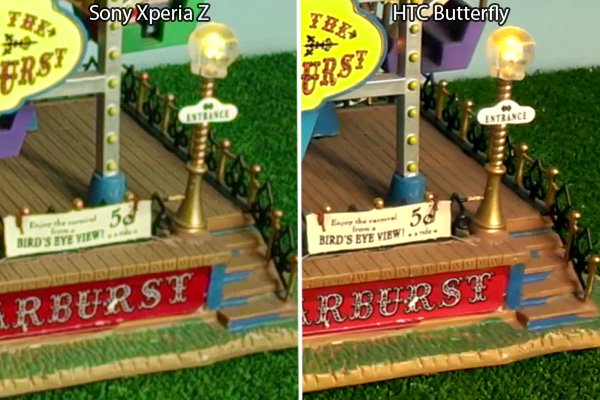 Sony Xperia Z vs HTC Butterfly studio crop (good light)
When most of the lighting goes off both phones dip in quality, but the brighter lens of the Butterfly gives it some advantage and the HTC flagship generally produced the better videos.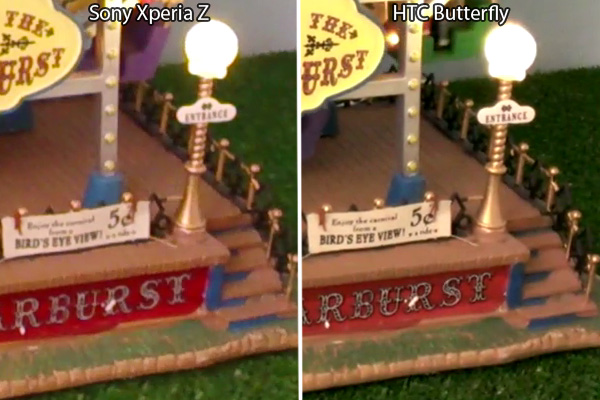 Sony Xperia Z vs HTC Butterfly studio crop (low light)
Video quality comparison tool
Here's our side by side comparison tool. You can view in detail the video samples of the Xperia Z and Butterfly compared with whichever device you want.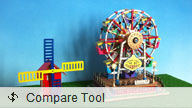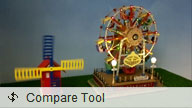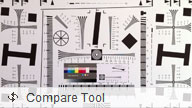 Sony Xperia Z vs HTC Butterfly in our Video quality compare tool
Winner: HTC Butterfly (just). The extra sharpening, along with the punchier colors work much better for video than for still images. Plus its brighter lens gives it an edge in low-light conditions.