Lenovo is offering several new tablets at this years' IFA, and we've decided to give you the quick lowdown on each of them.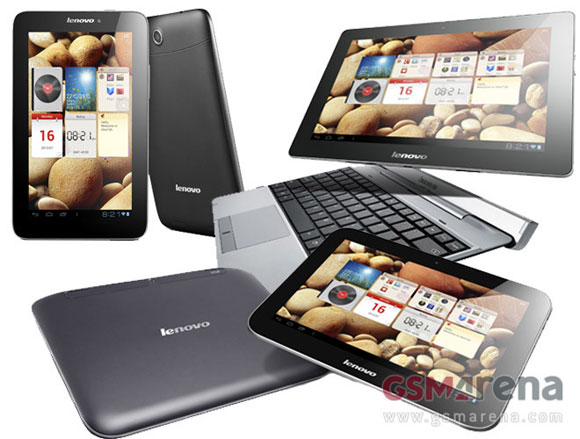 The IdeaTab A2107, IdeaTab A2109, and IdeaTab S2110 are all Android ICS tablets designed for various market segments.
IdeaTab S2110 hands-on
The IdeaTab S2110 is Lenovo's new premium 10-inch tablet, featuring a detachable keyboard dock. Inside, there's a dual-core 1.2GHz processor, 32 GB of storage and 1 GB of RAM. There's also connectivity for USB devices, a microHDMI port, 3G connectivity, and 5 MP rear-facing and 1.3 MP front-facing cameras.
The build quality of the S2110 is definitely the best of the three, and the back is adequately grippy although not as smudge-resistant as the two other tablets. The device becomes significantly heavier when the keyboard is attached, but as a standalone tablet it weighs in pretty well. The 1280 x 800 display is by far the best of the three, and navigation the Android interface is very snappy with no lag in the animations or transitions.
IdeaTab A2109 hands-on
The IdeaTab A2109 is a slightly smaller and less robust version of the S2110, sans the keyboard attachment. The 9″ display features the same 1280 x 800 pixel display, while inside you'll find a quad-core Tegra 3 processor clocked in at 1.2GHz. The A2109 doesn't feature the 3G connectivity of the other two tablets, but it does have a microHDMI port and the usual array of connectivity features. There's also a 3MP/1.3MP front/rear camera combo.
Just like the S2110, the screen is sharp and has a good brightness, but the viewing angles leave something to be desired. The construction is similar to that of the A2107, and it features the same fingerprint-resistant back panel.
IdeaTab A2107 hands-on
Finally, the IdeaTab A2107 is Lenovo's new budget Android offering, with a 7" screen of 1024 x 600 pixels resolution. It's powered by a 1GHz processor, and has 16 GB of internal storage alongside 1 GB of RAM. There's also Bluetooth and USB connectivity, a microSD card slot, and 3G connectivity.
The device's 1GHz processor had a hard time keeping up with what we tried to do, and the screen's viewing angles were not the best either. The WSVGA resolution makes the the UI look not as sharp as on the other two devices, which we were not expecting, considering the Lenovo press release claims a 720p screen resoltuon. The back was nicely-textured so as to be resistant to fingerprints. and when removing the back panel we were surprised to see slots for two SIM cards - something that's not advertized by Lenovo for this device.