Google Now
Not to stay too far behind Apple, Google launched its own voice solution in the summer of 2012. Google Now of course takes a slightly different approach. Instead of waiting for you to ask something, Google Now is trying to be proactive and suggests things you might be interested in in the form of cards.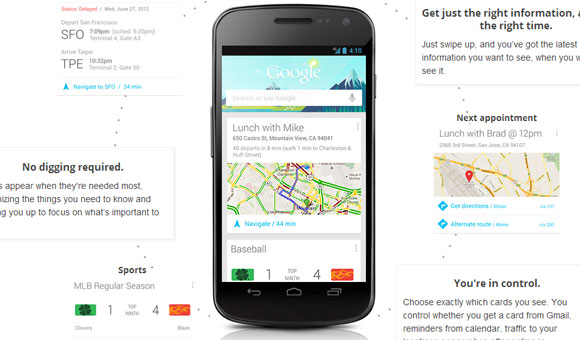 The card-based user interfaces allows you to quickly scan the stuff that matters to you. Currently, Google Now offers you cards for traffic to and from work or home, a weather forecast, stocks, your favorite sports team's fixtures and even friends' birthdays.
There are a total of 25 different types of cards and Google promises that more are on the way (we suspect details to be unveiled at Google I/O 2013 in May). The more interesting among them such as Restaurant reservations, Packages, Boarding Pass and Flights require you to give Now access to your Gmail, but if you do you won't even have to ask for it to set a reminder for you. Once you get an email confirming your booking it will automatically put it in your schedule.
Google Now even knows approximately where you are (if you allow it to sniff around, of course) and suggests things for you to do. For example, if you're away from home, Google Now will kindly suggest some tourist attractions for you to visit. And it will always keep you updated on the time it will take you to arrive home in the current traffic conditions.
In order to fully enjoy the power of Google Now, you'll have to grant it access to your Google search history. This way, for example, it'll alert of upcoming events near you (concerts of your favorite band for example).
Make no mistake about it, Google Now is as tightly integrated in Android 4.1 Jelly Bean as Apple's Siri is in iOS - you can access it from anywhere in the user interface (the access method is different for different OEMs, but rarely involves more than a couple of taps).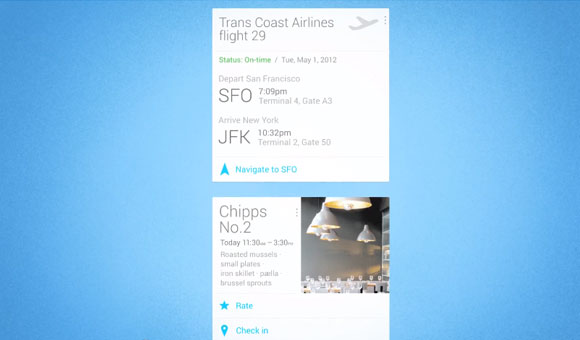 Tapping the microphone button in Google Now allows you to not only place a search query but also boss your phone around. You can set alarms, add calendar events, place phone calls and send text messages or get navigated using Google Maps.
For trivial search queries like currency and unit conversions, looking for famous people or places and notable events, Google harnesses the power of its Knowledge Graph - a service for gathering information from a wide range of sources to show you what you want to know.
The voice search feature of Google Now is part of the Google Search app and supports a much wider array of languages (nearly 40) than Siri. The search giant is constantly adding new languages and updating the already existing ones with new features such as dictation and search functionality. However, the cards in Google Now don't support the full range of languages just yet.