Speaktoit Assistant
Virtual personal assistants don't come only from big players like Google and Apple. There's a small company called Speaktoit, which offers a full-fledged virtual personal assistant alternative called simply Assistant. It's reminiscent of Siri, in its ways of freely communicating with you and making an effort to ask your question alone, before resorting to initiating a Google search.
The app is very versatile and its rich list of features goes on for miles. You can launch apps, find information on the web, get answers to your questions (what's 2+2 and up), send and read text messages as well as launch apps.
However, our favorite feature just has to be Briefing: you're presented with plenty of information for the current time and date, weather conditions, upcoming events from your calendar and hottest news read to you by the Assistant each morning. In fact, you can choose between a set of male and female voices with either British or American accents for the Assistant to use. Mind you, that's a premium feature and you need to pay $2/month to get a premium account.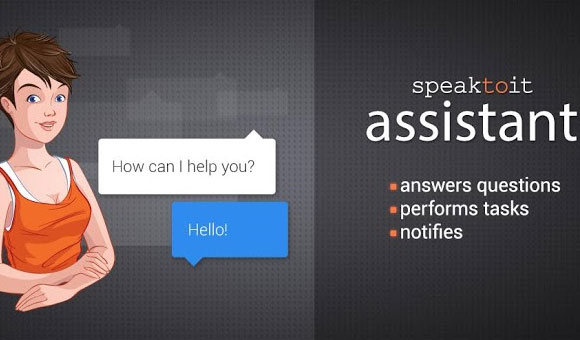 The Speaktoit Assistant, unlike Now and Siri, also lets you redesign its looks. The Assistant's avatar can be customized by choosing gender, clothing, and even tiny details like hair style, type of nose, mouth or eyebrows. You can change the background of the app, too.
The third-party app taps into Google's rich voice search functionality, but only supports English English, German, Russian, Spanish and Portuguese for now. However, it uses the native Android text-to-speech service, which isn't all that great as the speech sounds choppy and doesn't flow as naturally as Siri's for instance. The add-on voice packs from iSpeech (premium) aren't all that great either.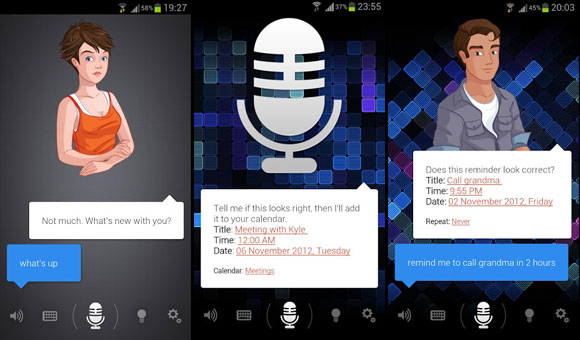 On the bright side, the Assistant is very "open-minded" and can even tell you quite a lot of jokes should you ask it. You can even engage in a proper conversation with it.
It should be noted that Speaktoit is available for Android, iOS and Windows Phone 7 and up. However, we chose the Android version, since it also gave us the chance to test the Assistant's newly introduced premium features. One of them is the option to teach your assistant how to respond or what to do based on your input; you can also assign nicknames to your friends (instead of saying their full names) and more.
A cool feature of the Assistant is that it doesn't always wait for you to activate it. Sometimes it will push a line to your notification area, suggesting you a quick brain workout or another activity it believes you might like. It is also the only one that can be activated by simply shaking your phone, instead of having to unlock it and press some buttons first.
The fact that the app has had a few million downloads and consistently getting positive user feedback is certainly encouraging and we are hoping there's good reason for that.
Overall, all of the assistants reviewed here aren't without their special needs. For example, the voice search technology requires you to talk with a moderate tempo and articulate clearly.
Not only that, but they tend to hang on to some keywords in the not so rare cases when they don't fully understand what you are telling them. If you say something that remotely sounds like "restaurant" for example, the assistant will automatically assume you are searching for one.
Enough talk though, let's see how Google Now, Siri and Speaktoit go about different tasks.