Internet Explorer is nice for a change
Internet Explorer in all its incarnations has caught a lot of flack for being clumsy and outdated. But the new version found in WP7 is nice and, like Internet Explorer 9 on the desktop, it will change the way people think of IE. It's not all perfect but most people will use it without missing a thing.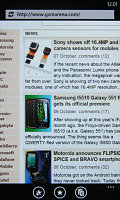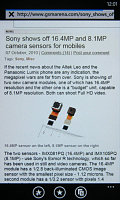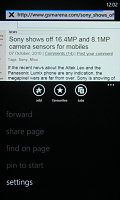 Browsing around GSMArena.com with the new Internet Explorer
Page rendering is perfect and fast, as are panning and scrolling. For zoom, you have double tap and pinch zoom. As an extra guide for navigation there's the Find on page option. Flipping the phone in landscape orientation clears the onscreen controls and gives the whole screen to the webpage.
While we appreciate the automatic fullscreen mode, it's quite limited. You have absolutely no controls and you can't even enter a new web address in that position.
Multiple tabs are supported and the browser didn't break a sweat juggling several of them. This is, of course, mostly due to the high minimum hardware specs – which are guaranteed for each Windows Phone 7 device. There is a six-tab maximum limit though – reasonable for a mobile device, but tab-powerusers may find it limiting.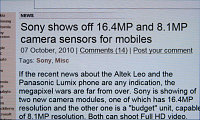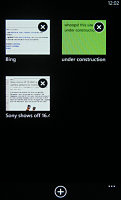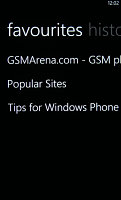 Landscape mode • multiple tabs are supported • favorites and history
History and favorites are supported and you can even pin a favorite site to the homescreen. Another handy option is to let Bing suggest sites as you type in the URL and Internet Explorer will also suggest sites from the history.
There are some things missing though – Flash is one, but we were at least hoping for Silverlight, which didn't work either.
Saving files is problematic too – you can only save files that the OS can recognize. We guess that limitation stems from the fact that just as on Apple's iOS there is no system-wide file manager.
Text reflow is another feature we missed – if you zoom in as much as you want, you'll have to pan left and right to read the text.
The final issue we found is that it causes banding in all online images as if it supports only 65K colors. The issue however is not system wide, cause we didn't see banding elsewhere throughout the UI.
Despite these bugs, overall, Internet Explorer on Windows Phone 7 is a huge improvement over the previous versions and can be used as a main browser.
Here's a quick video demo of Internet Explorer on Windows Phone 7.
Microsoft Office suite for mobile
The Office hub is an important part of the Windows Phone 7 package. The interface is identical to the other hubs and it's the best mobile Office suite we've seen yet.
The Office hub breaks down into three sections – OneNote, Documents and SharePoint.
OneNote is Microsoft's collaborative note taking tool. It has great (and easy to use) support for lists of multiple levels, you can add photos and voice memos and you can send notes via email when you're done. Notes can be synced with your SkyDrive or Windows Live account so you can access them from anywhere. Pin-to-homescreen is available too.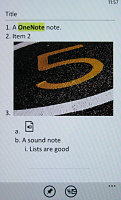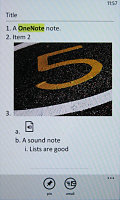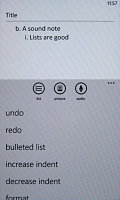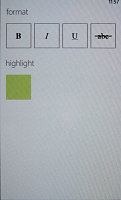 OneNote is a great note taking tool
Collaboration for both Word and Excel files is enabled with the usual Microsoft Office SharePoint. It allows syncing, sharing and web publishing but you'd need to use the right SharePoint server. You can also attach those files to emails, though you need to do that from the Office hub. You can't do it from the email editor, which caused a little confusion at first.
Anyway, let's look at the two more important apps – Word and Excel. They share the Documents panel, which lists all available documents of the relevant types (in order of last used). Both viewing and editing of files is supported.
The Word file support is very good. When reading a file, you can tap the Outline key to view a list of all titles from the document. The other way for navigating long files is the Find key.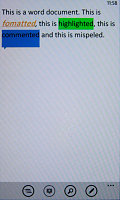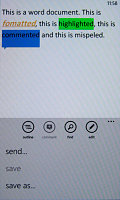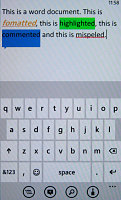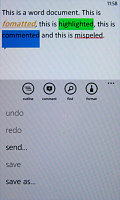 Viewing and editing a Word document
Editing is pretty straightforward and easy to use even on a mobile device. You type in the text and you can use the Format key to change the formatting of the selected text. You can also insert comments.
Formatting options include the standard bold, italic and underline, as well as text size, highlighting and font color. For highlighting and font colors you have only three colors to choose from, which is a little limiting but should be enough for most cases.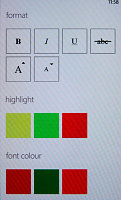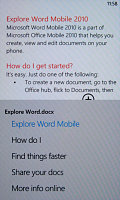 Formatting options and overview of a document
There's undo and redo options but strangely, there's no way to create lists, like in OneNote.
And of course, the biggest missing feature is copy and paste. That's a huge miss for a document editor – you can't copy and paste parts of other documents, emails, messages, sites, nothing. We're guessing many people will sooner or later find this omission quite frustrating.
The Excel viewer/editor is pretty good too, but like the Word editor it misses some features. You can add formulas to cells (though it's not as easy as on the desktop Excel and there are fewer cells available), you can sort and filter the cells too, even merge some of them.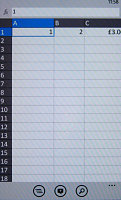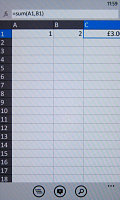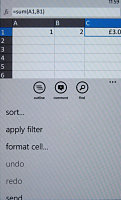 Viewing and editing an Excel document
But cell formatting is limited to a date, currency or percentage type. You can't even change the currency sign.
Another must-have that's missing is new row and new column insertion.
Several sheets are supported but you get three by default and you can't rename or delete them, nor add new ones.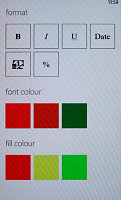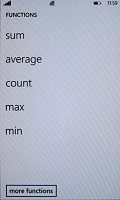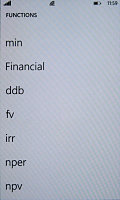 Formatting a cell • adding a function
Anyway, the viewers for Word, Excel and OneNote apps support pinch zooming and work very well for viewing even complex documents. But Microsoft's fondness for simplicity may have over-simplified the editors.
The Calendar is nice
There's not much to say about the calendar – it works well and it's easy to use. It prefers two view modes – agenda and day view. You have month view too, but you can't access it by side-swiping – you need to use the soft key for that.
The other two softkeys are Today (brings you to the current date) and Add an appointment. That's the only type of event you get, but it has enough options to suit your needs.
You can sync with multiple Exchange ActiveSync calendars, including the Google Calendar - but you have to add is as an Exchange server for that to work.
Yet more Windows Phone 7 video action - calendar and Office hubs: