Phonebook with Yellow Pages built in
The phonebook is fairly standard, a part of the same multi-tabbed app as the dialer. You can assign personal ringtones for each contact and scan a business card to quickly add a new contact. Since there are no Google Play services don't count on getting your phonebook synced with the initial setup.
The final tab of this app is titled "Yellow Page." It looks like local listings, complete with search, but it was in Chinese only and it didn't seem to work in our area so we couldn't really try it out.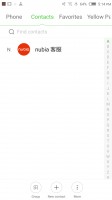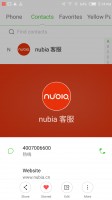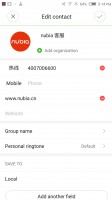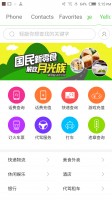 The phonebook has Yellow Pages built in, but no Google syncing
Dual-SIM telephony
The dialer shows your recent calls with the keypad on top (which can be hidden to make more room for the call log). Smart dialing is enabled - that is you can quickly search your contacts by typing - but the phone also pulls numbers for various shops and businesses from the Internet. The Info button next to each number shows more about that business.
The ZTE Nubia Z9 is a dual-SIM, dual-standby phone. Each SIM gets its own ringtone and call button so it's easy to tell which number is getting called and calling from the right number. Call recording is available from the settings menu and can be set to begin automatically with each call.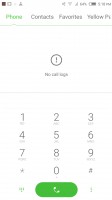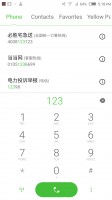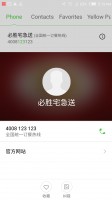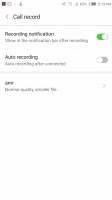 The dialer searches beyond your phonebook • it has built-in call recording
You can also switch which card is used for data from the notification area.
| | | | | |
| --- | --- | --- | --- | --- |
| Speakerphone test | Voice, dB | Pink noise/ Music, dB | Ringing phone, dB | Overall score |
| Alcatel Idol X+ | 64.8 | 62.7 | 69.7 | Below Average |
| Sony Xperia Z3+ | 66.7 | 66.6 | 67.7 | Average |
| Apple iPhone 6 | 66.6 | 65.7 | 72.8 | Average |
| HTC One M9 | 65.2 | 64.6 | 76.1 | Average |
| ZTE Nubia Z9 | 67.9 | 66.5 | 73.5 | Average |
| Samsung Galaxy S6 | 68.1 | 66.3 | 73.7 | Good |
| Xiaomi Redmi 2 | 70.8 | 70.9 | 77.4 | Very Good |
| OnePlus One | 74.8 | 73.5 | 80.2 | Excellent |
Messaging and text input
Like the dialer, the messaging app lets you easily send a message from either SIM card. Once you open a message thread you also get a clear indication of which SIM card received a given text too. The app itself looks like it belongs on iOS, it has a fairly clean UI but it's functional. A tab shows only starred messages and you can use search to find others.
Incoming messages (including MMS, naturally) are showed in popups and you can enable delivery reports. You can even manage messages stored on the SIM cards themselves, though we don't think anyone still uses that functionality (right? anyone?).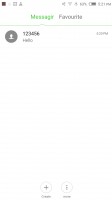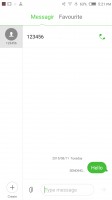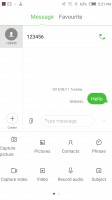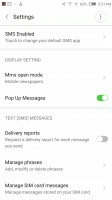 The Messaging app for texts and MMS
For email there isn't the usual Gmail app, instead you get a custom solution that supports Gmail but also a number of providers popular in China (163, qq, sina, etc.) along with Hotmail and Yahoo. Multiple accounts are supported and you can view the messages in a combined inbox.
The app is attractive (again with iOS aesthetics) but it lacks some goodies of Gmail - push notifications (i.e. instant delivery of emails) and swiping between messages.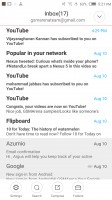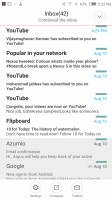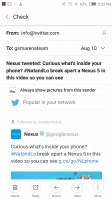 The Email app supports multiple inboxes
The ZTE Nubia Z9 uses the standard Android Keyboard, but also comes with Sogou, which handles Pinyin and handwriting input for eastern languages. The Android keyboard is quite good at that itself and has customizable appearance and button arrangements, plus swipe input.
Voice dictation is not available though. Additional goodies like split-keyboard mode or changing the size of the keyboard are not available either. The one-handed mode scales the whole screen, including the keyboard, there's no dedicated small keyboard (not that you'd need one at 5.2").