Out of the blue
Acer CloudMobile S500 review: Out of the blue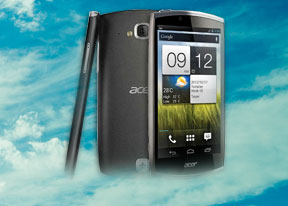 Display
The 4.3" IPS LCD on the Acer CloudMobile S500's front has a resolution of 720 x 1280 pixels, which adds up to a density of around 340 ppi. Quite an impressive number indeed and one that can make some high end smartphones like the Galaxy S III, iPhone 5 and Lumia 920 green with envy.
The screen produces good vibrant colors, thanks to its full RGB matrix and the IPS panel helps the impressively wide viewing angles. It's not the brightest unit we've seen around the office but it's definitely not too bad either.


The 4.3" 720p LCD of the Acer CloudMobile
We've prepared our display breakdown for you guys so you can judge the Acer CloudMobile S500's screen on its own merits.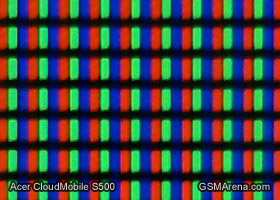 Display test
50% brightness
100% brightness
Black, cd/m2
White, cd/m2
Contrast ratio
Black, cd/m2
White, cd/m2
Contrast ratio
Acer CloudMobile S500
0.28
266
936
0.50
530
1063
HTC One X
0.15
200
1375
0.39
550
1410
Sony Xperia U
0.35
287
831
0.55
515
930
Samsung Galaxy Ace 2 I8160
0.24
225
921
0.59
500
843
Apple iPhone 5
0.13
200
1490
0.48
640
1320
Contrast ratio
Nokia 808 PureView
4.698
Samsung I9300 Galaxy S III
3.419
Samsung Omnia W
3.301
Samsung Galaxy S
3.155
Samsung Ativ S
3.129
Nokia N9
3.069
Samsung Galaxy Note
2.970
HTC One S
2.901
Samsung Galaxy S II
2.832
Huawei Ascend P1
2.655
Nokia Lumia 900
2.562
Apple iPhone 4S
2.269
HTC One X
2.158
Nokia N8
2.144
Apple iPhone 4
2.016
Sony Ericsson Xperia ray
1.955
Acer CloudMobile
1.931
HTC Desire X
1.878
HTC Windows Phone 8X
1.873
Sony Xperia U
1.758
LG Optimus G
1.753
LG Optimus 4X HD
1.691
HTC One V
1.685
LG Optimus Vu
1.680
HTC Desire V
1.646
LG Optimus 3D
1.542
Nokia Asha 302
1.537
Sony Xperia J
1.494
Nokia Lumia 610
1.432
Gigabyte GSmart G1355
1.361
Sony Xperia miro
1.324
HTC Desire C
1.300
LG Optimus L7
1.269
Meizu MX
1.221
Samsung Galaxy Pocket
1.180
Sony Xperia tipo
1.166
Samsung Galaxy mini 2
1.114
You can find more about our screen testing procedures here.
Handling
Handling the Acer CloudMobile S500 is a breeze and we really enjoy the comforting feel of the rubberized back panel and side frame. Many will frown at the all-plastic construction but the smartphone is undoubtedly well made.
Holding the device in one hand still allows you to use the screen with your thumb, if you have medium or larger hands.
Overall, there's plenty to like about the Acer CloudMobile S500 hardware. It has an interesting and easily distinguishable look and it offers some nice ergonomics.