Out of the blue
Acer CloudMobile S500 review: Out of the blue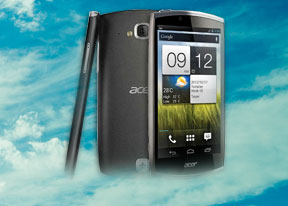 User interface
The Acer CloudMobile S500 runs Android 4.0.4 Ice Cream Sandwich out of box, with some customizations thrown in by Acer. The user interface provides a fresh experience beyond vanilla ICS, especially if you've grown bored with the likes of TouchWiz or the Xperia UI.
As usual, we've shot the user interface on video for you to see how it's like.
The CloudMobile S500 comes by default with the usual five-pane homescreen configuration, but there is an option to have either 3 or 7 homescreens too. There are four docked shortcuts (two on either side of the launcher shortcut), which are visible across all homescreen panes and are user configurable: they can be either single icons or folders with multiple items in them.
If you create a folder, it will show thumbnails of the first three items inside.
The 'Add and personalize' menu has been replaced by a simpler (and less functional) customization menu, which lets you change your wallpapers, manage your lockscreen shortcuts, adjust sound and volume settings, and add or remove homescreens.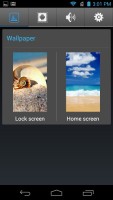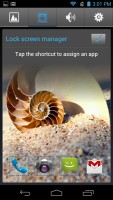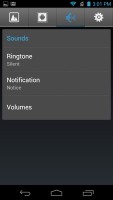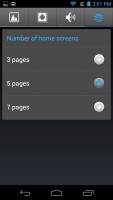 The customization interface doesn't have many options
Unlike some of the other Android UI's, there is no way to get a glimpse of all of your homescreens on one screen. Adding shortcuts and such is done by dragging items from the apps and widgets menu onto the homescreen. Fortunately, the device remembers which page of the app/widgets menu you were on, so adding a new app shortcut or widget is not a tedious process.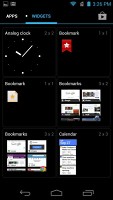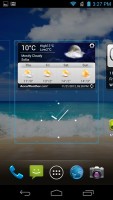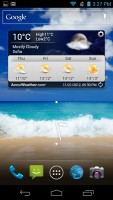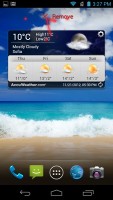 Widgets are accessed via the launcher • Adding/removing a widget
The lockscreen features a nifty window blind-like slide to unlock animation which sets itself apart from most others we've encountered. Besides that, there are several lockscreen varieties to choose from in ICS, including Face, Pattern, PIN or Password unlock, in ascending order of security.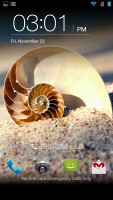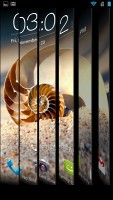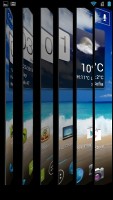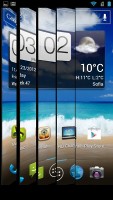 The default lockscreen has a cool unlock animation
Choosing another lockscreen does not change the options located in in the customization interface mentioned above, where the only lockscreen-related option you get is enabling or changing the app shortcuts. There are no music controls via the lockscreen either, even if you have a track playing in the background.
The ICS notification area has been changed slightly as well, and features several tabs. By default, it opens up your notifications, but also includes tabs for quick access to settings, as well as various alarms. The leftmost tab featuring a musical note icon, oddly, does not feature controls for your music. Instead, it is reserved for the FM radio app, and is only active after you launch it - it cannot be used as a shortcut to launch the app itself. Ultimately it is a very odd design decision, and not very useful at that.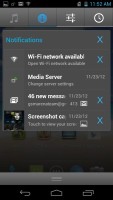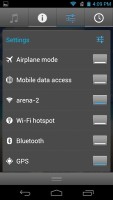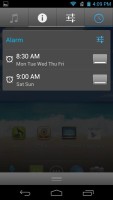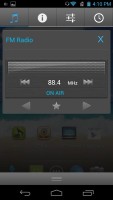 The notification area features a largely useless radio tab
The task switcher is the same as the one found on vanilla ICS, where you can swipe applications to the left or right to remove them from memory. The app drawer also hasn't changed much. Once you go through all the pages containing apps, you will start browsing through widgets.