Out of the blue
Acer CloudMobile S500 review: Out of the blue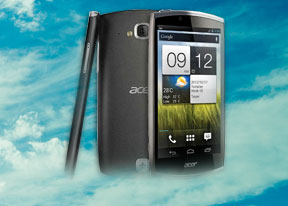 Synthetic benchmarks
The Acer CloudMobile S500 is powered by a Qualcomm MSM8260A chipset, which packs a dual-core 1.5GHz Krait processor, 1 GB of RAM and Adreno 225 GPU. We've seen great performance from Krait processors in the past - even in the dual-core variety - so we're eager to see how the S500 stacks up.
The CPU performance measured by BenchmarkPi is quite inspiring and handily beats most dual-cores out there. The result was similar to what we got from the HTC One S, which also features a dual-core 1.5GHz Krait.
Benchmark Pi
Lower is better
Acer CloudMobile S500
281
HTC One S
306
Samsung Galaxy Premier
372
Samsung Galaxy Nexus
447
Samsung Galaxy S II
452
Samsung Galaxy S Advance
530
HTC Sensation XE
536
Sony Xperia S
536
Sony Xperia go
543
Sony Xperia sola
551
In Linpack, the One S was for a long time the cream of the crop when it came to dual-core performance. It seems like Acer did a better job at squeezing out every ounce of power from both cores, and manage to put up the best numbers we've seen in Linpack from a dual-core.
Linpack
Higher is better
Acer CloudMobile S500
225.8
HTC One S
210.0
Samsung Galaxy Premier
96.1
Sony Xperia S
86.4
Samsung Galaxy S II
77.6
Sony Xperia go
69.9
Sony Xperia sola
68.1
Samsung Galaxy S Advance
64.7
Samsung Galaxy Nexus
63.7
The GPU inside the Acer CloudMobile S500 did well in NenaMark 2. It doesn't do as well as some of the other devices (like the One S), but not all have to push out 720 x 1280 pixels resolution. When all's said and done, the numbers were far from pedestrian.
NenaMark 2
Higher is better
HTC One S
60.5
Acer CloudMobile S500
58.2
Samsung Galaxy Premier
55.3
Samsung Galaxy S II
51.6
Samsung Galaxy Note 10.1
43.6
Sony Xperia go
42.8
Sony Xperia S
37.5
Samsung Galaxy Nexus
28.7
Sony Xperia sola
27.7
The SunSpider JavaScript benchmark showed some good browser performance from the S500. The significant advantage we see here by the Samsung Galaxy Premier can partly be attributed to performance enhancements brought about by Android 4.1 Jelly Bean. Should the S500 receive this update, we expect this number to go up accordingly.
SunSpider
Lower is better
Samsung Galaxy Premier
1171
Acer CloudMobile S500
1541
Samsung Galaxy Nexus
1626
HTC One S
1708
Samsung Galaxy S II
1849
Apple iPhone 4S
2217
Sony Xperia S
2587
Samsung Galaxy S Advance
2663
Sony Xperia sola
2837
Sony Xperia go
3228
Browsermark has gone through a revamp process and has released version 2.0. Unfortunately, there is no way to translate scores from previous versions, so our database for this test will be sparse while we go through the process of retesting our devices.
BrowserMark 2
Higher is better
LG Optimus G
2555
Acer CloudMobile S500
1877
Nokia Lumia 820
1760
Samsung Omnia W
1632
Samsung Galaxy S III (JB)
1247
Sony Xperia J
587