Final words
With our tests completed, we're looking at a story of missed opportunities. The Liquid Jade S with its fresh styling, sits comfortably in the hand and won't be a burden on your jeans pocket. Its performance is great for the class, dual-SIM compatibility will be appreciated in developing markets, while the Asus software bundle offers some nifty perks.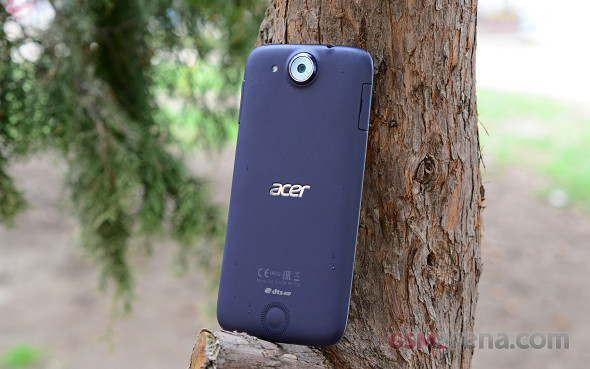 Those nice things however fade when you look at the dim display, which gravitates towards the bottom of our brightness charts. Battery life is another major letdown, with less than five hours of use with the screen fired up.
And that's before we even start on the camera. You would think that a 13MP camera in a smartphone in 2015 would be enough to put your dedicated digicam at home, but its performance doesn't really cash the checks written by the specs sheet.
Key test findings:
Solid build quality, interesting design
Very compact, nicely thin; pleasant to handle, if a bit slippery; power button on top is not comfortable to reach
Display is very dim even at maximum brightness; colors, contrast and viewing angles are good though
Battery life is barely tolerable with the screen on, struggling to reach 5 hours of uptime. Voice call and standby endurance are very good
Dual-SIM flexibility is welcome, but the lack of simple features like USB OTG is hard to accept at this price and point in time.
Acer's take on Android adds some interesting functionality with float apps and customization options
Hardware delivers proper raw performance, but the phone heats up significantly in the process
Gallery app is straightforward; basic video player plays most formats, but doesn't support subtitles
Audio quality is mediocre with both headphones and an active external amplifier
Disappointing camera output in both stills and video with low detail, plenty of noise and limited dynamic range; front shooter is only good as a last resort
Proficient software package is on board, and Acer offers you a simple way of using your PC as cloud storage for your music and video viewing needs. It's a bit chaotic though, and who thought it was a good idea to have two optimization apps?
Given the above list, one cannot in good faith claim that the good offsets the bad. The truth is that in this price range there's fierce competition, and such major shortcomings are hard to live with. You have the current crop of capable midrangers, but it gets even more complicated when you throw former generation flagships in the bunch, and the Acer stands pretty outnumbered.
We'll go ahead and kick off the comparison with the Honor 6, reviewed recently. The Huawei offering comes with a FullHD screen over the Acer's 720p, huge 3,100mAh battery that delivers 13 hours of screen-on time and manages to do it in a more compact body. It also packs a gig more of RAM, but doesn't have a second SIM slot.
The Lenovo Vibe X2 is another FullHD five-incher and it comes with twice the storage at 32GB. It doesn't have a microSD slot, but does come in a dual-SIM flavor. The Vibe X2's battery life isn't a chart-topper either, but still holds up much better to web browsing. Camera output is superior as well. It's not lacking in flair either, rocking a unique layered design.
Sony has a compelling midrange offer in the face of the M4 Aqua. It's said to cost about the same when it launches in June, and comes with the snappy Snapdragon 615 and the same 2GB of RAM. The 5-inch screen is 720p too, storage can be expanded, but there's no dual-SIM capability. However, the M4 Aqua's headline feature is the IP68 certification for protection against the elements, hard to find in the market segment.
Moving on to past flagships, the LG G2 quickly comes to mind. It's dirt cheap for what it offers, which is a 5.2-inch FullHD screen in a smaller footprint, powerful Snapdragon 800 chipset and 2GB of RAM. Battery life is impressive as well, and so is the optically stabilized 13MP camera. You need to forget about a second SIM or microSD, though.
Now two generations old, the Samsung Galaxy S4 is still available and is priced in the same ballpark as the Liquid Jade S. It sports a somewhat dated Snapdragon 600 chipset, but on some markets you could find a Black edition with an S800. You get FullHD resolution, superior imaging and battery life, and Samsung's feature-packed TouchWiz, which is either a pro or a con, depending on where you stand.
We'll wrap up the way we started - finding a spot in the crowded midrange is no walk in the park, and the Acer Liquid Jade S couldn't quite convince us that it has what it takes. It started off great, impressing us with its design, UI and performance, but the phone gets three strikes in very important areas - display, battery, and camera. Unless there's a price cut in its near future, we don't think it can get away with that.