Dual browsers, Chrome is better
The Liquid Jade S comes with two browsers preinstalled, a slightly modified stock app, and Google Chrome.
The stock one has a slightly more cluttered interface with a dedicated black bar on the bottom with back/forward arrows, tab switcher and bookmark button, which pops up a three-tabbed panel with bookmarks, history, and saved pages. The bar eats up precious screen estate and hides after a certain amount of time, only to pop back up when you touch the screen.
Chrome is the more mature alternative and offers easy transition from smartphone to smartphone not to mention seamless syncing with its desktop counterpart thanks to your Google account. It's fast, clean and makes much better use of screen area.
Other pre-installed apps
The Liquid Jade S comes with a pre-installed copy of Polaris Office 5, which handles document editing with ease. It supports Word, Excel and PowerPoint docs (both the 2003 and 2007 versions), it also opens PDF files and it doubles as a file explorer.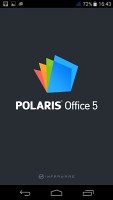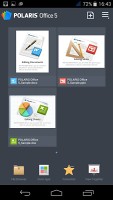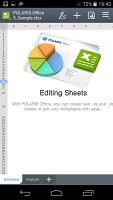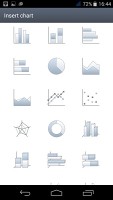 Polaris Office 5.0 can handle document editing on the move
Not one, but two apps on the Liquid Jade S promise to optimize performance, and that's somewhat ironic. Both System Doctor and Clean Master are at your service offering pretty much the same - clean up RAM and free up storage.
A power save app is on board, which will attempt to maximize battery life, but it actually offers limited options, compared to other offerings we've seen. There's also a clean and simple file manager for all your basic file organization needs.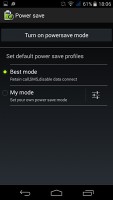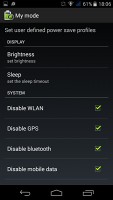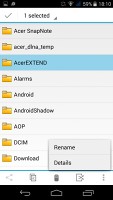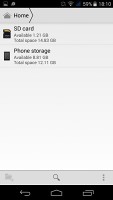 Limited Power save app • Simple File manager
Acer has thrown in a bundle of proprietary apps which can be accessed from the Acer Portal app, on from their separate icons. They require an Acer ID, and allow you to use your PC as a cloud storage solution for your smartphone. Naturally, additional software needs to be installed on the PC as well.
abFiles is yet another file manager (third so far), which adds your PC cloud to the local storage, but other than that offers largely the same functionality. abMusic is the music player of the bunch, with support for playlists and sorting by albums, artists or genres. You can guess then what abPhoto and abVideo are there for. Meanwhile, AcerEXTEND allows you to control your smartphone from your PC via USB or Wi-Fi connection.
The Liquid Jade S sports a Quick Mode which is in turn divided into Standard, Easy, and Basic, with progressively simpler interface. Standard and Easy retain the two-tier interface, with a simple homescreen and an app drawer, while Basic only gets a homescreen and is more child-oriented. All three come with a redesigned notification shade and larger icons across the interface.
To take care of getting around town, Acer has included the AcerNAV app, which is powered by navigation experts Tomtom. The app provides voice-guided navigation and offline maps for finding your way without a data connection. Google Maps is also on board and offers more comprehensive functionality but relies more heavily on data traffic.