Phonebook that does the job
Acer's Phone app offers a combined interface for the phonebook and dialer. The app is laid out across five tabs with call log, dialer, favorites, contacts and groups. Tabs can be side-swiped, so you don't need to reach for the top to tap on the respective icon.
The actual phonebook is pretty standard-issue being just a list of contacts. There's no quick access to a specific letter on the side, but there's a search function. It doesn't work if you only know part of the name though, so typing "ark" won't return "Mandark".
Opening up a contact reveals the usual set of options with practically every type of field you can think of, with phone numbers, IM names, websites, the lot. You can assign the contact to a group or multiple groups or simply tam the star at the top to add to favorites. The favorites tab lists shows two contacts in a row with a photo and a name and there's no option for changing that. Scrolling down past those, you get another list of recently contacted people.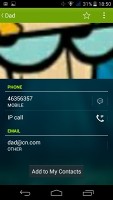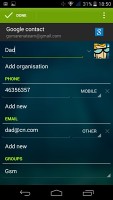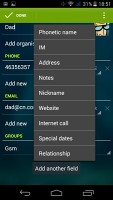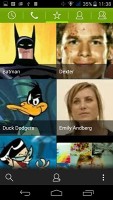 Viewing and editing a contact • Favorites
Telephony
Cellular telephony is well covered on the Liquid Jade S. Reception was strong and in-call sound was just fine, if not the loudest we've heard.
Flipping the phone face down mutes an incoming call, but picking it up to your ear doesn't automatically answer it. Also, the proximity sensor works in conjunction with the gyro, so it only switches off the screen when the phone is held in an upright position.
Tapping the Phone app defaults to the dialer, which is more of a throwback to the days of old, and it may prove quite annoying in the long run. You do get the latest contacted person on top for a quick redial. Tapping down a few digits the phone starts suggesting contacts, which speeds up the process a bit. You can have the call a floating window on your screen, while doing other business, much like the float apps already mentioned in the UI section.
The call log offers a combined view of calls received, dialed and missed, but you can opt to display them by categories to more easily locate a specific contact.
Being a dual-SIM device, the Liquid Jade S offers a choice of options on how to handle the matter. Once you insert the SIM card tray, a dialog pops up informing you of the current setup and gives a direct shortcut to the SIM management section of the settings menu. From there you can enable/disable each of the SIMs as well as specify which one is used for different tasks such as voice calls or data transfer.
Our proprietary loudspeaker tests returned quite underwhelming results. The "Below Average" rating means that even at maximum setting you're very likely to miss a few calls in a noisy setting. You can attempt to remedy this by enabling the DTS-HD mode and pumping the bass and treble all the way up to the maximum 7, but even then it doesn't get much louder.
| | | | | |
| --- | --- | --- | --- | --- |
| Speakerphone test | Voice, dB | Pink noise/ Music, dB | Ringing phone, dB | Overall score |
| Acer Liquid Jade S | 60.7 | 56.9 | 60 | Below Average |
| Samsung Galaxy Grand Prime | 63.0 | 60.3 | 68.3 | Below Average |
| LG G2 | 65.7 | 62.2 | 66.2 | Below Average |
| Lenovo Vibe X2 | 66 | 67.7 | 71.8 | Average |
| Huawei Honor 6 | 65.9 | 64.6 | 75.6 | Average |
| Lenovo S90 Sisley | 66.6 | 65.9 | 75.7 | Good |
| ZTE Blade S6 | 66.3 | 65.7 | 76.7 | Good |
| HTC One | 69.3 | 66.6 | 75.9 | Good |
| Xiaomi Redmi 2 | 70.8 | 70.9 | 77.4 | Very Good |
| Samsung Galaxy S5 mini | 73.5 | 67.7 | 78.7 | Very Good |
| Motorola Moto G 4G | 77.1 | 76 | 83.3 | Excellent |
Messaging, email and text input
The Acer Liquid Jade S comes with a vanilla Messaging app, which has all the basic features you would expect. There's the usual threaded view, and attaching an image or a video turns the text message into an MMS one. You can also launch the camera straight from within the Messaging app, so you don't need to have the photo already taken beforehand.
The familiar Google Handouts provides an alternative for SMS/MMS messaging, while also offering better multimedia experience with emoticons, stickers and GIFs. You can also have group chats with up to 100 people or group video calls with up to 10 participants.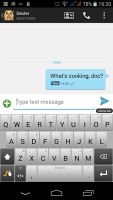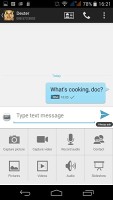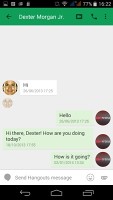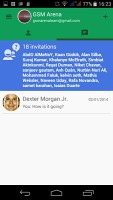 Messaging app • Google Hangouts
As is commonly the case, the Liquid Jade S has a couple of email apps, the generic Android Email one and Gmail. They offer largely the same functionality, with similar interface and support for multiple accounts. The generic app has a more restrained look while Gmail is all Material design colorful. It does have that additional Google touch that may make you choose it over the default one.
Swype keyboard comes preinstalled on the Acer Liquid Jade S and offers the familiar single-finger input as well as regular tapping. An English dictionary was installed, but you can download others off the internet, offering word suggestions and predictive input. It also learns from social media and updates with popular new words, but a manual editing feature lets you have the last word.
Google keyboard is also on board and packs much the same features. Where it falls short is that it doesn't offer secondary symbols for quick tap-and-hold input without changing the entire layout.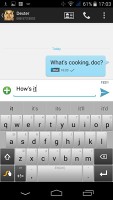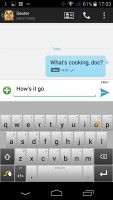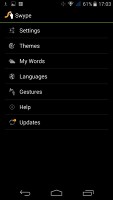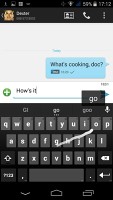 Swype keyboard with numbers and punctuation symbols a long press away • Google keyboard