Apple A11 Bionic performance on the iPhone 8
Each new iPhone generation comes with a brand-new Apple chip and this year the custom silicon is called A11 Bionic. Apple has moved from a quad-core processor up to a six-core one with a first-ever Apple-designed GPU (previous chipsets used GPUs by PowerVR). There are 2GB of RAM inside the Apple iPhone 8.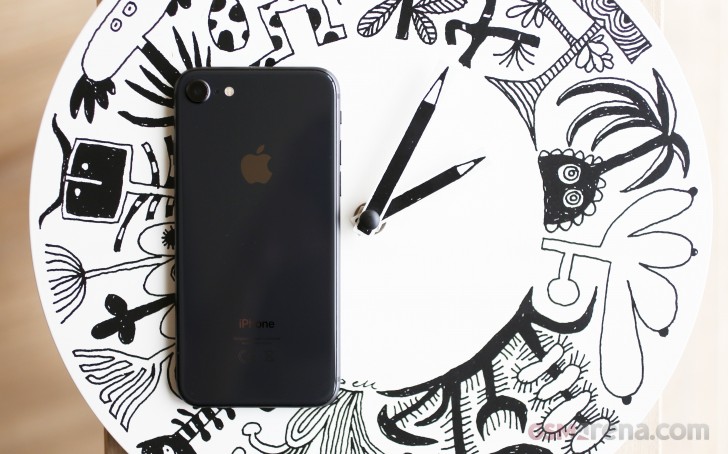 The A11 Bionic chip features two high-powered 2.1GHz Monsoon cores that are 25% more powerful than the 2.34GHz Hurricane ones in the A10 Fusion. The four Mistral cores are power efficient and are 75% faster than the two low-power Zephyr cores in the A10 Fusion. All those six cores can run simultaneously.
The GPU is the first Apple-made one and is comprised of 3 cores, promising 30% faster performance when compared to the GPU inside the A10 Fusion.
The new A11 chip uses a high-end 10nm manufacturing process, as opposed to the 16nm A10. It makes it smaller, more powerful, more efficient and yet cooler. The A11 chip has 4.3 billion transistors, while the latest Snapdragon 835 has 3.1 billion and Kirin 970 we are about to see soon in the Mate10 has 5.5 billion.
The A11 Bionic also packs a dual-core Neural Engine - a purpose-built neural processor. It should provide hardware acceleration for AI machine learning. Machine learning allows the system to improve its performance in complex tasks over time without specific additional programming.
Relying on machine learning the iPhone gets enhanced and speeds up complex tasks such as face and image recognition multiple times. Face and image recognition might be a bigger deal on the iPhone X, but it should have uses on the 8 as well. During its June WWDC developer conference, Apple introduced Core ML, a framework for building artificial intelligence algorithms into apps for Apple products.
And with all the technicalities out of the way - it's time we run some benchmarks.
The first test we ran is GeekBench, as usual. A single Hurricane core (iPhone 7 series) is still impossible to beat, but the new Monsoon core just blows away all other competitors by a mile. Single-core operations are of utmost importance for the performance of any mobile OS, and Apple has been the ruler of this domain for quite some time.
GeekBench 4.1 (single-core)
Higher is better
Apple iPhone 8
4234
Apple iPhone 8 Plus
4232
Apple iPhone 7 Plus
3503
Apple iPhone 7
3459
Samsung Galaxy S8
1991
OnePlus 5
1932
Xiaomi Mi 6
1929
Sony Xperia XZ1 Compact
1826
LG G6
1767
Oppo R11
1596
We are not sure if the multi-core Geekbench test uses all six cores or just the powerful two ones as it often does on Android. But two or even six - the A11 processor is the fastest mobile processor on the planet, outperforming the competitors by a massive margin.
GeekBench 4.1 (multi-core)
Higher is better
Apple iPhone 8
10214
Apple iPhone 8 Plus
10037
Xiaomi Mi 6
6719
Samsung Galaxy S8
6656
OnePlus 5
6604
Apple iPhone 7 Plus
5956
Apple iPhone 7
5831
Oppo R11
5777
Sony Xperia XZ1 Compact
5596
LG G6
4175
Moving on to the GPU, the Apple's first attempt to design its own piece was an absolute success. The raw performance of the 3-core A11 GPU is 40% more powerful than the top-of-the-line Adreno 540 GPU by Qualcomm. It's also 40% faster than the Apple A10's PowerVR 7XT Series implementation.
GFX 3.0 Manhattan (1080p offscreen)
Higher is better
Apple iPhone 8
85
Apple iPhone 8 Plus
85
Apple iPhone 7
61
Apple iPhone 7 Plus
60
OnePlus 5
60
Sony Xperia XZ1 Compact
60
Xiaomi Mi 6
59
Samsung Galaxy S8
50
LG G6
41
Apple iPhone 6s
39.5
Meizu Pro 7 Plus
34
Huawei P10
29
Oppo R11
22
Running onscreen graphic benchmark reaches the v-sync limit and because of this, both iPhone 8s cap at 60fps while potentially being able of even more.
GFX 3.0 Manhattan (onscreen)
Higher is better
Apple iPhone 8
60
Apple iPhone 7
60
Sony Xperia XZ1 Compact
60
Apple iPhone 8 Plus
59
OnePlus 5
56
Xiaomi Mi 6
56
Apple iPhone 7 Plus
56
Apple iPhone 6s
53.6
Samsung Galaxy S8
36
Huawei P10
35
LG G6
24
Meizu Pro 7 Plus
23
Oppo R11
22
Then there is the ES 3.1/Metal benchmark where not only the iPhone 7 series is still impossible to match, but the iPhone 8 generation sets a new record.
Basemark ES 3.1 / Metal
Higher is better
Apple iPhone 8
1690
Apple iPhone 8 Plus
1644
Apple iPhone 7
1547
Apple iPhone 7 Plus
1517
Samsung Galaxy S8
1189
Apple iPhone 6s
879
Xiaomi Mi 6
861
Sony Xperia XZ1 Compact
855
OnePlus 5
796
Huawei P10
716
LG G6
541
Meizu Pro 7 Plus
517
Apple iPhone 6
370
Oppo R11
345
Finally, we ran the compound AnTuTu, and BaseMark OS II benchmarks and the iPhone 8 came on top of all devices we've tested so far. It's taking a full advantage of the lower-res screen and powerful chipset, obviously.
AnTuTu 6
Higher is better
Apple iPhone 8
202645
Apple iPhone 8 Plus
188766
OnePlus 5
180331
Xiaomi Mi 6
177326
Apple iPhone 7 Plus
174987
Apple iPhone 7
174532
Samsung Galaxy S8
174435
Sony Xperia XZ1 Compact
157075
LG G6
143639
Apple iPhone 6s
129990
Meizu Pro 7 Plus
128498
Huawei P10
126629
Oppo R11
118677
Basemark OS 2.0
Higher is better
Apple iPhone 8
3934
Apple iPhone 7 Plus
3796
OnePlus 5
3601
Apple iPhone 8 Plus
3601
Xiaomi Mi 6
3547
Apple iPhone 7
3416
Samsung Galaxy S8
3376
Huawei P10
2910
Sony Xperia XZ1 Compact
2818
Oppo R11
2386
Meizu Pro 7 Plus
2380
Apple iPhone 6s
2195
LG G6
2126
Apple iPhone 6
1429
Apple once again introduced a powerful and yet very efficient chip and the newest A11 design delivers on all fronts. It has the fastest mobile processor by a mile, the fastest mobile graphics unit, and is not a battery monster.
Moving to its own hardware design was probably one of the smartest decisions Apple has made after the iPhone itself, and it has paid off throughout the last few years with great success. The prowess of the A11 is undeniable, and our battery test confirms it's very power efficient.
In real life, our experience just confirms what the synthetic benchmarks suggested - buttery-smooth performance everywhere - system, apps, games, multi-tasking. Everything runs hiccup-free on the iPhone 8.
Finally, as far as the heating and throttling are concerned, the new glass design isn't the best for thermal conduction, and Apple had to rely mostly on the metal frame. That's the reason for this particular spot around the lock key where the iPhone 8, just like the iPhone 8 Plus, warms and under peak loads, this 10mm spot may even become inconveniently hot. But that's it. Then we kept running benchmarks one after another and saw minor throttling (less than 10%), which won't affect the user experience at all.