Telephony
The iOS 11 Phone and Contacts apps look almost the same as before utilizing a clean interface but with now stylized titles. You can force press around for some quick actions. Blacklist is available for those needing this feature.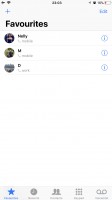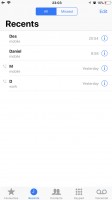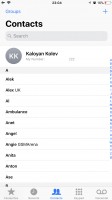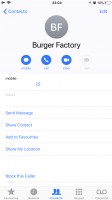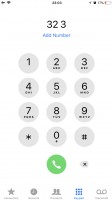 The phone app with Favorites • call log • phonebook • a contact • the dialer
The Phone app has been opened for some time to third-party messengers such as Skype, Viber, and WhatsApp and those can now share the same in-call screen as your phone calls. Even better, you can assign numbers within your phonebook to make calls through Viber or Skype by default, no need of switching apps whatsoever.
FaceTime is naturally available for all compatible iOS and Mac devices and allows you to make free voice and video calls to any other FaceTime-enabled device. It now supports capturing a Live Photo from the stream in those video calls.
iMessage is here to stay, too - once enabled you can send free text and multimedia content, including voice-recorded messages, to any other iMessage-enabled Apple gadget.
Apple is also offering Wi-Fi calling. If your carrier supports it, your phone can be set to automatically place calls over Wi-Fi whenever you prefer. Some carriers won't even count the talk time generated over Wi-Fi against your monthly allowance.
Loudspeakers
As usual, we've tested the new stereo loudspeaker setup performance of the iPhone 8, where Apple promises 20% increase in loudness. We can confirm the iPhone 8 is as loud as the excellent iPhone 8 Plus and both make the loudest iPhones models to date. The two speakers are equally loud and with crisp and clear sound quality.
| | | | | |
| --- | --- | --- | --- | --- |
| Speakerphone test | Voice, dB | Pink noise/ Music, dB | Ringing phone, dB | Overall score |
| Apple iPhone 6s | 63.9 | 66.7 | 66.8 | Below Average |
| Apple iPhone 6 | 66.6 | 65.7 | 72.8 | Average |
| Sony Xperia XZ1 Compact | 66.4 | 70.9 | 68.4 | Average |
| Samsung Galaxy S8 | 66.2 | 70.5 | 72.5 | Good |
| LG G6 | 66.8 | 68.8 | 74.5 | Good |
| Apple iPhone 7 | 67.6 | 73.2 | 75.7 | Good |
| Xiaomi Mi 6 | 66.1 | 69.0 | 84.1 | Very Good |
| Huawei P10 | 67.7 | 70.0 | 83.6 | Very Good |
| OnePlus 5 | 69.2 | 72.9 | 77.5 | Very Good |
| Apple iPhone 8 Plus | 76.0 | 74.6 | 79.0 | Excellent |
| Apple iPhone 8 | 71.7 | 77.8 | 80.3 | Excellent |
| Nokia 8 | 88.0 | 77.1 | 81.4 | Excellent |
Messaging
Apple's Messenger looks pretty much the same as last year - it's highly customizable with bubble animations, stickers, handwriting, various screen effects and newly added full-screen effects. Digital Touch is still available. The new Animojis will arrive with the iPhone X though the iPhone 8 and earlier will be able only to receive such.
One new feature available since iOS 11 is the option to mute entire conversations.
Notable default apps
With every newly activated iPhone, you also get the complete iWorks suite including Pages (viewing, editing docs), Numbers (viewing, editing excel files), and Keynote (viewing, editing presentations).
Apps such as Calendar, Weather, Calculator and Alarm (now with repeating reminders) are available, naturally.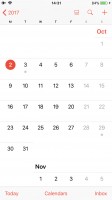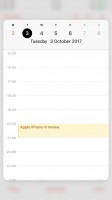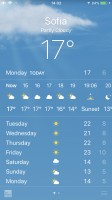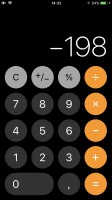 Calendar • Calendar • Weather • Calculator
The Notes app has everything from before like sketching, checklists, different formatting with bullets and lists, inserting multimedia, among others. With iOS 11 it was upgraded with table support and a document scanner - you can use the camera to insert scans in your iPhone notes.
There are two new apps coming with iOS 11 - Files and Clips. The new Files app finally brings basic file management to iOS. Don't get too excited though - it can browse and work with files from iCloud Drive and other cloud storages such as OneDrive, Dropbox and Google Drive - if configured. It also has its own storage space where you can save files from different apps and then access them from Files. It's not a full-blown file manager for all on-device files, but more of a unifying app that at least finally gives you access to iCloud Drive via third-party apps.
Clips is another new app and is very cool - it helps you make fun videos easily. You can add texts, effects, graphics, audio, and more. Clips also supports easy sharing, so your friends could see your creations in an instant. The app will also support 360-degree clips with the new iPhone X that's coming in November.
The News app is here to stay.
Apple Maps is getting better, too. Apple Maps now has lane guidance (finally!), and it shows the speed limit. Indoor navigation is available for malls and airports, with a floor-by-floor directory and search (initial support will be for big US cities and a few foreign ones).
The TomTom-powered Maps keeps its previous features such as layers, third-party extensions such as Lyft and Uber, traffic and public transportations, among many others.