A pad to remember
Asus Memo Pad ME572C review: A pad to remember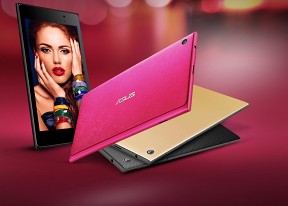 Display
The Asus Memo Pad 7 ME572C packs the best screen in the company's 7-inch tablet lineup, a 1920x1200 pixel IPS panel with a 16:10 aspect ratio.
The display possesses what's become known as Retina-grade 323ppi density and indeed, everything is tack sharp. Viewing angles are equally good, with no loss of contrast or color shift to speak of. The screen is rather reflective though, and quite prone to smudges.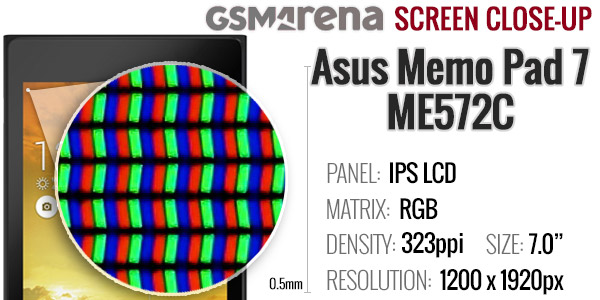 Asus has also provided the Splendid app that allows the users to tweak their display colors to their liking.
We ran our usual test routine on the Memo Pad 7 and it aced it. The maximum brightness level is the highest we've seen on a tablet, save for Asus' own Transformer pad TF701T from two years ago, if you can even call that a tablet. The Sony Xperia Z3 Tablet Compact barely manages to compete with the Memo Pad 7, and the rest of potential rivals are far behind.
The black value is somewhat high which prevents the ME572C from snatching the top spot in contrast, but a score in the 1100s is still an excellent achievement.
Our tests revealed that the 50% setting is actually more like 25%, which has become a common occurrence among smartphones and tablets alike. Contrast ratio is solid at this setting as well.
Display test
50% brightness
100% brightness
Black, cd/m2
White, cd/m2
Contrast ratio
Black, cd/m2
White, cd/m2
Contrast ratio
Asus Memo Pad 7 ME176C
0.1
125
1268
0.39
483
1312
Asus Memo Pad 7 ME572C
0.15
155
1023
0.6
668
1114
Apple iPad mini 2
0.2
167
835
0.56
450
804
Xiaomi Mi Pad 7.9
0.13
126
974
0.53
502
955
LG G Pad 7.0
0.1
98
946
0.45
404
898
Samsung Galaxy Tab 3 7.0
0.15
160
1067
0.39
428
1098
Samsung Galaxy Tab S 8.4
0
221
∞
0
398
∞
Sony Xperia Z3 Tablet Compact
-
-
-
0.45
631
1416
Asus Google Nexus 7
0.25
244
954
0.36
327
908
The sunlight legibility of the Memo Pad 7 suffers somewhat from the reflective screen coating. The high brightness, however, maintains text clearly legible even in direct sunlight. Which is not to say that you should deliberately hold the tablet with the sun mirrored towards your eyes.
Battery life test
The battery in the Memo Pad 7 ME572C is the same 3950mAh unit as in the ME176C model, which has less than half the pixels of the currently reviewed unit. That said, the ME176C posted great scores in our dedicated battery test.
The Memo Pad 7 ME572C showed excellent longevity in the web browsing routine with just shy of 12 hours, actually beating the ME176C by close to an hour. Video playback turned out more taxing on the battery, but 10 whole hours is a very respectable score nonetheless.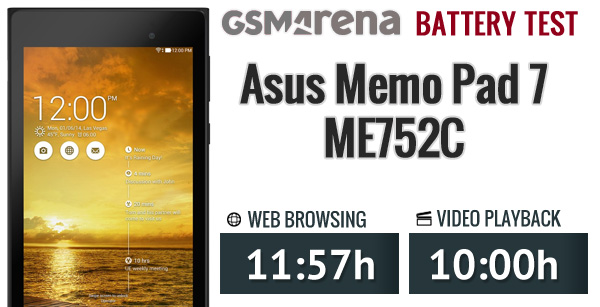 Connectivity
The Asus Memo Pad 7 ME572C we are testing is a Wi-Fi only device. There is a 4G version as well, for those of you, who require autonomous surfing capability.
That one supports quad-band GSM, 3G over 800/850/900/1700/1900/2100MHz, as well as hepta-band LTE.
Local connectivity includes a dual-band Wi-Fi a/b/g/n/ac support as well as Wi-Fi Direct functionality. There's Bluetooth 4.0 and wireless display connectivity over the Miracast protocol, no wired TV-Out option.
There's a microUSB 2.0 port for charging and wired data connectivity and USB OTG support so you can mount external drives.