A pad to remember
Asus Memo Pad ME572C review: A pad to remember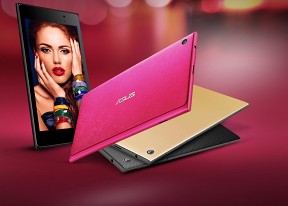 Two browsers
The Asus Memo Pad 7 ME572C comes with the standard Android browser. It features largely the same functionality as Google's Chrome browser (also included), and feels much the same in actual use. The stock browser, however, cannot be set to hide the tabs and address bar on top, eating precious screen estate.
Chrome provides decent web browsing performance under Android, and comes with integration to its desktop counterpart through your Google account. It also offers incognito browsing, offline viewing, and much more.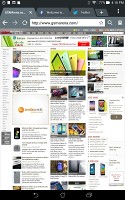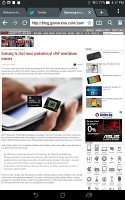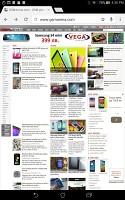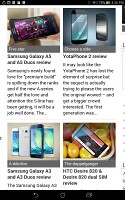 Browsing via Chrome offers full-screen experience unlike the stock browser
Other pre-installed apps
The Asus Memo Pad 7 ME572C offers its own file managing app that allows you to easily manage your video, picture, and document files, although there is no document viewer/editor pre-installed. There are plenty for free in the Play Store though (even ones made by Google), so this shouldn't be a problem.
The custom Calendar looks good, syncs with your accounts including Google, and offers Day and Month views in a split-screen configuration. There's also a quick Agenda view that shows all of our events regardless of where they're recorded.
The Clock app also features a world clock feature that displays the location across various time zones, and has an integrated stopwatch and time. There's also a calculator app that has advanced functions in landscape mode.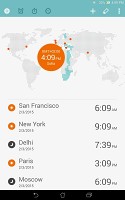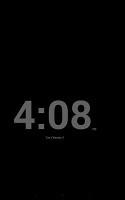 Clock • Night mode • Calculator
There's a SuperNote app that aims to provide similar functionality as Samsung's S Memo app found its Galaxy Note series, except without the stylus support. It supports a wide range of templates and handwriting recognition that'll automatically separate your writing across lines. A handy Dictionary app is also on board, which can pronounce words and offers a direct link to the Wikipedia article on the word in question.
The Storybook app lets you use your photos to make interactive albums that you can then share with other Storybook users. You can choose which photos to include, separate them in any configuration you like, as well as include sound, effects, and text.
The Memo Pad 7 comes with an equalizer that is always enabled, and allows you to set various sound profiles depending on your usage scenario. Accessing the AudioWizard app lets you quickly set the sound mode using a popup with one of six presets.
Power consumption can be further optimized using the Power Saver app. You can select from Ultra-saving or Optimized mode, which will toggle keeping the wireless connection active when the device is locked. Customized mode lets you set the brightness levels across the different apps you use.
A ZenLink package of four apps provides added functionality. PC Link enables you to control the tablet from your computer, via an application you download from the Asus website. Once the application is installed and the two devices paired, a resizable mockup tablet window appears on your desktop and you can use your mouse to send commands to the tablet.
Remote Link does just the opposite, turning your Memo Pad into a remote for your PC. Another desktop app needs to be installed and communication takes place over Bluetooth. The Share Link and Party Link apps are two additional options for quick and easy exchange of photos and what not.
When it comes to getting around, the Memo Pad 7 relies on Google Maps and Navigation. The app offers much of the same functionality as its web-based counterpart, although you will need a data connection to take full advantage of the navigation features. Street view mode with digital compass enabled is an especially neat thing that you should definitely check out if you haven't already.
Whatever may be missing in the preinstalled apps, you'll find it in Google's Play Store.