For old times' sake
BlackBerry Classic review: For old times' sake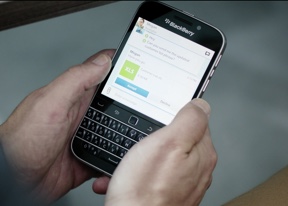 Synthetic benchmarks
BlackBerry Classic features Qualcomm Snapdragon S4 MSM8960 chipset with 1.5GHz dual-core Scorpion CPU, Adreno 225 GPU, and 2GB of RAM. As you have probably guessed by now, the hardware configuration of the smartphone is decidedly old. Qualcomm took the wraps off the MSM8960 in the distant 2011 - the year BlackBerry Bold 9900 launched.
We put the BlackBerry Classic through the paces of several hardware benchmarks. Unsurprisingly, the results came out pedestrian by today's standards. See for yourself below.
AnTuTu 5
Higher is better
BlackBerry Passport
35173
Samsung Galaxy Core Prime
21533
Xiaomi Redmi 1S
19912
BlackBerry Classic
18851
Basemark OS II
Higher is better
BlackBerry Passport
628
Samsung Galaxy Core Prime
564
Motorola Moto G 4G
495
Nokia Lumia 830
478
Xiaomi Redmi 1S
394
BlackBerry Classic
168
Basemark OS II (single-core)
Higher is better
BlackBerry Passport
2061
Xiaomi Redmi 1S
1435
Samsung Galaxy Core Prime
1313
Motorola Moto G 4G
1192
BlackBerry Classic
1160
Basemark OS II (multi-core)
Higher is better
BlackBerry Passport
9916
Samsung Galaxy Core Prime
5283
Motorola Moto G 4G
5012
Xiaomi Redmi 1S
4875
BlackBerry Classic
2526
Web browsing benchmarks test JavaScript and HTML5 performance. The scores of BlackBerry Classic were once again far from impressive.
Kraken 1.1
Lower is better
Xiaomi Redmi 1S
12470
BlackBerry Passport
14624
Motorola Moto G (2014)
15988
Samsung Galaxy Core Prime
18353
Nokia Lumia 830
26542
BlackBerry Classic
28732
BrowserMark 2.1
Higher is better
Motorola Moto G (2014)
1085
BlackBerry Passport
1030
BlackBerry Classic
634
Nokia Lumia 830
599
As you can see above, BlackBerry Classic is hardly a device to smash through benchmarks with. Thankfully, its real-life performance paints a different picture - the QNX-based BlackBerry OS 10.3.1 is smooth and responsive even on such old hardware.
It's worth pointing out that the smartphone slows down when running some of today's popular Android apps. We tried popular titles such as Crossy Road and Spotify and noticed a bit of lag on both occasions.