For old times' sake
BlackBerry Classic review: For old times' sake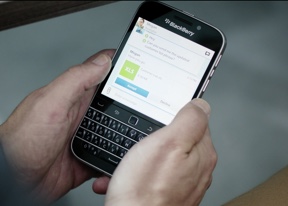 Telephony and phonebook
The dialer has three tabs - Calls, Contacts and Dial pad. We were a little disappointed to find out that you can't swipe between those three (after all, you can swipe between almost anything else).
The Call log features three shortcuts on top - Voice Mail plus three contact numbers. You can add more quick-dial numbers here, but the more you add, the further down the actual call log gets pushed. The call log itself can display either all calls or missed calls only (there's a toggle).
The Phonebook looks a lot like the Contacts tab of the phone app, it also has a search field and it is also automatically activates when you start typing with the keyboard.





A look at the dialer and the phonebook
The Classic's single mono speaker provides stellar quality sound at high levels. It doesn't quite match the performance of the BlackBerry Passport and its stereo speakers, but it surely won't leave you disappointed either.
BlackBerry Hub is a messaging power house
BlackBerry phones were the gold standard for business users and the robust messaging support has carried over to BlackBerry 10. BlackBerry Hub is about as comprehensive a messaging platform as you'll find on a smartphone.
The Hub is simple - a list of messages with an icon that indicates the service (SMS, BBM, email, Twitter or Facebook, but also calls and voicemails) and also flags messages read or unread (color icons are for unread messages, monochrome icons are for read messages). Messages are indexed by date.
If the list of messages is too much of a mess, there's Search or you can swipe right to reveal a list of all services that feed messages into the Hub. You can then filter messages by service.
You can swipe down (not from the top) to show your agenda, and sort the Hub via the left contextual menu. The right contextual menu gives you more options, including a settings menu.
Replying to a message is easy, and you don't have to use multiple apps for multiple messaging types. Simply start replying or composing and the Hub will take care of the rest, be it SMS, email, social networking platforms, or others.
You can also select multiple messages and there are handy quick actions that let you do a wide variety of things.
The message management skills of the Hub don't end there - a long press on a message brings out a long list of options on the right. You can "drag" a message to one of these options in the same gesture or lift your finger and tap the option you like, whatever seems easier.
Texting and BBM
SMS and MMS messaging is handled by the BlackBerry Hub. The Text Messages shortcut in the app drawer just leads to them.
Composing a message is no different than on other OSes. Multimedia and other data (contact info, appointment even generic files) can be attached to the message, turning it into MMS. There's an option to attach a location (either your current location or point on a map) to the message, which is great for giving directions. More than one item can be attached.
BlackBerry Messenger is one of the hottest features on BB phones. At the base level, BBM can do text and voice chats (over your mobile data connection or Wi-Fi). BBM is now free as well, and also supports users on iOS and Android.
There's also BBM Video - video calling with a twist. Instead of being able to show footage only from the front-facing camera, the phone lets you screen-share. This way the other party sees just what you see - a great way to show someone how to do something, walk them through a document or anything else you can think of.
The Channels feature lets you browse through a wide range of channels to find other BBM users that share similar interests. As of the BlackBerry 10.3 update, there's also support for custom sticker purchases in BBM.
Email accounts are accessed through the BlackBerry Hub. You can add as many as you like, and emails received to each account will show up in the Hub.



Email is part of BlackBerry Hub
Text input
The hardware QWERTY is the only main input option on the BlackBerry Classic. It will also be among the main reasons why you will opt for the smartphone.
Like Android and iOS, the BlackBerry OS supports voice dictation to input text.