Wrap up
If you recall almost a year ago, the BlackBerry "Mercury" was quietly shown to the press during CES 2017 (Before it was officially named the KEYone). Up to its release, TCL had us giddy and excited about a phone with a physical keyboard. While the concept isn't a new one, it hadn't been relevant for many years since touchscreen phones took over.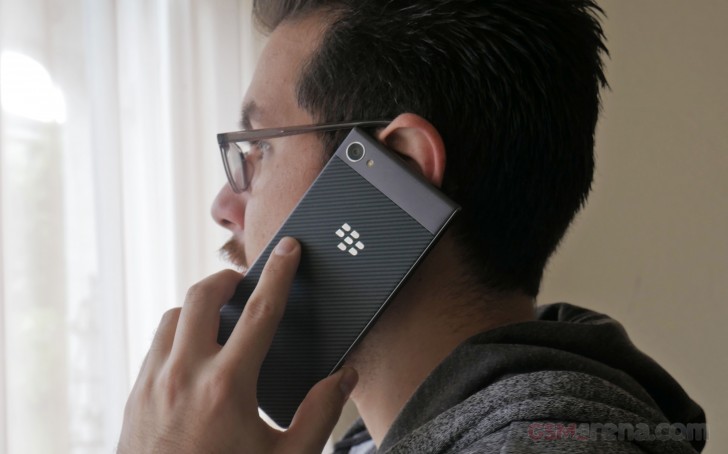 The BlackBerry Motion missed this mark. The Motion really had an opportunity to bring some unique hardware to the table. While we appreciate the programmable Convenience key, we feel that BlackBerry could have done even more to differentiate it from other smartphones. If you take away the Convenience key and the BlackBerry software, you're left with a phone that's pretty average - there are many others with the same formula.
Don't get us wrong, we were quite pleased with the BlackBerry apps, UI features and overall stability. The sharp, neat lines of the hardware's design are attractive and the BlackBerry logo stands out amongst Samsung and Apple noisemakers. We also didn't mind the camera because despite a few shortcomings, we still got some very nice-looking shots.
Key test findings
Sturdy and attractive IP67 water-resistant body with soft-touch backing
5.5-inch screen is alright. Color accuracy is good, though slightly oversaturated for some of our tastes. Viewing angles and screen brightness are quite good making out at over 500 nits.
Fingerprint scanner is quick and reliable. The physical home button is a nice contrast to the other capacitive keys.
With a 94h endurance rating, the Motion's battery will last well into the second day before needing to charge back up. 0% to 26% after half an hour of charging with included Quick Charge 3.0 @ 15W charger.
Near stock Android gives smooth and stable UI performance with minimal lag or stutter.
BlackBerry App suite offers secure and efficient tools for productivity and organization.
BlackBerry Keyboard offers a unique way of auto-correcting and intuitive layout.
Snapdragon 625 chugs along okay, though its performance won't be winning any benchmark wars.
Loudspeaker is okay. Loud enough for calls and alerts but not good enough to play music for extended periods of time.
Still images from main camera were quite good. OIS could have helped produced more consistent details. HDR mode can sometimes do very well but sometimes overkills in other scenes. Details are often lost in areas toward the edges of the frame (lens distortion).
Front camera is fairly wide for taking selfies with a couple more people. Depth of field was a bit close on the fixed-focus lens.
1080p and 4K video were both quite good - details and colors were good while noise was kept to a minimum. Dynamic range isn't the best and OIS could have helped better stabilize video.
During CES just last week, TCL announced that the BlackBerry Motion will be available in the United States from B&H, Best Buy, and Amazon as a GSM Unlocked smartphone. The company had been waiting to see how the Motion performed in Europe and Canada before bringing it to the States and it's actually priced $100 lower than the BlackBerry KEYone (at least in the States).
It's a little on the pricey side when you consider the cost-to-performance ratio. A Snapdragon 625 is quickly becoming outdated at this point. We'll give BlackBerry the benefit of the doubt since it is technically in its first year back on track. In 2018 BlackBerry should offer at least one model with high-end specs, even if it uses 2017's Snapdragon 835 (or even 2016's Snapdragon 820 for that matter).
The OnePlus 5T is one of the first competitors that comes to mind because of how close the price is. The BlackBerry Motion is going for $449 in the States while the OnePlut 5T is just $50 more. This is a similar situation in the multiple regions the phone is available. For $50 more you can get a smartphone with top of the line specs and souped up RAM.
The OnePlus 5T will give you much better bang for your buck. It has a similarly sized display and fairly good battery life by comparison. Just keep in mind that you won't be getting any water-resistance with the OnePlus 5T.
Another viable option to the BlackBerry Motion is another BlackBerry. The BlackBerry KEYone has the physical keyboard, which is a totally different experience and nostalgic for those who used a BlackBerry back when the Curve was really popular.
Both smartphones are similarly spec'd. The KEYone doesn't have water-resistance, though. Otherwise, The BlackBerry Motion has the same exact software as the KEYone, minus the unconventional 4:3 aspect ratio. Oddly, the KEYone is $100 more expensive in the US at $549.
The Galaxy C7 has the same processor as the Motion, so you'll get similar performance out of either one. The main difference is going to be the larger 5.7-inch display and Samsung's UI. As far as security goes, Samsung has its own solution for Enterprise usage called Knox. If you're in the States, you won't find the C7 but you might be able to source one.
If you're looking for an alternative to both the Motion and KEYone and you're not feeling the 5T due to its lack of water-resistance then take a look at the Moto Z2 Force. It's about halfway through its life cycle by this point and US carriers have offered deep discounts for it. It has a nano-coating for accidental splashes and features a shatter-proof display. There are top of the line specs but you wouldn't get anywhere near as much battery life.
In BlackBerry's early days of decline, enterprise users have gradually flocked to the iPhone for a dependable and secure smartphone experience. At this point, the iPhone 8 has one of the fastest CPUs, though software polish has been lacking from Apple lately. You won't get nearly as much battery life, either, and getting any other iPhone model will be much more expensive.
That still doesn't answer the question of the year: should you get the BlackBerry Motion? That depends on your priorities. Here's what the Motion brings to the table: a lean user interface, BlackBerry apps that focus on productivity and security, and a sophisticated hardware package that's attractive and water-resistant with a long-lasting battery.
If all of that sounds great to you, you'll have a wonderful time with the BlackBerry Motion. Just keep in mind that you won't get top-of-the-line performance or an award-winning camera, even so, both the CPU and camera do their jobs fairly well. At the end of the day, this is a respectable phone with decent specs, a reliable software experience with regular security updates, and a reputable name in smartphones with a Chinese phone maker backing it up.