Introduction
Android took the smartphone market by a storm, going from a nobody to the one to beat in just a couple of years, but tablets proved a tougher nut to crack. Google and partners have only recently started finding their pace and giving the dominating iPad a real challenge.
It took nearly two years since the first iPad was released, for Android to have its first real shot at victory. The properly powered and aggressively priced Nexus 7 shook Apple out of their complacency and forced them to bring the game into the Android half.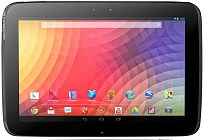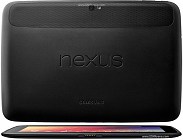 Google Nexus 10 official photos
Now, that was an invitation for Google to launch a counterattack on the big iPad, which has always been its main target. Emerging in recent years as the MVP in the Android team, Samsung is the partner of choice in what looks like a match Google is hell-bent on winning.
Enter the Google Nexus 10 - the Android tablet to rule them all. A brand new chipset and a Retina-killer of a screen are a great start, while the most feature-rich operating system on the market should help seal the deal. Not to mention that the Nexus 10 helps you save a pretty penny, undercutting the main rival by a good 20%.
Key features
10.1" 16M-color Super PLS TFT capacitive touchscreen of WQXGA resolution (2560 x 1600 pixels), 300ppi density
Scratch-resistant Corning Gorilla Glass 2
Exynos 5250 chipset: dual-core 1.7 GHz ARM Cortex-A15 processor, Mali-T604 GPU, 2GB of RAM
Android 4.2 Jelly Bean
16/32 GB of built-in memory
5 megapixel camera with LED flash
1.9 MP front-facing camera
Wi-Fi 802.11 b/g/n Wi-Fi Direct, Wi-Fi hotspot
Front-mounted stereo speakers
Standard USB port
microHDMI port
Bluetooth
3.5 mm audio jack
GPS with A-GPS support; GLONASS support; digital compass
NFC and Android Beam support
Accelerometer and proximity sensor, gyroscope sensor, barometer
9000 mAh Li-Po battery
Multi-user access
Attractively priced
Main disadvantages
Non-expandable memory
No USB host (can be enabled with an app though)
No mobile data-enabled version
Poor video-codec support out of the box
Apple would go on and on about all those Retina-optimized tablet-friendly apps, but numbers can be deceptive. It looks nearly impossible for any slate on the market to match the functionality the Nexus 10 is offering right out of the box.
When it gets to that, the Nexus 10 should have a far easier time winning its own Android league than the Nexus 4. Custom launchers make quite a bit of difference on phones, where stock Android falls somewhat short in terms of small but useful add-ons.
On tablets, the differences are not as meaningful. And by the way, some neat features of Android 4.2 Jelly Bean are exclusive to tablets, which is clearly a point in the Nexus 10's favor. Lock screen widgets and multi-user access make lots of sense on a tablet and it was about time they were implemented.
Sounds like we can get busy reviewing the big Google tablet then. We start with the unboxing as usual, and that Retina-beating screen is coming up.
T
Hi somebody help me My Nexus 10 was updated 4.2 to 5.1 After updating ram memory was decreased 1gb Now total ram is showing 1 gb I do factory reset but this problem is not solved Also do hard reset but still have this problem
D
Very,very good tablet,love it much,have too samsung tab pro 8.4 and asus memo pad 7,prefer n 10.
G
Don't buy this tab.....I brought it from Australia but I live in sri lanka,any electronic item may damage with or without our mistake my tab screen is broken by my friend ever since Iam trying to replace the screen but the Samsung has stopped product...