Local connectivity only, but plenty of it
The Nexus 10 tablet comes in two versions - 16GB/32GB - but neither of them offers mobile data connectivity. For local connectivity, you get Wi-Fi b/g/n along with Wi-Fi Direct and Bluetooth 3.0. The Wi-Fi uses MIMO tech, which promises faster speeds (Amazon made a big fuss about the Fire HD having it and the iPad and Nexus 7 not).
The Nexus 10 supports NFC along with the latest version of Android Beam. This enables simple transfer of images between two NFC-enabled phones and you can pair a Bluetooth speaker with a simple tap (if they support NFC, of course).
A cool thing about the NFC support is that it works on either side of the tablet - you don't have to tap things to the back of the tablet (which is uncomfortable with a tablet this size), putting them on the screen works just as well.
The tablet also comes with a built-in A-GPS receiver, which has GLONASS support and a barometer, both of which will help the tablet get faster, more accurate locks.
The microUSB port handles both charging and computer connections. You should note that there's no mass storage mode available, you'll have to use MTP instead. It works just as well for transferring most files but some files are a problem (e.g. a .ZIP file we needed to copy off the device didn't show).
While the Nexus 10 doesn't support USB OTG out of the box, you can easily enable it with an app. There are different apps - one that works on unrooted devices (though that one is paid) and a free one that requires root.
There's a microHDMI port used for HD TV-Out and a standard 3.5mm audio jack for audio too.
Chrome syncs with your phone and computer
The Nexus 10 tablet comes with Chrome only - just like the smaller tablet, it sticks to the Google browser rather than the Android browser.
The tablet version has tabs on the top, it all looks a lot like the desktop Chrome browser, complete with the new tab button. You can also use sideway swipes to switch between them. You'll need to be precise as even a short swipe will jump a couple of tabs. We would have liked something less sensitive.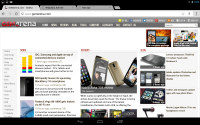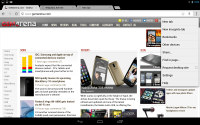 The web browser was redesigned
When you open a new tab, you're greeted with a list of the most visited sites. You can also access your bookmarks from here or even tabs you have open on any other device you have Chrome running on (your computer, your phone, even other tablets). Incognito tabs are available, if you want to circumvent the browsing history and autocomplete features (e.g. you want to check your bank account or shop for a gift, without leaving any traces).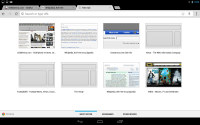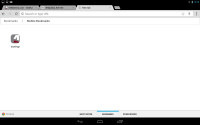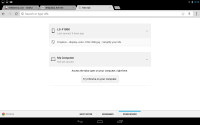 The new tab offers a lot of helpful options
The URL bar has a couple of handy shortcuts - one allows you to perform a voice search, which is quicker than typing, and the other is the star, which allows you to add a site to your bookmarks (this one should be familiar from desktop Chrome).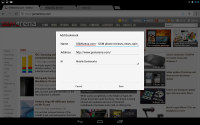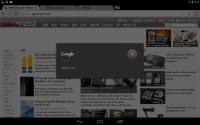 Starring a site • Voice search is available in Chrome
The settings menu includes some really interesting options. For example, you can set your search provider to be Yahoo or Bing or request the desktop version of a site. You can also allow the browser to preload links from search results it's certain you're going to open, but you can enable this over Wi-Fi only to preserve bandwidth.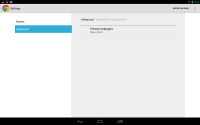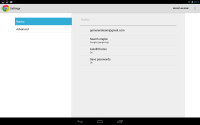 Chrome can speed up browsing by preloading some sites
Flash is, of course, not supported but as the web moves towards HTML5, Flash becomes less and less relevant. Still, if it's that important to you, you should know that we manage to side-load the Flash Player and enable it on some of the alternative browsers available at the Play Store. So if Flash is a must, you can have it.
We also noticed that the Chrome browser isn't perfectly stable just yet. It would crash after every 30 minutes to 1 hour browsing, even though we didn't throw anything particularly heavy its way. It's not too bad and Google will probably fix it quite soon with an update, but it's worth noting nonetheless.
Update: We ran our browser battery life tests on the Nexus 10 and it lasted just over 7 and a half hours of browsing over Wi-Fi. That's an hour better than its 7" counterpart did, but out of reach of the 9-10 hours that the iPad 4 and mini do.
Web browsing
Apple iPad 4
10:20
Apple iPhone 5
9:56
Motorola RAZR MAXX (ICS)
9:12
Apple iPad mini
9:05
Samsung Galaxy Note II N7100
8:48
Miscrosoft Surface RT
7:57
HTC One X+
7:56
Samsung Galaxy S III mini
7:38
Google Nexus 10
7:35
Motorola DROID RAZR MAXX
7:23
HTC Radar
7:17
Motorola RAZR i
7:06
Apple iPhone 4S
6:56
HTC One V
6:49
HTC Droid DNA
6:40
Samsung Galaxy Premier
6:40
Motorola Atrix HD
6:40
BlackBerry Curve 9380
6:40
Samsung I9300 Galaxy S III (JB)
6:27
Google Nexus 7
6:25
Samsung i937 Focus S
6:15
HTC Windows Phone 8X
6:01
Sony Xperia ion LTE
5:56
Samsung Rugby Smart I847
5:53
Pantech Burst
5:51
Samsung Galaxy S Blaze 4G
5:45
HTC Desire V
5:44
HTC Evo 4G LTE
5:41
Nokia Lumia 920
5:40
Samsung Wave 3 S8600
5:34
Sony Xperia T
5:33
Samsung Captivate Glide
5:33
Samsung I8530 Galaxy Beam
5:28
Samsung Galaxy Note LTE
5:24
Samsung Galaxy S Duos
5:23
HTC Sensation XL
5:20
Meizu MX 4-core
5:19
Samsung I9300 Galaxy S III
5:17
Sony Xperia acro S
5:16
HTC Rezound
5:16
HTC Desire X
5:16
LG Optimus G
5:15
HTC Rhyme
5:08
Samsung I9103 Galaxy R
5:07
HTC One X (AT&T)
5:03
Sony Ericsson Xperia Pro
4:50
LG Optimus Vu
4:49
HTC Vivid
4:46
Samsung Galaxy Ace Duos
4:45
Meizu MX
4:35
Google Nexus 4
4:34
Nokia N9
4:33
Acer CloudMobile S500
4:32
Nokia Lumia 820
4:24
Samsung Galaxy S II
4:24
Sony Ericsson Xperia neo V
4:20
HTC One X
4:18
Nokia 808 PureView
4:14
LG Optimus 3D Max P720
4:10
Nokia Lumia 900 for AT&T
4:10
Nokia Lumia 800
4:07
HTC Titan II (LTE)
4:05
HTC One S
4:03
BlackBerry Bold 9790
4:02
LG Nitro HD
4:00
LG Optimus 4X HD
3:59
Sony Xperia P
3:59
Nokia Lumia 710
3:51
Samsung Galaxy Pocket
3:47
Samsung Galaxy Note
3:35
Huawei Ascend P1
3:23
Samsung Galaxy Nexus
3:01