Organizer is sized for a tablet
The Nexus 10 came without a Office suite, not even Google Drive, which is a pretty capable editor. That's not a big loss - installing Drive from the Play Store takes only a few clicks.
If you receive a document over email or have a file browser installed, you can still view Office docs and PDFs with the pre-installed QuickOffice viewer. There's no shortcut for it in the app drawer though and while you can save attachments offline, they go in the Downloads folder, which you can only access with a file browser or through the email app that saved them (either Gmail or the generic one). As you can imagine, this makes things more complicated than they should be.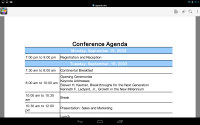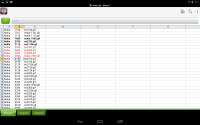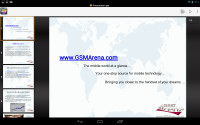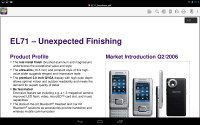 QuickOffice viewer shows up when you open a document
The calendar has four views - Daily, Weekly, Monthly and Agenda. The Calendar makes good use of the bigger screen - daily and weekly views for example dedicate the top part of the screen to the day/week, while the bottom is taken up by a small monthly calendar, so you can quickly jump between dates. Similarly, the Agenda view uses a split-screen interface.
The app can easily handle several online calendars as well as the local calendar. You can add multiple reminders for each event and search all events.
The Clock app defaults to desk clock mode that might be of some use if you have a dock for your Nexus 10, other than that it's just a drain of battery power.
The usual alarm functionality is still present - you can set multiple alarms, each with its own repeat time, ringtone and label. A timer and stopwatch functions are also available.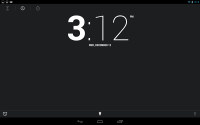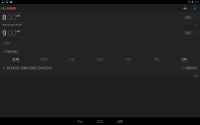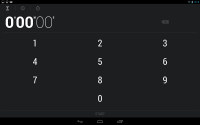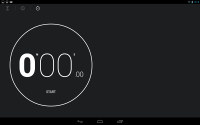 The desk clock mode has an energy-saving mode • Setting up alarms
The calculator is slightly different from what we're used to as the advanced functions (trigonometry, square root, brackets, etc.) are placed besides the number keys. Even with the extra controls, the keys are huge on the big screen.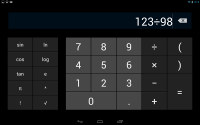 The calculator has ridiculously big keys
Google Plus, Messenger and Currents
The Google Plus app is preinstalled on the Nexus 10, perhaps as a way to bolster the user numbers of Google's social network.
The default screen shows the "What's hot" feed - a vertical list with big, beautiful images of interesting posts from around the Plus network. You can use the dropdown menu to switch to feeds from your various circles.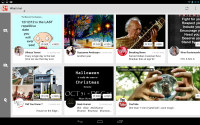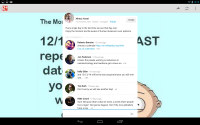 Browsing what's hot on Google Plus • Posts from your circles
A split-screen interface lets you navigate more than just posts. It shows up on the left and displays your notifications plus shortcuts to other Plus features. From here you can access hangouts and events.
The Events feature lets you send out an invite (complete with a cool looped animation that describes what type of event you have in mind). All people who use Google Plus and join the event can snap photos, which will be merged into a common timeline, a cool unique feature.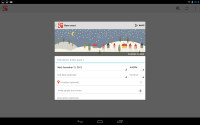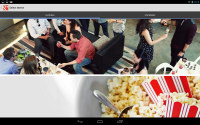 Creating an event and picking an image to set the mood
Messenger complements the Google Talk app and lets you send messages to your Google Plus contacts. The interface is straightforward - it shows a list of all people in your circles, with the ones you've communicated recently on top.
Each message has small open letter icon that shows when the other person has read it. You can also easily snap a photo or pick one from the gallery to send to your friend or you can invite them to a video chat with the Hangouts button.
Google Currents is a beautiful news aggregator, similar to Flipboard. It follows the Holo UI design with flat graphics and sideway swipes. The Currents library starts off with several magazines but you can check out the trending news or quickly add more magazines.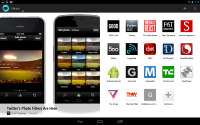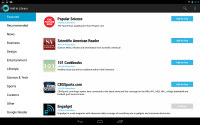 Google Currents is a beautiful way to read the news
When you hit the Add more button, Currents shows you categories you can pick from. Featured and Recommended should get you started, but there's also Curators (which lists Google+ accounts of interesting people) and Google Reader (RSS feeds from various sites).
Note that most of the subscriptions are free - actually, we didn't see any paid ones, but that's likely to change in the future.