Heavy hitters
HTC One Max vs. Samsung Galaxy Note 3: Heavy hitters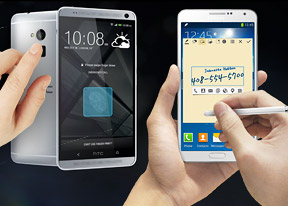 Software
The HTC One Max and Samsung Galaxy Note 3 both run Android 4.3, each skinned by the latest versions of two of the most popular custom skins available. We've covered them in detail before, but here are a couple of videos to refresh your memory.
Starting with the lockscreen, the One Max has a rare option in the Android world - fingerprint unlock. This is marginally faster and more secure than, say, a swipe lock and you can assign an app to be launched with a certain finger. Unfortunately, reaching the sensor with anything than the index finger is difficult on a phablet of this size.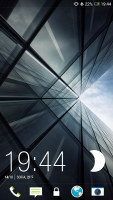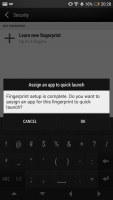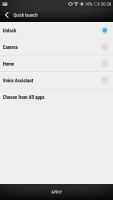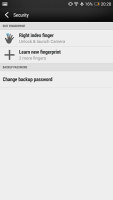 Lockscreen • fingerprint sensor options on the One Max
Since Android 4.3 and Sense 5.5, you can add multiple widgets as you do in stock Android. There are also 4 shortcuts you can use to launch common apps.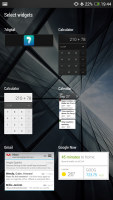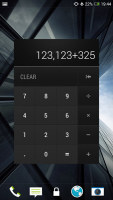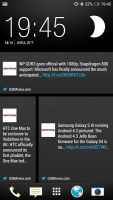 Adding widgets to the lockscreen of the HTC One Max
The Samsung Galaxy Note 3 lacks the shortcuts and widgets by default, but you can enable those options in the settings.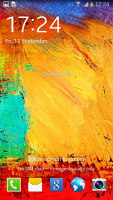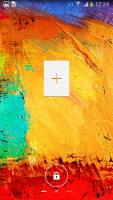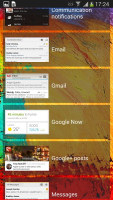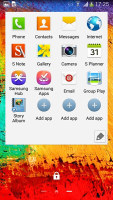 Customizable lockscreen on the Samsung Galaxy Note 3
The notification area has been updated to match stock Android on the One Max. This means you get notifications, but there are also quick toggles. You could pull down the shade with two fingers instead, to get straight to the toggles.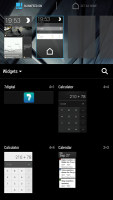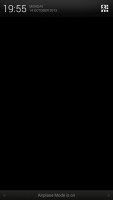 Practically stock Android notification area on the HTC One Max
The Samsung Galaxy Note 3's notification area is more customized and has a line of quick toggles always in sight, but you can use the two-finger swipe to expand the toggles too. There's a line with a brightness slider and an Auto checkbox, which can be disabled to save space.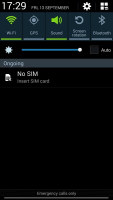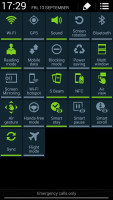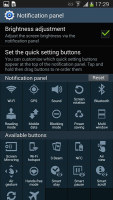 Custom notification area on the Samsung Galaxy Note 3
The homescreens have been tweaked too. The Sense UI brings BlinkFeed to the One Max. It creates a stream of posts from your social networks (Facebook, Google+, Twitter, LinkedIn, Instagram, etc.) along with news and stories from a long list of providers, in areas of interest you've set. The BlinkFeed can be disabled.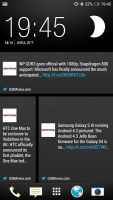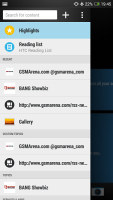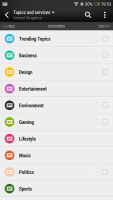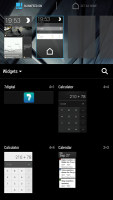 BlinkFeed keeps you up to date with news and social networking updates
With the Galaxy Note 3, Samsung has created a similar feature called My Magazine that's accessible by swiping up on the homescreen or hitting the Home key. It's split into Social (Twitter, Google+, LinkedIn, Tumblr, 500px, but no Facebook or Instagram), News (you can pick topics here too) and Personal (shows your photos, music, calendar events, messages and so on).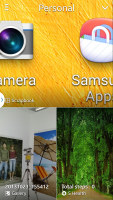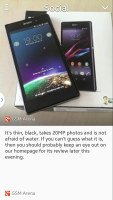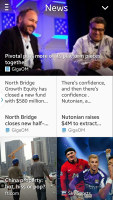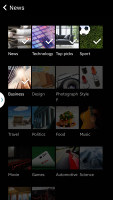 My Magazine mixes personal, social and news tidbits
The app switchers have been customized too - the HTC One Max shows a 3 x 3 grid of app thumbnails, while the (almost) standard switcher of the Note 3 fits only 4 thumbnails. On both you can dismiss apps you don't need any more with a swipe.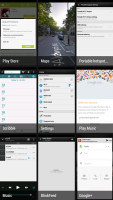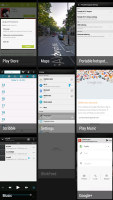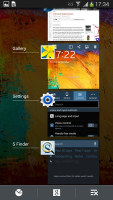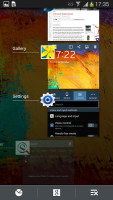 The dense app switcher on the One Max • the Galaxy Note 3 switcher is less space efficient
The Samsung Galaxy Note 3 has two major advantages here. The Multi Window option splits the large screen into two so you can use two apps simultaneously, even two browsers windows (this is something we do on a desktop on occasion, but has been impossible on a mobile device until now). Not all apps support Multi Window, but some apps in the Play Store have already enabled it.
Another way to make good use of the large screen and powerful chipset - both of which beg for such multitasking options - is to use the S Pen. You can use it to draw a rectangle and put one of several mini apps in there (Browser, Hangouts, ChatOn, YouTube and a few more). Those can be minimized to a small circle. You can run multiple instances of those too, not just one or two like on most floating app implementations.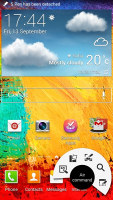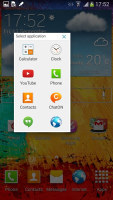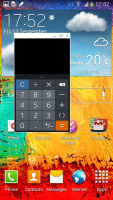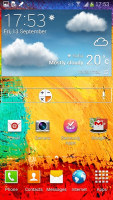 The mini apps on the Galaxy Note 3 are great for multitasking
This option is great - it takes the Chat Heads of Facebook Home and extends it to apps. This way you can have a minimized app, say, Hangouts, tap it to reply to a message and minimize the app again with great ease. This is the closest we've come to the speed and efficiency of desktop computing on a pocketable device.
The S Pen is also great for searching - the search app can filter items by tags, date or creation, and type (e.g. notes, images, music), which is a very handy and orderly way to sift through thousands of items.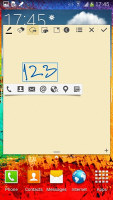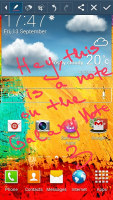 Quickly taking notes with the S Pen
The Galaxy Note 3 also has the motion gestures we saw on the Galaxy S4 - waving to move between photos or scroll webpages, scroll webpages with your gaze, pause videos automatically when you look away and so on. They might be a little gimmicky, but are nice to have anyway.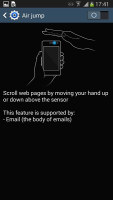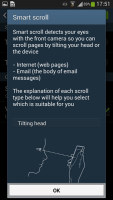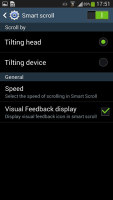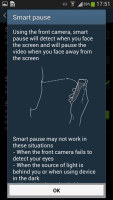 Various motion gestures on the Galaxy Note 3
The HTC One Max has an interesting option in the phone's app drawer, borrowed from Windows Phone 8. It's called Kid mode and it is actually an app that lets you set up a profile for each of your kids, with a photo and birthdate and pick which apps they can have access to. To enable Kid mode the first time around, you need to sign up via email.
The other cool option is Do Not Disturb, which can mute incoming calls and alerts (including the LED notification light) except ones from your favorite contacts. You can set the DND mode to time out automatically but there's no option to automatically turn it on.
Winner: Samsung Galaxy Note 3. The multitasking options alone secure the win for the Note 3 here, but the easy S Pen search, gestures and customization options have their say too.
BlinkFeed is an interesting option, but the Note 3 has an answer for it. The fingerprint sensor is nice, but its software backing is not good enough to push the HTC One Max on top.