The tri-platform throwdown
iPhone 6s Plus vs. Lumia 950 XL vs. Galaxy Note5 vs: The tri-platform throwdown
Performance
Three phones, three software platforms. Comparing system performance surely is a challenge. The Android/iOS comparison is easy, but Windows' sparse app ecosystem makes this a rather tall task.
The Apple iPhone 6s Plus has an 'only' dual-core CPU and 'only' 2GB of RAM. Apple has designed both the hardware and software on the iPhone, so you can be sure the duo works in perfect unison.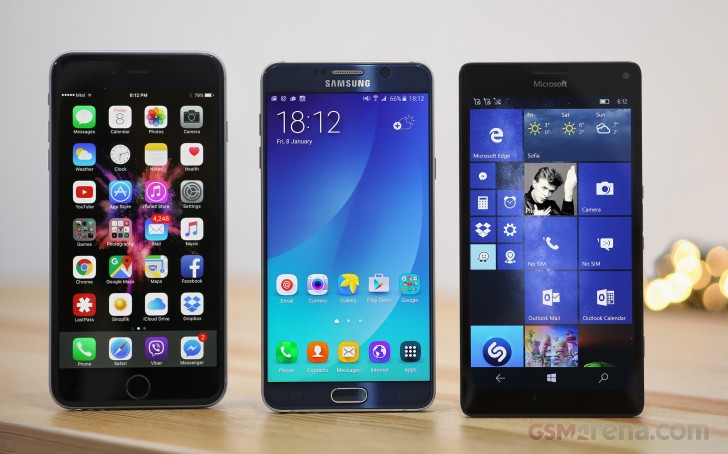 The Microsoft Lumia 950 XL has 3GB of RAM. And Windows 10 Mobile is usually frugal on system resources, but we've got to remember that even in Continuum mode, there is not much multi-tasking going on.
The Samsung Galaxy Note5 has the most RAM - 4GB. But while Apple and Microsoft have built the software from the ground up, Samsung has built TouchWiz on top of Google's Android. As a result, there are a lot of services and processes running in the background and any extra RAM is duly utilized.
Basemark OS 2.0 is the primary cross-platform benchmark tool we would be using to compare the performance of the three. According to it, the iPhone 6s Plus has the lead for overall performance. The Galaxy Note5 falls between it and the Lumia 950 XL.
Basemark OS 2.0
Higher is better
Apple iPhone 6s Plus
2261
Samsung Galaxy Note5
1880
Microsoft Lumia 950 XL
1472
Kraken 1.1 is the other shared benchmark, this one stresses the processor and the JavaScript engine. The Apple CPU may only have two cores, but they are little speed demons and Apple's custom JS engine makes short work of the test.
The Lumia 950 XL lags noticeably behind the Galaxy Note5, more than Snapdragon 810 should. We're willing to place the blame on the still new Microsoft Edge browser.
Kraken 1.1
Lower is better
Apple iPhone 6s Plus
1731
Samsung Galaxy Note5
3702
Microsoft Lumia 950 XL
6133
For further proof that Apple's Twister cores easily surpass other mobile cores we turn to Geekbench 3, a CPU-focused benchmark. The Note5 and Lumia 950 XL use a mix of four Cortex-A57 and four A53. Together, the eight cores outpace the iPhone processor, but it's rare that an app can stress all eight.
Still, AnTuTu 5, which tests the whole system gives the win to the Note5.
GeekBench 3
Higher is better
Samsung Galaxy Note5
5124
Apple iPhone 6s Plus
4413
AnTuTu 5
Higher is better
Samsung Galaxy Note5
69465
Apple iPhone 6s Plus
58582
There's no Geekbench for Windows 10, nor full AnTuTu, but we know how Snapdragon 810 performs if it's running Android (the Nexus 6P was behind the Note5 in CPU performance, but ahead in overall speed).
While Apple doesn't (yet) have a custom GPU it uses the most powerful one in town. In raw performance it almost doubles what the Galaxy Note5 has and the difference can be even greater once games transition from OpenGL ES 3.0 to the newer 3.1 version. The lower native screen resolution gives games a boost too.
We saw the Nexus 6P (with the same chipset as the Lumia 950 XL) beat the Galaxy Note5 by a small margin, but far from enough to cover the distance to the iPhone 6s Plus performance.
GFX 3.0 Manhattan (1080p offscreen)
Higher is better
Apple iPhone 6s Plus
39.5
Samsung Galaxy Note5
21
GFX 3.0 Manhattan (onscreen)
Higher is better
Apple iPhone 6s Plus
38.6
Samsung Galaxy Note5
15
Basemark ES 3.1 / Metal
Higher is better
Apple iPhone 6s Plus
916
Samsung Galaxy Note5
316
Winner: Apple iPhone 6s Plus. No argument here, ever when a few synthetic benchmarks show a slight advantage for the competition, the iPhone has a dominating lead.
Runner-up: Samsung Galaxy Note5. It's a hard call with incomplete info, but the couple of benchmarks that covered all three phones put the Note5 ahead.
Third place: Microsoft Lumia 950 XL. The GPU is slightly faster than what the Note5 has, but not enough to make a significant difference. It also feels the slowest of the three in day to day tasks due to higher-than-normal wait times when performing certain tasks such as browsing the Settings, for instance.