Web browser
The LG G4 comes with just Chrome. There was an Internet shortcut, but that app informed us that it's integrated into Chrome now and offered to remove the shortcut.
Oh well, Chrome is pretty great. A recent addition mixes open Chrome tabs into the app switcher interface, which makes web apps feel native.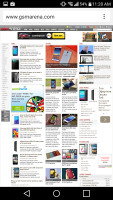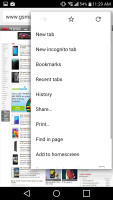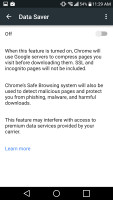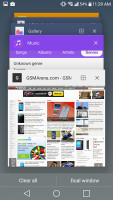 Chrome can compress pages, mixes tabs with open apps
Thanks to your Google account, Chrome can sync what you have open on other devices (desktops, tablets) with the phone. This feature also syncs your bookmarks and favorite sites and can remember passwords and login data.
If you're running short on data or the connection is poor, you can enable Google's page compression, which reduces data usage and speeds up page loads. If you're thinking of Opera's Turbo mode this is pretty much it.
Other pre-installed apps
QMemo+ features a plethora of features, including the ability to add location and weather info to your notes, also set up reminders. That's besides the usual features of writing, drawing and adding multimedia files. Notes can be exported into PDFs for easy sharing or locked just like photos in the gallery.
LG Health is LG in-house fitness tracking app. It's not as robust as Samsung's Health app, but it does track various activities including walking, running, cycling, and more. The LG G4 lacks biometric sensors of its own, but can connect to wireless blood pressure monitors and scales. You can create a LG account to compete with other LG Health users as well.
QRemote can control your TV, set-top box, other AV equipment and even air conditioners. If your device isn't supported, you can use its own remote to teach QRemote the control codes. If your TV supports LG's Magic Remote this app can do it too. But our favorite feature lets us design our own remote with buttons we selected - unfortunately we can't mix TV and air conditioner controls for an all-controlling setup.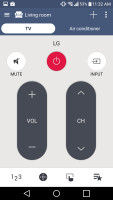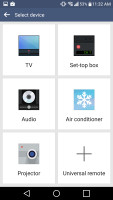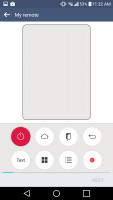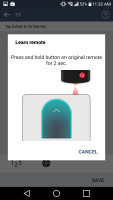 QRemote • adding new remotes • making a custom remote • teaching new control codes
LG has re-skinned the Android Calendar app to match the Optimus UI design scheme and added a few features. For one its icon reflects the current date, then there's Event pocket, which lets you add events from Facebook, tasks, memos and location info.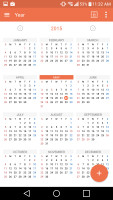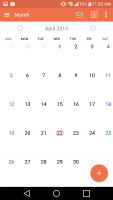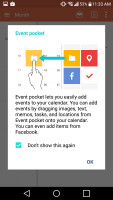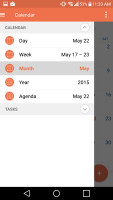 The Calendar with Event pocket
Smart settings are a clever way to save battery and avoid unwanted noise. They can turn Wi-Fi, Bluetooth and Sound on or off depending on whether you're at home or away. They can also launch a music app when you connect a headset or to a Bluetooth audio device.
The LG G4 also comes with a capable File manager application. Like other apps it integrates with your cloud storage accounts. There are options to ZIP a folder or add it to the homescreen.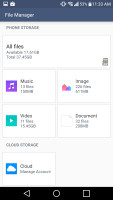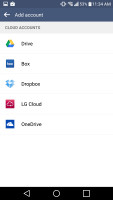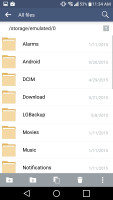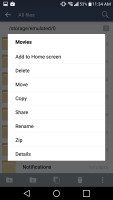 The cloud-enabled File manager app
The Alarm clock application can handle multiple alarms, each with its own start and repeat time. The stopwatch and timer are self-explanatory. There's also a Calculator that displays advanced functions in landscape mode, and a Voice recorder.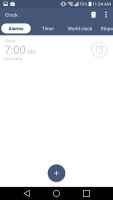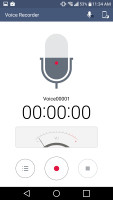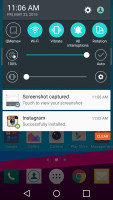 Alarms • Voice recorder • Calculator
Additional tools can be found in the Management folder. There's a Battery saver that triggers at a certain charge level and can restrict apps running in the background. LG Backup lets you backup and restore data, as well as copy data to a new device.
Google Drive comes preinstalled. It combines all of your documents, spreadsheets, images and more in one easy to use data vault app. You can also access more than a single Google Drive if you have multiple profiles on your smartphone, which is neat.
Google Now, accessed by swiping up from any of the navigation buttons, integrates with your Google account and can access your daily routine, internet searches, email, etc. and give you information relevant to your interests and daily needs.
It provides traffic information to your work or home, knows the scores of sports teams you follow and gives you the weather forecast for your location. It's great for at-a-glance info, but can handle voice Google searches as well. It also has a dedicated homescreen/lockscreen widget.
Google Maps is the default navigation app, but it's most useful when used while you are online. It allows you to download offline maps of an area and even plan routes without a data connection but you can't search for addresses or POIs without an internet connection.
On the positive side, it can plan driving, public transport, cycling and walking routes. It can also display pretty accurate traffic alerts as well (though it doesn't always take them into account when routing you).
Another great support tool is the Android Device Manager. It's available for all Android devices linked to your Google account. It can help you find your misplaced phone by ringing it or placing it on a map if it's not where you are. If it's stolen, you also have the option to lock the device and delete all data. You have to have enabled remote lock via the preinstalled Google Settings app on your smartphone.
And finally, Google's Play Store hardly needs any description. It the biggest catalog of apps and also features movies, TV, music and even devices but availability is region-dependent. Opening the store brings you highlighted apps based on recommendations and your usage. There are categories, ranked apps and more.