Double the potential
LG Optimus 2X review: Double the potential

Extensive Facebook and Twitter integration
The LG Optimus 2X features great SNS integration. Both Facebook and Twitter contacts can be added to the phonebook and you can link those to existing phone contacts – in fact, the first time you create an account, the phone will offer to import the contacts from that social network.
It's clever too – you can import all contacts, manually select which ones to import, or just those who match people in your phonebook.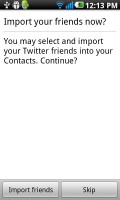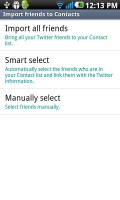 Importing contacts from a social network
When you link a contact with their Facebook or Twitter, their status updates will go into the History tab of their contact info and the Photo tab will show their online albums.
The Facebook app lets you read news feeds, post messages on people's walls, browse their profiles and so on. You can of course post status updates and including a photo is very easy.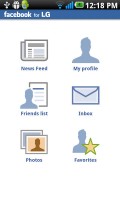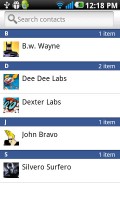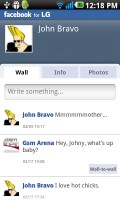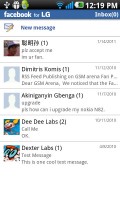 The Facebook app has a lot of features
The Twitter app is also feature complete. You can manage your profile and the list of people you follow, plus read tweets from others. The @me section will help you find tweets directed at you easier.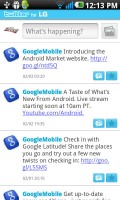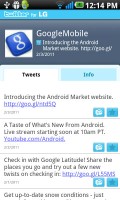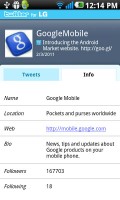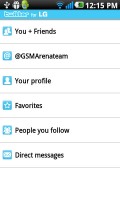 The Twitter app automates almost everything
When you receive a new message, it will appear in the notification area just like regular SMS messages do. You can set it to notify you when there's a new @me message or direct message.
There's a dedicated MySpace app as well, in case you're using that.
Android Market gives you loads of apps
The LG Optimus 2X is running the latest available version of Android and has a WVGA screen, giving you access to the whole Android Market (some apps won't run on older versions or low-res screens).
The structure of the Android Market is quite simple – featured apps on top and above them, three sections (Applications, Games and Downloads). There is also a shortcut up there for initiating a search.
The Applications and Games sections are divided into subsections (e.g. Communication, Entertainment etc.) so you can filter the apps that are relevant to you. Of course, there is also an option of displaying them all in bulk, but you'll probably need days to browse them all that way.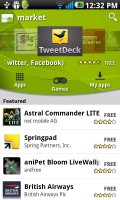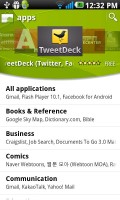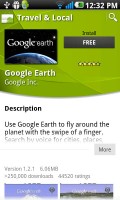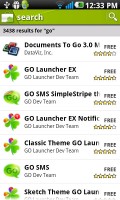 The are more than 100K apps and games in the Android Market
There are all kinds of apps in the Android market and the most important ones are covered (file managers, navigation apps, document readers etc.).
LG's App Advisor comes preinstalled as with other Android smartphones by the company. It offers a list of recommended apps, nothing fancier than that.
Google maps and GPS navigation
The LG Optimus 2X comes with a built-in GPS receiver. It got an accurate GPS lock very quickly. If you need only general location (within 100-150 meters) for location-based services, you can use Cell-ID and Wi-Fi network positioning.
The Google Maps 5.0 is part of the standard Android package. It uses vector maps, which are smaller and download faster but also support cool 3D views. You can use the two finger camera tilt and camera rotate gestures to look around (though 3D building are not available everywhere).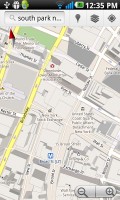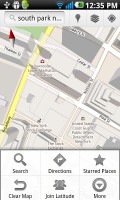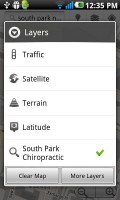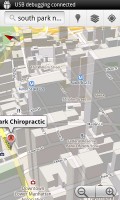 Google Maps 5.0 with vector maps and 3D buildings
The Google Maps Navigation option is available too – but only for supported countries. The new version features offline rerouting. That is, it will cache the needed maps to navigate you to where you're going and even if you deviate from your course, it will be able to calculate a new route even without a data connection.
Street View mode is supported and will do the well-known compass trick, which is like taking a virtual tour of the location.