Double the potential
LG Optimus 2X review: Double the potential

LG Home spices up Android 2.2 Froyo
LG has provided a custom launcher for their Android 2.2 running flagship. If you plan on changing it for one of the dozens third party launchers from the Android Market feel free to disregard the next few paragraphs and skip to the benchmark part of this chapter.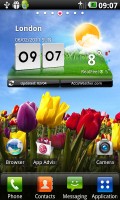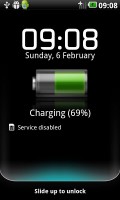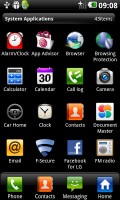 The LG Home custom launcher that ships with the Optimus 2X
Still we would strongly advise you to give it a try first as the LG Home is not too bad at all. It brings several key updates compared to previous versions of the launcher. For starters you can check it out in action in the following video.
Update, 26 May: We recorded a new video, using a retail Optimus 2X running the stock V10B firmware.
There's now a view mode similar to the HTC Sense leap view, where you see all your homescreen panes in one place and pressing one of them zooms in on it.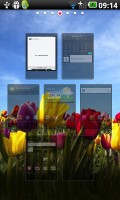 The LG interpretation of Leap view
This view mode is triggered by the familiar pinch zoom gesture.
The available number of homescreen panes can be customized too with the available options being 3, 5 and 7. A clear homescreen shortcut lets you remove all content from some of your panes with a couple of clicks.
There are four shortcuts docked at the bottom of the LG Optimus 2X screen and are visible on both the homescreen and in the app drawer. You get phone, contacts, messaging and a home/applications button.
The LG customizations continue with the main menu. You get not one but three different options for its styling – a side scrollable horizontal grid, a vertical grid that you scroll upwards and downwards and List view. In vertical grid mode you get icons grouped by categories, which you are free to change however you please.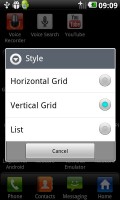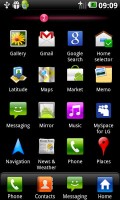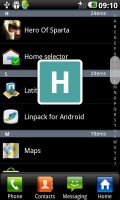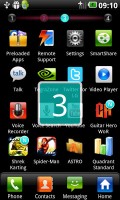 The main menu offers three different styles
The notification area, one of the Android strong points, has a few tweaks as well – it's five switches are now operating Wi-Fi, Bluetooth, GPS, sound and automatic rotation. There are also music player controls docked here.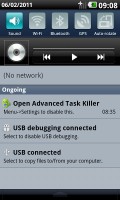 The notification area got updated too
The final noteworthy features of the LG Optimus 2X stock user interface are the gesture controls. We've seen turn-to-mute, turn-to-snooze plenty of times. But how about tapping on the side of your phone to flick through images or moving the text cursor character by character just by tapping on the side. It's pretty cool if you think about, but should you find it unnecessary or bothering you are also able to switch it off.
We did a short video demo to give a better idea of what those gestures are all about.
Update, 26 May: We recorded a new video, using a retail Optimus 2X running the stock V10B firmware.