The Master Chief
Microsoft Lumia 950 XL review: The Master Chief
Windows 10 Mobile extended on a 5.7-inch display
Microsoft Lumia 950 XL is only the second smartphone to run on Windows 10 Mobile out of the box. It builds upon the established principles of Windows Phone 8, but comes with an entirely new OS core, very similar to the one inside the full-blown desktop Windows 10 and the Xbox One's Windows 10. This is part of Microsoft's strategy of unification among its device lineup and should help developers easily deploy apps across the different devices.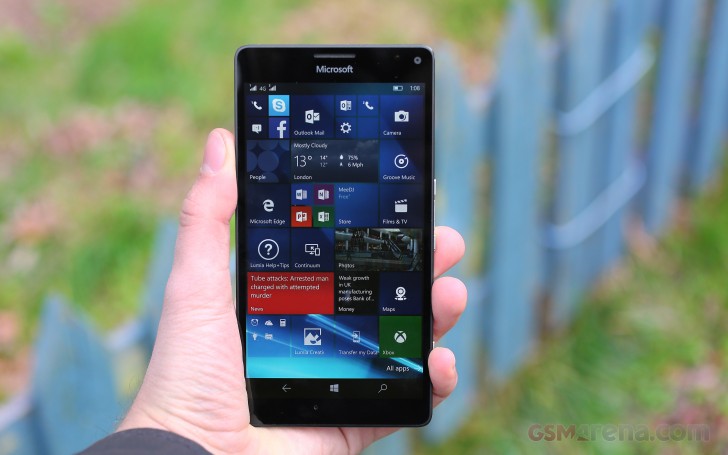 The user interface of Windows 10 Mobile is fairly familiar, though refined and polished. There is the Live Tile homescreen, the all apps list, the action center with toggles, and a tightly organized settings menu. All seems the same and yet once you begin using it, you appreciate the numerous little ways that it's better.
There are a few components of the Windows 10 Mobile UI we'd like to mention, and those are in the order you'll encounter them. We kick off with the Glance Screen.
Yes, the Glance Screen is an important feature in Windows 10 Mobile and it looks just great on Lumia 950 XL's AMOLED screen. It displays a monochrome clock, the date and number of missed notifications. You can opt for night mode (warmer colors), display intervals or always on.
Next, the lockscreen. It's also business as usual - notifications can appear here, you choose the background or let Facebook do it for you. What's new though is the support for Windows Hello.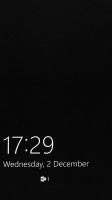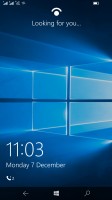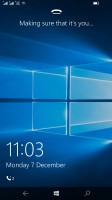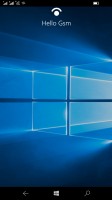 Glance screen • Windows Hello in action on the lockscreen
Windows Hello with iris recognition
Windows Hello is the name uses Microsoft's biometric authentication framework on Windows. To make use of the framework, the device needs to have either iris recognition, or face recognition hardware, or a fingerprint scanner. It's not only phones that we are talking here, Windows Hello is also available on computers.
The Windows Hello implementation on the Lumia 950 XL supports iris recognition thanks to a dedicated specialty camera sensor on top of the display.
Once the phone remembers your eyes, you are advised to repeat the procedure at least one more time in different lightning conditions for better recognition.
We found iris recognition to work great even in dimly lit rooms or outside at night. You just click the Lock key to wake up the screen and the phone is quick to unlock at your stare. It takes about a second or two so if you are in a hurry it may soon start feeling like a drag.
You also have to hold the phone close enough in order for it to detect your eyes but we are not talking nose-close.
We didn't try it with glasses on and some users report that the experience with glasses has its share of issues.
The iris recognition feature doesn't allow for different user logins but we managed to fool it by scanning another person's eyes via the offered Improve recognition procedure, which was originally meant to take a second scan of your eyes. With that hack the phone happily unlocked upon facing either one of the reviewers - granted they both have one and the same eye color so your own mileage may vary if this different from your case.
Extended tiled homescreen
Windows 10 Mobile supports only two homescreen, just like Windows Phone 7 and 8. The main screen has all your live tiles, static icons and folders, while the second screen has a scrollable list of apps. You can resize the tiles as usual, and pinning a tile is very easy.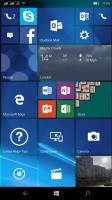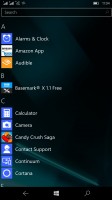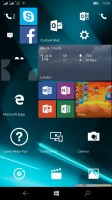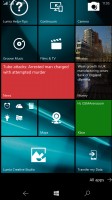 Tile Screen • App screen • Full screen wallpaper • Tile wallpaper
The Lumia 950 XL, just like the 950 model, utilizes a Quad HD display. It's 0.5" larger in diagonal and Microsoft changed the scaling so the Lumia 950 XL can accommodate more tiles on the homescreen. You can turn on/off the "Show more tiles" options from the Start settings.
The Tile screen supports two types of backgrounds - behind the tiles (full screen) or on-tiles, which reminds us of a jigsaw puzzle or an image made up of oh, well... tiles. Naturally you can choose the tile grid from settings (big or small) and there is a new option for tile transparency, which is really cool if you are using a full-screen wallpaper.
The Action Center is your place for four customizable toggles and all notifications in Windows. It works just like on Android OS - you access it by pulling down from the top of the screen, dismiss all notifications key is available. You can expand all toggles as well.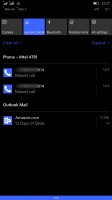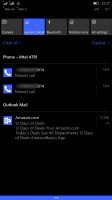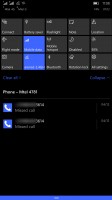 Action center is pulled down with a swipe
Microsoft likes Apple's way of handling apps running in background - most of the apps are suspended upon hitting the Windows key and will be resumed once you bring them back. There are others, of course, such as Navigation, Cortana and Battery apps, which will continue to run in background unless you specifically kill them. So, any app, which needs to run in background, will do so, while the rest would get suspended.
The 950 XL task switcher displays 6 active tasks instead of 3 like it is on the Lumia 950.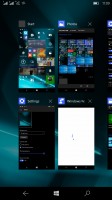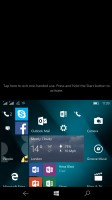 Task Manager • One-handed mode
And while we are on the Apple's similarities, it seems Microsoft like the way Apple handles the one-handed mode, too. There is an easier way to reach what's on top of your screen, including the status bar for notification access - all you need to do is tap and hold on the Win key and your entire UI will drop down at your fingertips. Yes - that's exactly what the iPhones do.
The Settings menu has the tablet mode enabled - in landscape it looks just like a PC's control panel, while digging further into the options switches to a two-column interface. The same two-column view is available in lots of system apps such as Messages, People, Outlook Mail.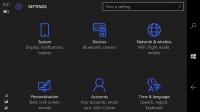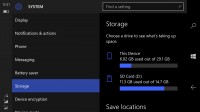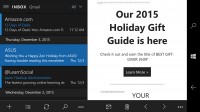 Windows 10 Mobile in landscape mode is only available on the Lumia 950XL
Microsoft Cortana digital assistant
Microsoft's Cortana does what Apple's Siri and Google Now do - it recognizes your voice commands and questions in natural human language and gives you spoken replies and feedback. It shows a very nice summary of your day upon launch (the weather, events and meeting, important news, sports scores), based on your location, search history and predefined interests (in your Notebook, which you can edit any time).
Cortana can fully interact with your phone and carry out all kind or commands related to it. Cortana can also track various news topics, makes suggestions for cooking and dinner, plan trips, find places and make reservations, make jokes, among other things.
We like where Microsoft is heading with Cortana - it may have been around for a short time, but it has already catch up quite impressively.