Android sidearm
Motorola MILESTONE XT720 review: Android sidearm

Moto Eclair
The Motorola MILESTONE XT720 is running on the already established and solid Android 2.1 Eclair. There is no doubt the XT720 is a gadget of interest because of its excellent hardware specs and premium imaging capabilities. The Xenon flash accompanying the 8 megapixel sensor and the ability to capture HD videos is definitely something that makes it a winner with mobile phone fans. At least on paper, that is. Let's see how it fares in everyday use.
The homescreen is the cornerstone of the Android UI. Giving you five screen panes worth of space (by default), it helps you put up front all the items you use most frequently. And there are plenty of things that can go up there. You have shortcuts to applications or media of your choice, then folders and, finally, widgets.
To make the orientation easier Motorola has added small dots in the bottom ends of the screen. Thanks to those marks you will always know which screen you are currently on. If you tap and hold on any of them you'll get thumbs of all homescreens for quick switching.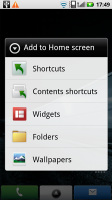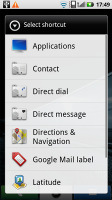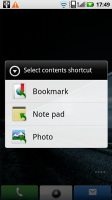 Some of the homescreen inhabitants: shortcuts and content shortcuts
Folders can help you keep the shortcuts organized but you can't put folders within folders. Still, they can be used for a few quick tricks – like faking a quick-dial contact list. A contact's photo serves as a dial shortcut so all you have to do is put a bunch of them in a folder.
But there's nothing too special about that – it's when live folders come into play that it gets exciting. The main difference to ordinary folders is that the live folders are automatically filled with content.
All sorts of lists can go into Live folders. For example, you can have a folder that contains all the tweets from a contact, or an RSS feed, or maybe even a folder with all the good restaurants within walking distance from a given location. The preinstalled Live folders are "Contacts with phone numbers" and "Starred contacts". Naturally, they are filled with your Gmail contacts that either have phone numbers or are starred.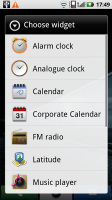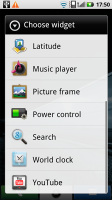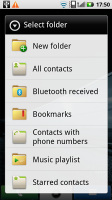 Some of the homescreen inhabitants: widgets and folders
The other inhabitants of the Android homescreen are the widgets. There are plenty of them that come with the Android v2.1: a corporate calendar (simply the one synced with your Exchange account), a Weather widget, Power control widget (a handy connectivity manager for your desktop), Picture Frame, Search Toolbox, World Clock, YouTube, Music Player, FM radio, Latitude, Analog Clock and Alarm.
The traditional search widget shows suggestions as you type, just like the Google homepage. It searches local files or gives you a shortcut to initiate a web search, which is a really neat solution.
The notification area is also intact. It shows status info about battery, signal strength and others such as Bluetooth or missed events.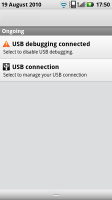 The notification area is one of Android's key assets
To bring up the task switcher on the MILESTONE XT720 you press and hold the Home key just like on any other Android phone. The "task switcher" is a quick way to access six of the most recently used apps but it's not a task manager per se. In fact, Android automatically opens and closes applications. When resources start to run out, it might close a currently inactive app but it will restore it back to just how you left it. It's more like the system puts the app to hibernation instead of closing it.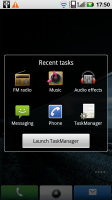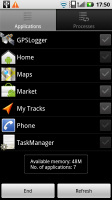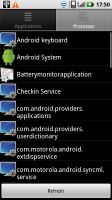 The task switcher and task manager
In case you really want to manage the memory by yourself, Motorola included a real task manager on the XT720. It even has its own shortcut on the task switcher screen. That's something we miss on the Galaxy S and the original MILESTONE. You can terminate any application or system process from there. Good job!
Here is how the Motorola MILESTONE XT720 compares to Samsung Galaxy S in terms of performance. We used the free Benhcmark and BenchmarkPi apps from the Android Market for the test and the results are here for you to see.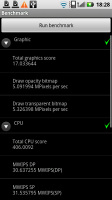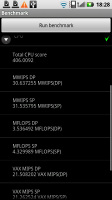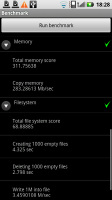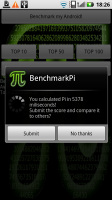 Motorola MILESTONE XT720 benchmarks