Android sidearm
Motorola MILESTONE XT720 review: Android sidearm

Android Market is where the 3rd party apps live
The number of apps in the market is ever growing and a recent survey showed that it has the highest free-to-paid apps ratio out of all the app stores.
The main screen of the Market shows several featured apps. The Market organizes apps and games into two separate tabs and each tab lists subcategories (e.g. Finance applications, Arcade & Action games). In each category you can select to view the Top free apps or ones that are "Just in".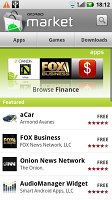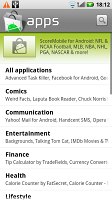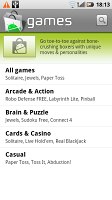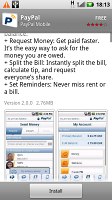 The Android market is where you can find thousands of apps for your MILESTONE XT720
There's a third tab – Downloads – that keeps track of what you've already downloaded. Do keep an eye on this tab – when updates become available for an app you've installed, a label shows up next to the app name to notify you.
Applications range from pretty silly (including one that simulates a doorbell), through fun (e.g. a virtual guitar) to real must-haves (including task killers, navigation software and more), but that's true for every other app store.
Final words
The Motorola MILESTONE XT720 is certainly a handset that wants to make a difference. Its incredibly sturdy feel and a design that sets its apart from the crowd are probably its two strongest points. The very solid still imaging also counts in its favor, as long as you don't have too high expectations for the xenon flash.
Unfortunately for the MILESTONE XT720, its other key selling feature is a major letdown. The HD video recording is not worth the effort at all. There are some other minor flaws like no DivX/XviD support, which are hardly a big deal in isolation but might tip the scales against the Milestone XT720. It's just that competition in this segment of the market is so fierce that almost no mistakes are allowed.
The Sony Ericsson XPERIA X10 will give you a bit of extra screen estate in exchange for the xenon flash and the (anyway useless) HD videos. The XPERIA flagship also packs the home-brewed Timescape and Mediascape UI and a snappier CPU. Its main disadvantage is the dated Android version (though the upgrade is presumably just around the corner). Sony Ericsson also promised to enable 720p video recording on the XPERIA X10 with that update, too.
On the other hand, the HTC Desire trumps with an AMOLED screen and a Snapdragon to balance out those 8MP stills. It will get Froyo soon and that should raise its video recording capabilities to HD heights. On top of that, it also packs the superior Sense UI.
Alternatively you can check out the Samsung I9000 Galaxy S, or some of its local carrier-customized versions. The 4" SuperAMOLED display is enough of a selling point on its own, but it also has a faster CPU than the Motorola MILESTONE XT720 and does better video recording. It's no match for the XT720 for still imaging with a 5 megapixel camera and no flash but can easily play any HD video you throw at it.
Finally, the recently reviewed Acer Stream also deserves a look. It managed to surprise us with a good specs package and unique Acer Touch 3D UI over the stock Android OS v2.1. It offers a 5 megapixel camera and lacks the xenon flash, but is still a good deal. The Stream does the HD video recording thingy, but also plays XviD videos up to HD resolution. It also has microHDMI port, just as the MILESTONE XT720. The difference is the price is not that big and in favor of Stream, so if you are looking for something fresh and unique, and you can forgive the lack of premium camera features, then Acer Stream is a tempting deal.
As you can see it's not a clear choice between the MILESTONE XT720 and any of those other premium phones, which however all have the advantage of being earlier to the market. So their prices are likely to have already settled down, while the MILESTONE XT720 price is still a bit inflated.
Of course this all depends on where you live and the deals you can get from your local carrier so ultimately it will come down to a personal choice. Depending on the price you get and how willing you are to live with a slower CPU, the MILESTONE XT720 might just turn out to be a pretty good deal in the end.
It obviously doesn't quite have enough to be the ultimate cameraphone droid. But there's no shortage of sharpshooters in the Android ranks. And that's impressive growth for which Motorola can claim due credit.