S40 phonebook has a new look
The Asha 311 features a redone Series 40 phonebook. Under the new Asha Touch interface it integrates with the Call log and the Dialer and that's more than welcome.
Contacts are displayed with a photo and number and, on top of the actual list, you get the Advanced menu and Add new contact shortcut. Then comes the search field.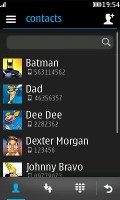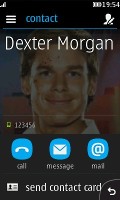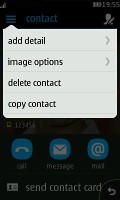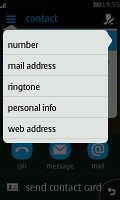 The phonebook • viewing a single contact • adding a detail
The actual contact details are displayed on a completely redesigned screen compared to previous S40 phonebooks. You get a faded contact's picture as a background, with a huge name across and a number below. A few big thumbable icons at the bottom of the screen let you call, text or email the person.
You can add various details to your contacts, like numbers, email address, ringtone or a URL. You can also choose where to save your contacts - the SIM card or the phone memory. Only two sorting options are available - by first or last name. Contacts can be copied, moved or deleted either individually or in bulk.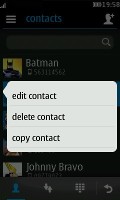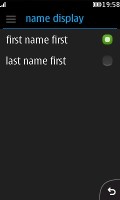 Tap and hold gets you more options • Sorting
Standard telephony
For the most part, the telephony options on the Asha 311 are pretty straightforward. As we already said, the Contacts, the Call Log and the dialer are integrated like in mature smart platforms. What's missing is smart dialing.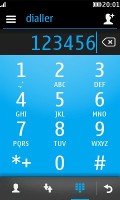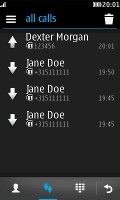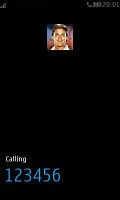 The dialer • the call log • calling Dexter
We had no reception problems with the Nokia Asha 311. We tested its loudspeaker and found it loud enough, though not as good as other Asha phones we've tested.
| | | | | |
| --- | --- | --- | --- | --- |
| Speakerphone test | Voice, dB | Pink noise/ Music, dB | Ringing phone, dB | Overal score |
| Nokia E72 | 65.7 | 60.2 | 66.3 | Below Average |
| Nokia X2-01 | 70.2 | 65.5 | 71.8 | Average |
| Nokia C3-01 Touch and Type | 73.9 | 66.6 | 77.7 | Good |
| Nokia Asha 300 | 75.1 | 66.6 | 75.7 | Good |
| Nokia Asha 311 | 75.8 | 69.7 | 75.7 | Very Good |
| Nokia C2-03 | 74.2 | 72.4 | 75.8 | Very Good |
| Nokia Asha 303 | 77.1 | 72.3 | 78.7 | Excellent |
| Nokia Asha 305 | 77.1 | 73.5 | 81.8 | Excellent |
| Nokia Asha 302 | 77.1 | 75.7 | 83.6 | Excellent |
Messaging is as good as ever
The messaging department has everything covered - text messages are organized in threads, there's a chat client with support for multiple services and of course, a feature rich email client with quick setup.
A tap and hold on a Conversation in the default view of the messaging app lets you delete the conversation or call/email the contact in question instead. Creating a message is pretty straightforward. You can add multiple contacts from your phonebook or simply punch in numbers.
For text entry, you can choose between a portrait multitap keypad and a landscape QWERTY keyboard. You get a character and message counter either way. Unfortunately, there's no text selection or copying.
It's the same QWERTY keyboard we saw in the Asha 305, and were less than impressed with. Although a welcome addition, it's far from comfortable to use. We wouldn't call it a keyboard really - just letters sprinkled on a blank page, no borders between them, nothing to at least remotely resemble keys.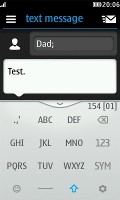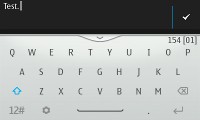 The multitap and the QWERTY keyboards
The email client supports various services such as Google, Yahoo, Hotmail, etc. with easy email setup, but you can always manually configure an account too. It works with POP3, SMTP, and IMAP4 protocols and supports SSL.
The default email view is Inbox but Folder view is supported too. Multiple emails can be moved or deleted using the advanced menu in the top left corner. You can switch between accounts from the fourth tab at the bottom of the screen. A tap and hold on an email will allow you to reply, delete, star, forward or mark it as read/unread.
Emails are received in the background and a small * appears on the Mail icon in the app launcher when a new email has arrived.
The chat client supports multiple services - Facebook, MSN Messenger, Google Talk, Yahoo and Nokia Chat. The tabbed UI of the OS is pleasantly thumb-friendly.