Ovi Maps 3.0 comes to back up the GPS
The Nokia X6 comes with a built-in GPS receiver The handset managed to acquire a satellite lock from a cold start in about a minute upon the first attempt (A-GPS turned off at the time) and keeping the lock was not an issue for the X6 even in dense urban environments.
The large high-resolution screen sounds like a serious candidate for genuine use as a dedicated navigation unit. Unfortunately, the X6 has only a 10-day trial voice-guided navigation (region dependant) and you need to pay for more. There's a lifetime City Explorer license though.
The phone comes with Ovi Maps 3.0 Touch preinstalled (the rebranded Nokia Maps). As you might have guessed this is merely a touch-enabled version of the standard Nokia Maps 3.0 application. It offers extensive map coverage for free but you do need to pay for most of its extra features such as traffic information or city guides.
As we just mentioned you will also have to buy the voice-guided navigation license, should you pick the application for the purpose. At least the actual purchase itself is quite simple directly via the phone interface. If you prefer an alternative navigation software, you might want to carefully look around for a compatible version.
The touch-enabled Ovi Maps application itself is doing pretty well in terms of features too. It has four different view modes including satellite and hybrid maps. Those however do need an internet connection. The more regular 2D and 3D view modes are also at hand.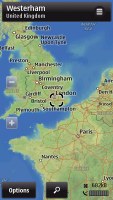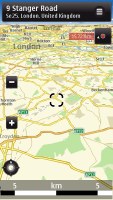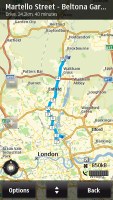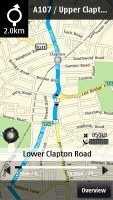 Ovi Maps 3.0 Touch application offers four different view modes
The route planning algorithm is also rather easy to customize to best suit your preferences. Toll roads and motorways can be avoided and so can tunnels and ferries. Route selection can be set to either fastest or shortest. The app is also usable for pedestrian navigation or you can switch the GPS receiver off and use the phone as a hand-held map.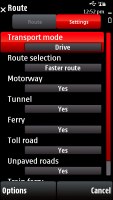 Some of the available settings
One of the gripes we had with Maps 3.0 was the lack of "Go to my location" shortcut. On the positive side, panning and zooming in the maps is really fast and the high-res screen is capable of showing quite a lot of data.
The overall impression with GPS navigation on Nokia X6 is positive but, you have to factor in that a 1-year voice-guided navigation costs a lot and we are not sure whether many people will go for that. And the screen doesn't do too well under sunlight, which is a major drawback if you want to use the Nokia X6 as a replacement for dedicated SatNav units.
Ovi Store
Browsing the Ovi Store, you can choose between several sections - Applications, Games, Audio and Video content, Personalization, Recommended and of course, My Stuff, which shows you the apps you've already installed.
The structure of the Ovi Store client is simple - a list with the name and logo for each app (or podcast, or whatever), the category it's in (Entertainment, Utilities, etc), price and a three star rating.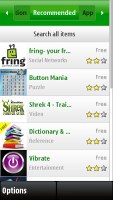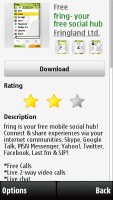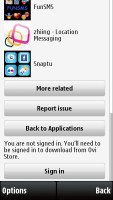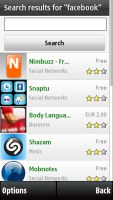 The Ovi Store has a simple but easy to use structure
Selecting an app, gives you more details - a description, info on size, reviews by people who have tried it, the ability to write a review yourself or sent the description page to a friend, a list of related apps and a Report issue button, which helps you report fraud, spam, abuse, etc., but not bug reports or feature requests.
Searching the Store is quite easy if the Recommended section and the Related apps list don't get you what you're looking for.
Our Nokia X6 came with very few preinstalled apps - just a few games and apps. Some of them are very handy tools for reading news, handling social networks, weather forecasts, etc.
Of course, since this is Symbian we are talking about, you can also pay a visit to some of the numerous sites for software available online. Here is one to get you started, while a simple Google search will show you the rest.
You can download the apps straight from your phone or from your desktop computer and than transfer them as you find fit.
Applications
The Nokia X6 comes with just a few preinstalled applications. One of the interesting applications is Ovi Files. You have to install an application on your computer but after that's done, you can access all the files on that computer from your phone or a browser on another computer. You also get "Anytime files", which lets you store 10GB of data that is accessible even if the computer is turned off.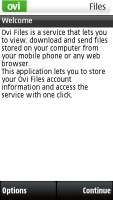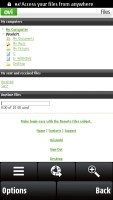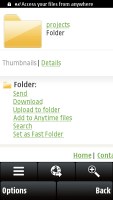 Ovi Files gives you access to any file on your computer
Amazon is a simple application with different categories. There is also a search engine, which opens results directly in the Amazon site. You are also allowed to choose in which country you'd like to look for an item, which is great for the local buyers.
There's also a Facebook application.